Since March 2022 revenuebot has been an official partner and participant in the brokerage program of the Bitget crypto exchange
BITGET EXCHANGE REVIEW
As the crypto industry develops, an ever-increasing number of platforms which offer services for digital asset trading appears. One of them is Bitget crypto exchange. Here we will cover the types of trading on the exchange, how to register and pass the verification procedure, how to deposit and withdraw funds, as well as what are the commissions fees for trading, plus brief overview of the pros and cons of the exchange.
PROJECT BACKGROUND
Established in 2018, Bitget is one of the world's leading cryptocurrency exchanges. Currently serving over two million users in more than 50 countries around the world, Bitget accelerated its mission to promote decentralised finance in 2021 with a 500-strong workforce spanning over 20 countries.
Since Bitget's official launch in the crypto derivatives market in June 2019, the platform has now become one of the world's largest crypto copy trading and derivatives exchanges, and is ranked in the top five globally by CoinMarketCap and CoinGecko for derivatives trading by volume. Bitget's flagship product, One-Click Copy Trade, has attracted more than 20,000 copy traders, innovating the experience for crypto derivatives traders worldwide.
Adhering closely to its philosophy of 'Better Trading, Better Life', Bitget is committed to providing comprehensive and secure trading solutions to users globally, aiming to be the portal that transcends Web2 and Web3, that connects CeFi and DeFi, resulting in an expansive bridge to the vast web of crypto. In September 2021, Bitget announced its sponsorship of world-renowned football team Juventus as its first-ever sleeve partner and PGL Major's official esport crypto partner soon after. Partnerships with the leading esports organisation, Team Spirit, and Turkey's leading and long-standing football club, Galatasaray, were also announced in early 2022.
It has its own Bitget Token (BGB), which provides you with benefits and extends your trading experience. Bitget is also the official sponsor of Juventus Football Club.
TYPES OF TRADING
By using revenuebot you can create bots and trade on classic Bitget Spot as well as perpetual Bitget Futures USDS-M contracts.
Our Knowledge Base has in-depth instructions with screenshots on how to create bots for trading on Bitget Spot and Futures USDT-M:
Spot trading
Creating an API key for the Bitget exchange
Creating a bot for a specific trading pair (using link-usdt as an example) for Bitget Spot exchange
Creating a bot with automatic switching trading pairs for Bitget Spot exchange
Futures trading
The maximum leverage on Bitget Futures USDT-M is 125x.
Creating a bot for a specific trading pair (using sol-usdt as an example) for the Bitget Futures USDT-M exchange
Creating a bot with automatic trading pair switching for Bitget Futures USDT-M exchange
How to mitigate the risks of leveraged futures trading?
SIGNING UP ON THE BITGET
Signing up on the exchange will not take long. You can register using your phone number or email.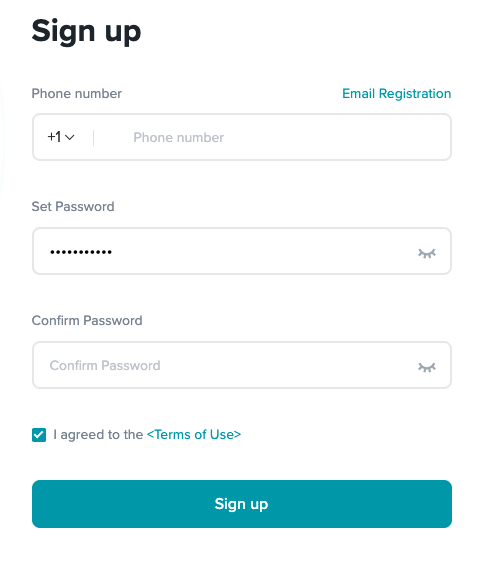 Enter the details in the form and come up with a strong password. The user may also be asked to generate a password of their own. As soon as you have entered everything, click the "Sign up" button and go to the "Security Settings".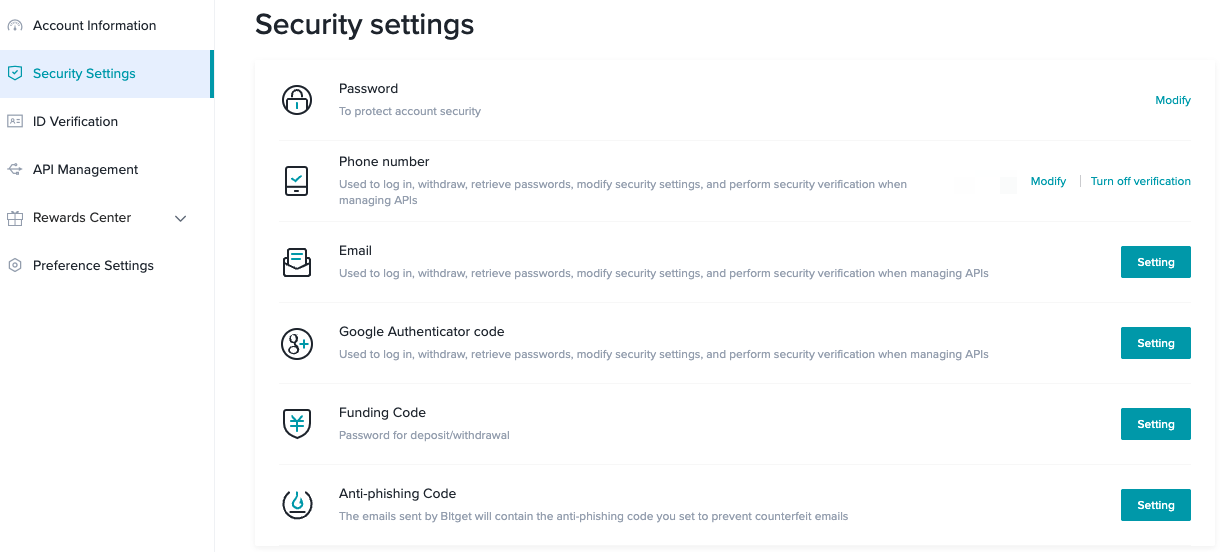 Here, you can choose the best way to secure your account. We suggest entering your phone number, a Google Authenticator code, as well as creating a Funding Code, and configuring an Anti-phishing Code.
VERIFYING YOUR ACCOUNT ON THE BITGET
Being verified on the exchange is not mandatory. However, without doing so, your activity will be limited. For instance, the user will not be able to buy digital assets using the card and there will be a withdrawal limit of 0.1 BTC per day.
On-exchange verification is the standard KYC (Know Your Customer) procedure completion. To complete it, you will need a passport or any other identity document.
In order to begin the procedure, you need to click on the icon next to the Assets button and select the appropriate ID Verification option.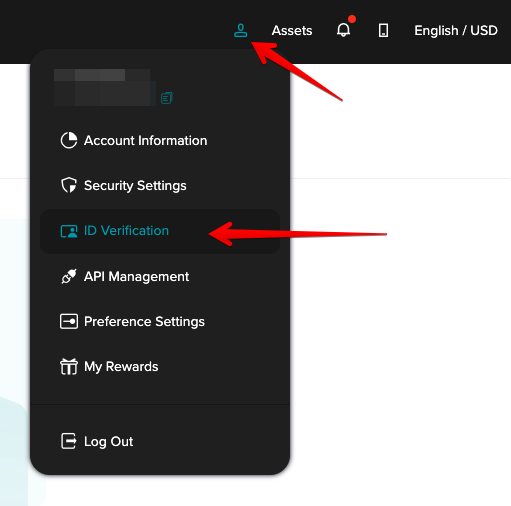 Then a page will open where you will be offered to verify your individuality or institution. Once the choice is made, follow the further instructions:
Select a country;
Enter your last name and first name;
After that, you need to choose identity document type;
Input the Identity no.;
The next step is to upload a photo of identity document. The platform shows you exactly how to take the picture. If you verify with your phone, you can take pictures using the app;
After that, take a selfie, as shown in the instructions;
Submit your data.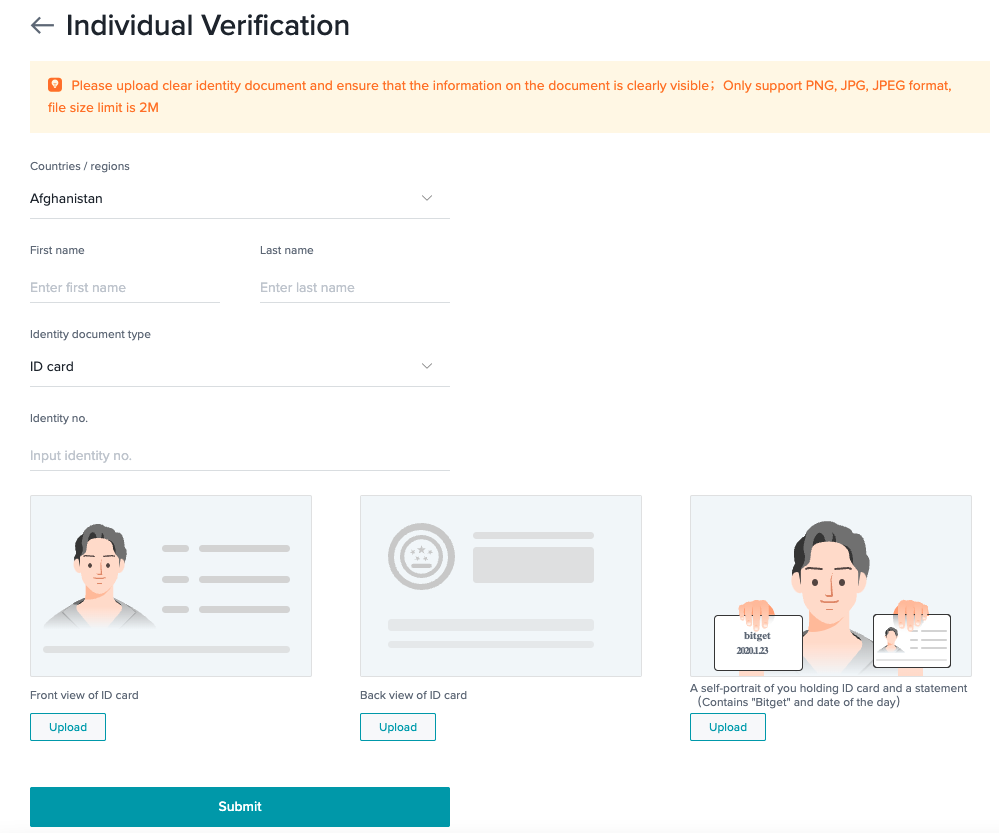 BITGET TRADING COMMISSIONS
Commission fees for spot trading
Basic – 0.1%;
With payment in BGB – 0.08%.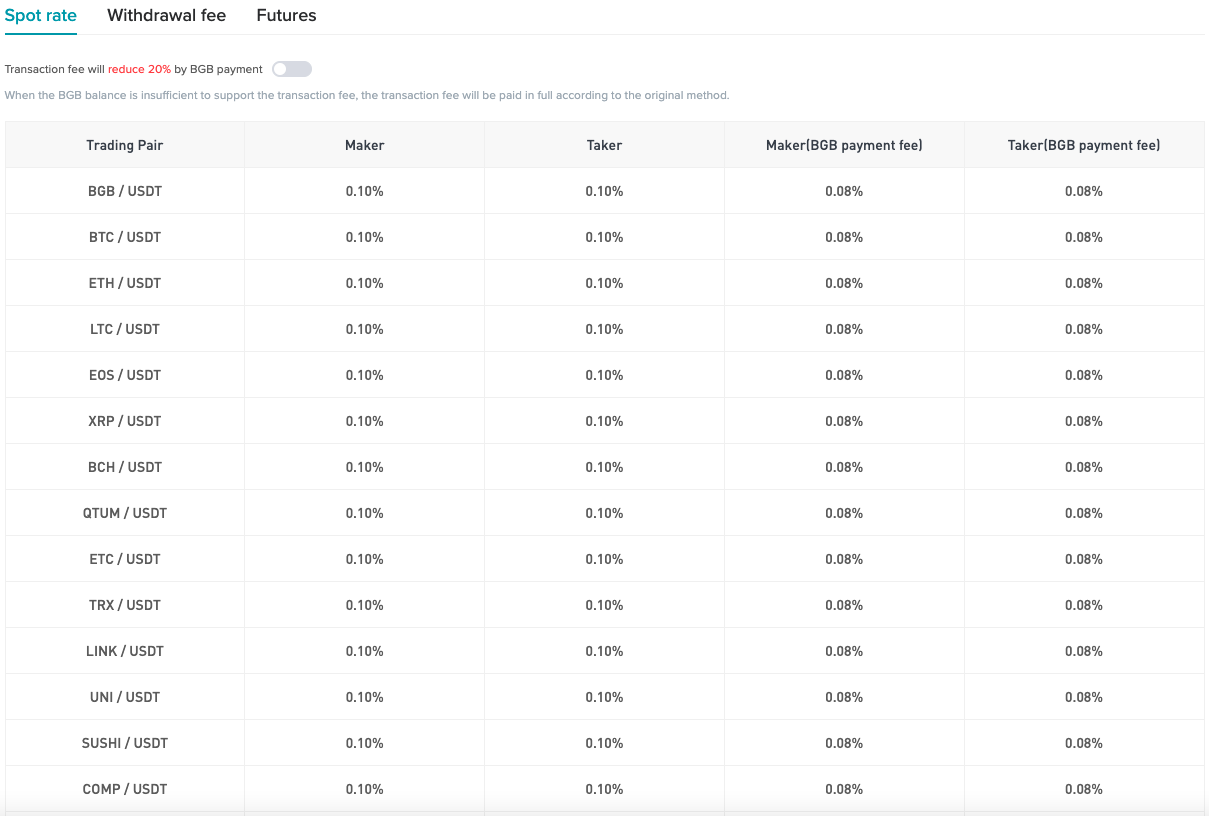 Commissions fees for trading Futures USDT-M
Maker – 0.02%;
Taker – 0.06%.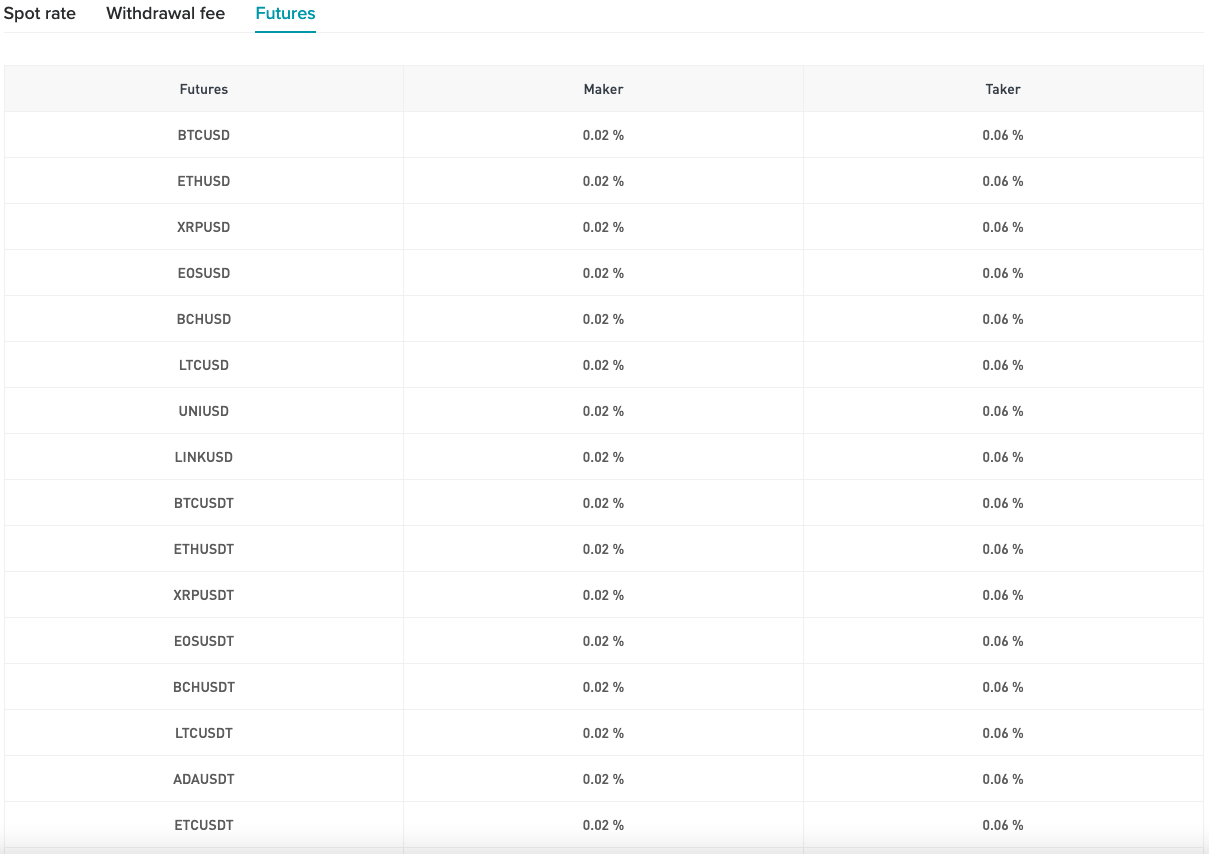 DEPOSITING YOUR ACCOUNT ON THE BITGET
You can deposit the balance of your account in the Assets tab - click Deposit button.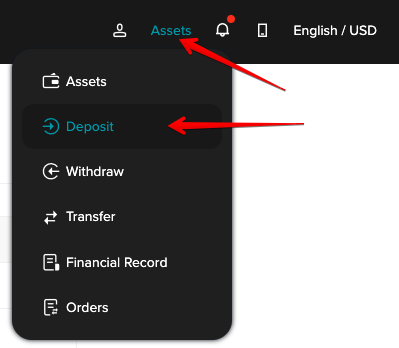 A list of coins that you can use to top up your balance will be displayed. Select the desired coin, check the correctness of the chain. Copy the address generated by the system, and then transfer funds to it. The account balance will be recharged automatically after the transaction is validated.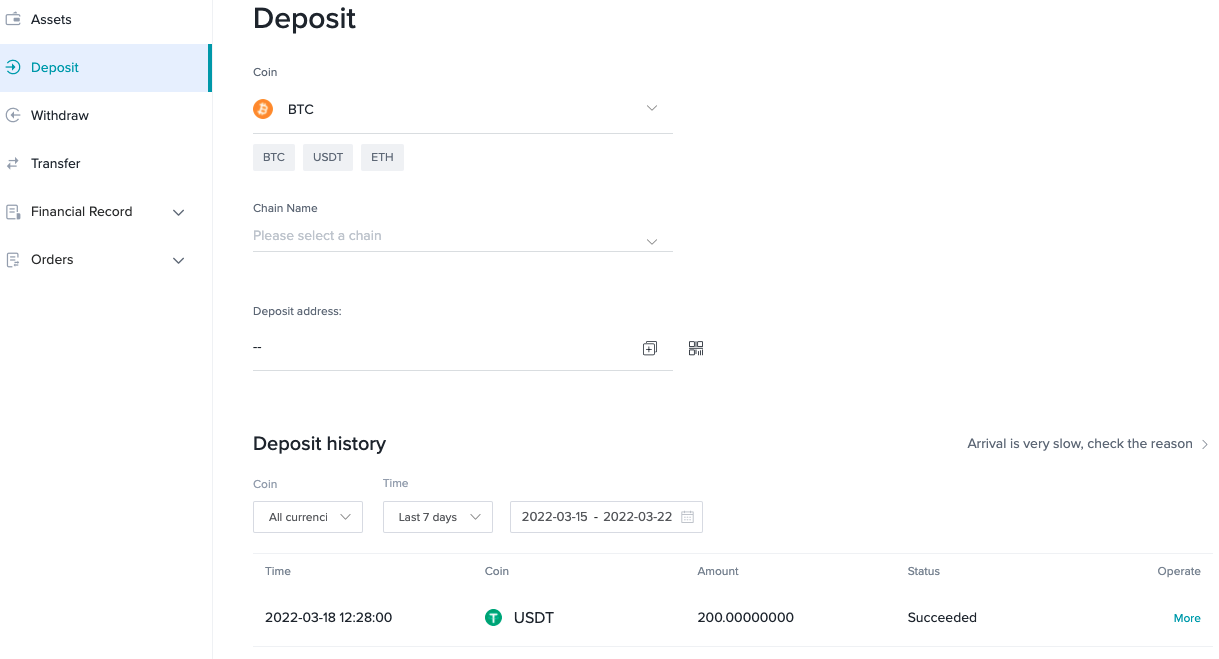 WITHDRAWAL FROM BITGET EXCHANGE
You can withdraw assets from the exchange only in crypto. Withdrawal can be conducted to an external wallet, or by internal transfer to another Bitget user account.
If you want to withdraw funds, you first need to go to the Assets tab - click on Withdraw button.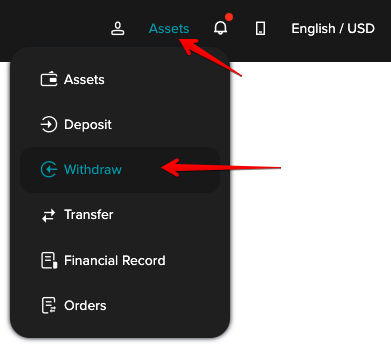 A screen with two tabs will open. In the first tab you can transfer assets to an external wallet. In the second tab you can transfer funds internally to another Bitget user. Internal transfers are free of charge.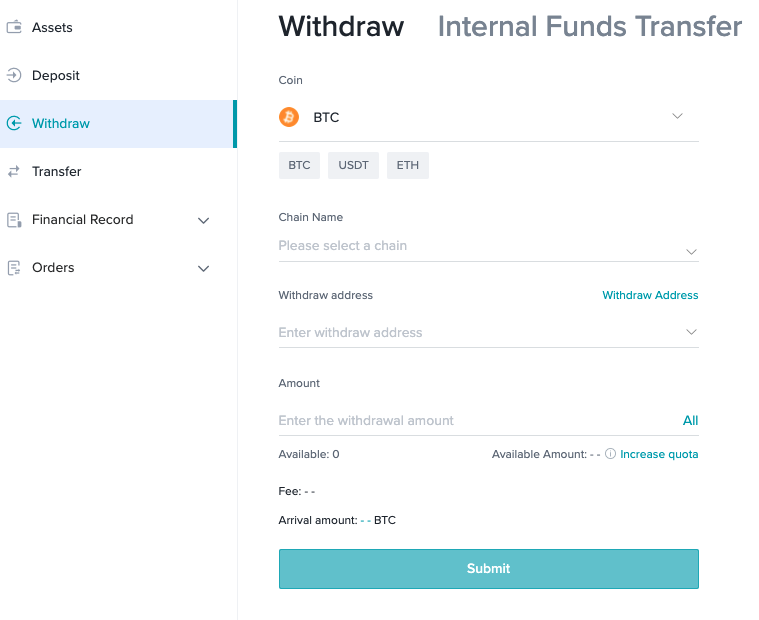 BENEFITS OF BITGET EXCHANGE
A wide range of trading pairs;
Small comission fees, along with an extra discount for BGB owners;
Copytrading available;
Highly rated on CoinGecko;
Got a mobile app;
Licensed in the USA, Canada and Australia.