With revenuebot you get the chance to perform automated trading at the Gate.io exchange.
Gate.io provides you with the ability to buy, store and trade cryptocurrencies, as well as to make additional profits through a variety of other features. For instance, you would be able to trade on margin, loan funds, invest in all sorts of startups, to name a few. Gate.io offers a rich array of useful tools and functionalities for professional traders and beginners alike.
TYPES OF TRADING STRATEGIES
By using revenuebot you can make bots and deal on the classic Gate.io Spot.
Our Knowledge Base has in-depth instructions with screenshots on how to connect the API-key and create bots for trading:
Creating an API key for the Gate.io exchange
Creating a bot for ETH/USDT trading pair on the GATE.io Spot exchange
Creating a bot with automatic pair switching on the GATE.io Spot exchange
SIGNING UP ON GATE.IO
Signing up on the exchange is quite simple. Go to the platform's official website and select Sign Up to do so.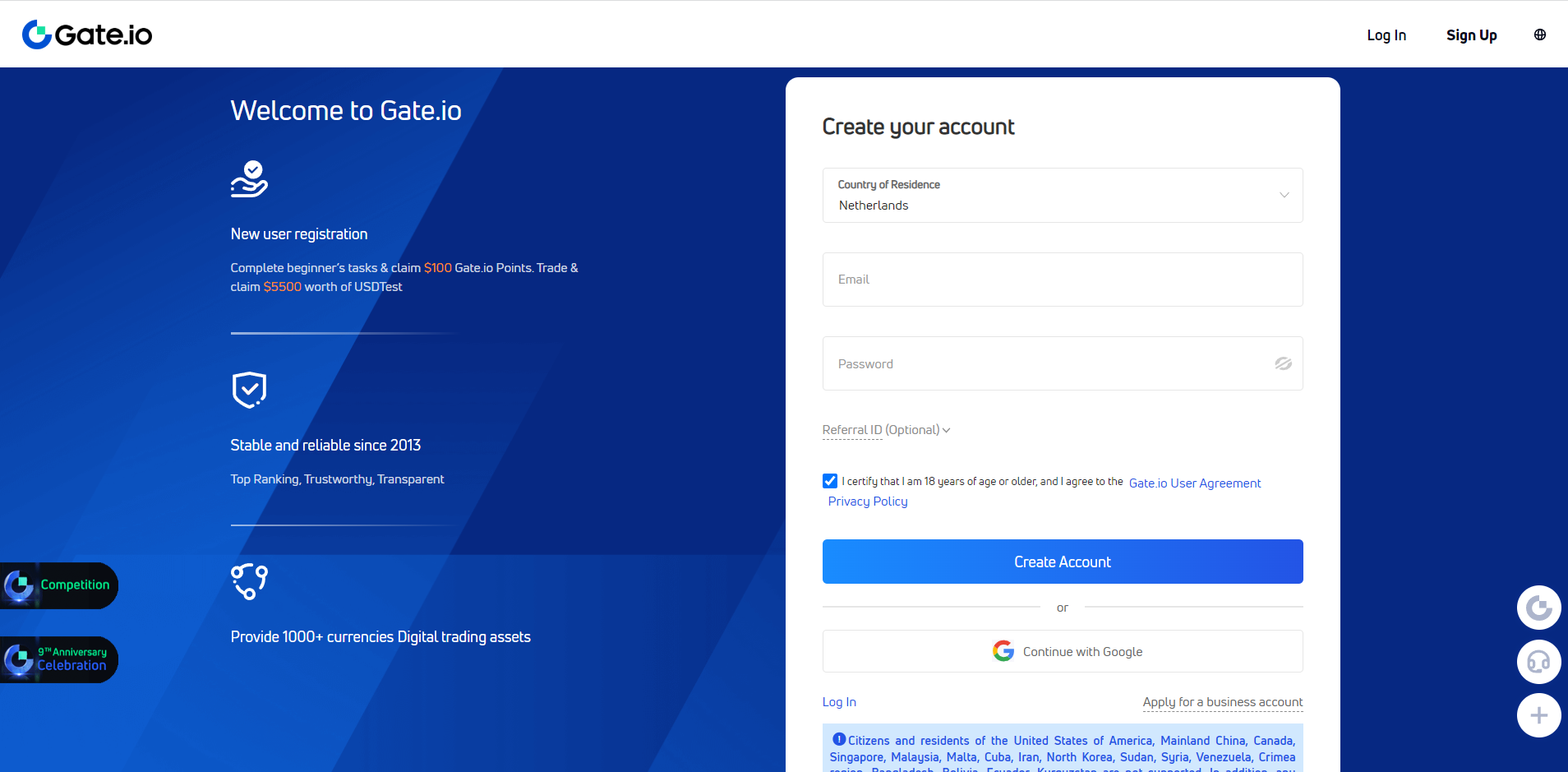 There you enter your email as usual and come up with a password. In case you are invited to sign up, you may also enter a Referral ID.
Then you will be sent a verification email to the specified address.
GATE.IO SECURITY
For the sake of keeping users' funds safe, Gate.io maintains them on cold and hot wallets, while using additional security measures:
2-Step Verification;
SMS 2FA;
Google Authenticator (TOTP) when logging in;
Fund password (safepwd);
Anti-Phishing Code.
VERIFYING YOUR IDENTITY
Being verified on the exchange is not mandatory, but if you want to deposit and withdraw funds without any restrictions, you will still have to undergo verification.
How to complete the verification procedure:
Select the KYC(Identification) tab in your account settings;

In the KYC & Security tab, click Verify Now button;

Next, fill in the boxes according to the guidelines that will be displayed;
It can take up to 24 hours to validate your entries. You will be notified by the Gate.io team when the application is done.
COMMISSION FEES AND RESTRICTIONS
Gate.io exchange has differing commissions for each market and each type of trading strategy. There is no commission fee charged by the platform for making a deposit.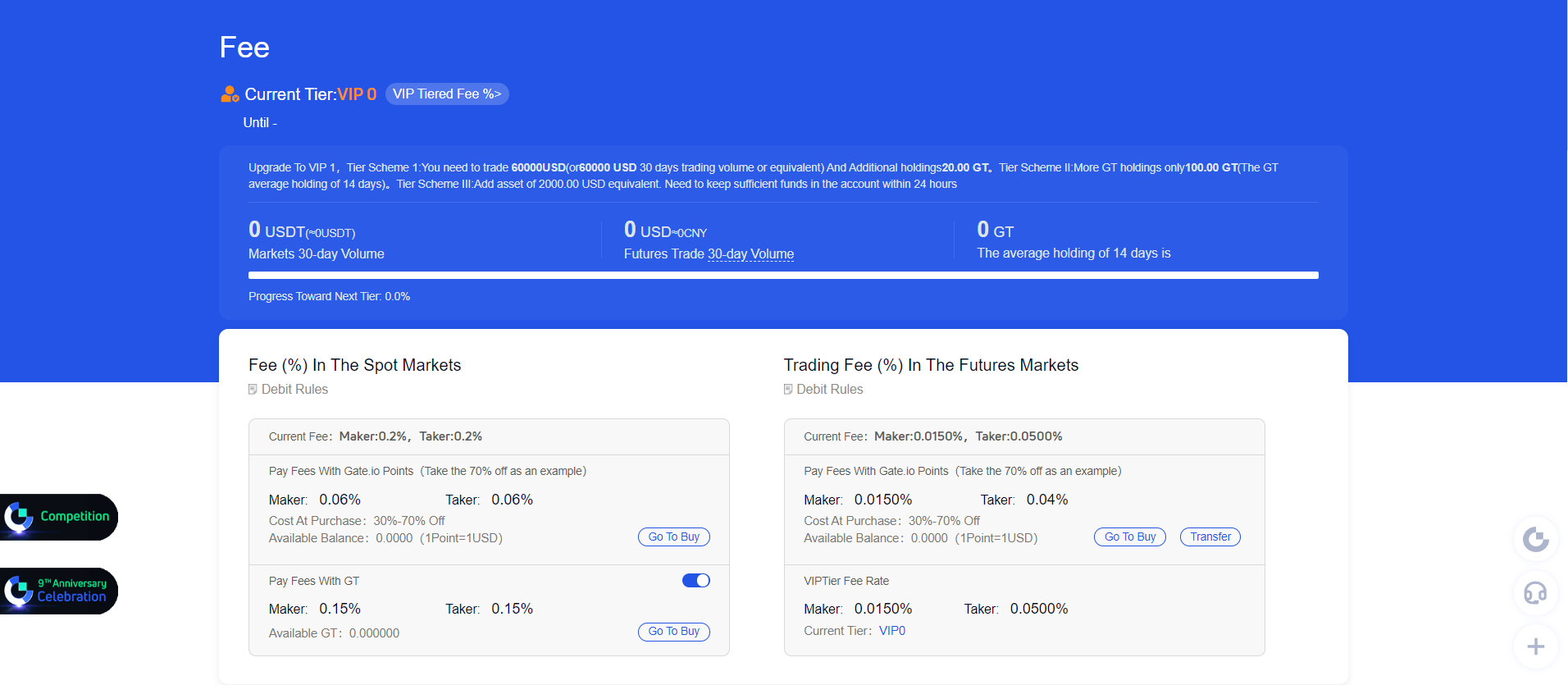 Depending on the level of VIP0, the trading fee for common users and newcomers is 0.2%. As you upgrade, the commissions get lower.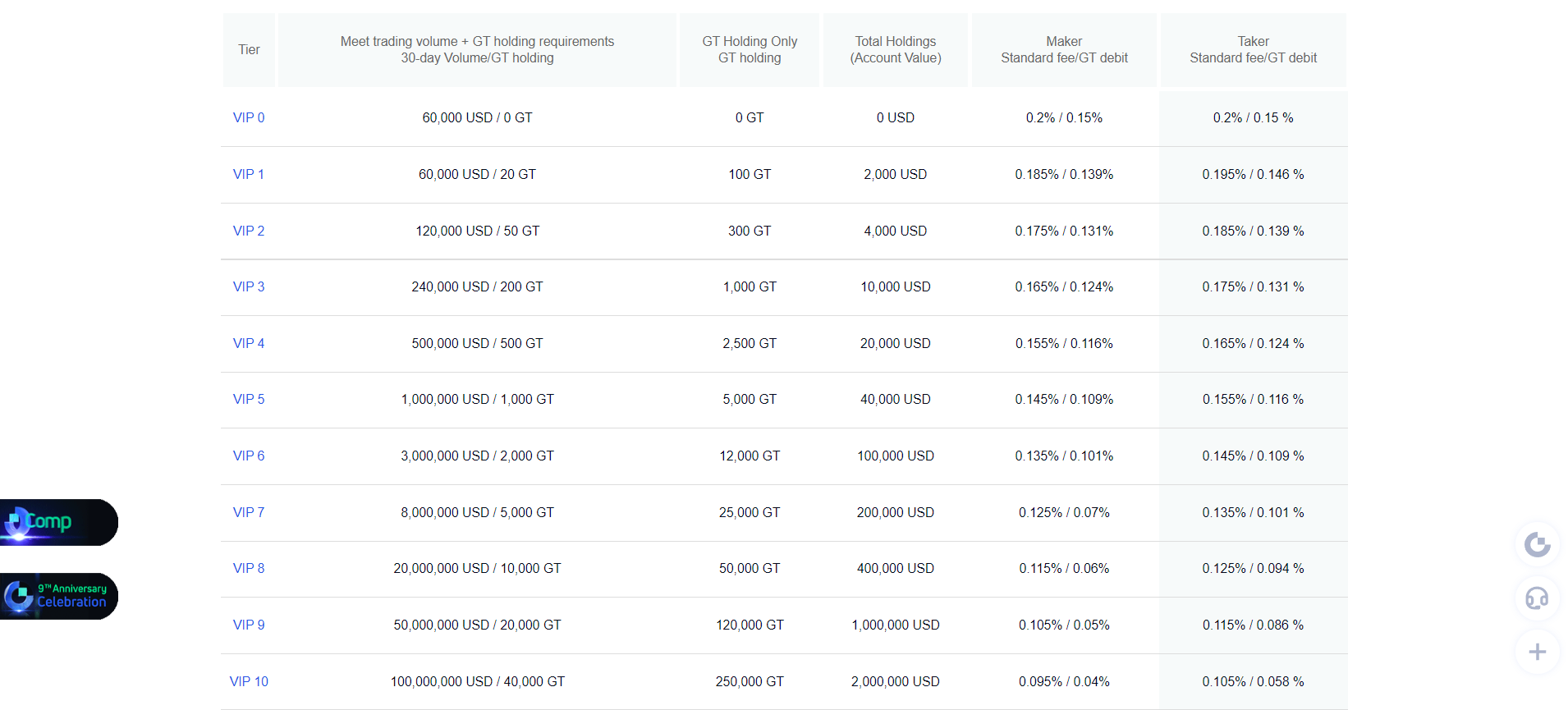 TOPPING UP YOUR ACCOUNT ON GATE.IO
The only option to top up your balance on Gate.io is to use digital assets. Before you can deposit funds into the exchange, you first need to proceed to the Deposit option, which is located in the Wallet menu.
You will see a pop-up window where you will be offered to choose the coin you want to top up your balance in.
Later, you copy the address and transfer funds to it from another exchange or your crypto wallet.
The minimum amount on deposit is 0.0001 of the coin with which you fund your account. No fee is charged for making a deposit.
WITHDRAWING FUNDS FROM GATE.IO
If you want to withdraw funds from the platform, you must also navigate to the Wallet menu, and click the Withdraw button.

Then you have to select the coin you would like to withdraw and provide the address of the desired wallet.
Next, you are required to enter the number of coins to withdraw, the Fund password (safepwd), a verification code from the email, after which you submit your request. The minimum and maximum number of coins for withdrawal will be listed next to the bar for entering the withdrawal amount.
BENEFITS OF GATE.IO
Access to a vast spectrum of digital currencies;
Large trading volume;
A great number of advanced features and tools;
A mobile app that almost replicates the website;
Top-quality 24/7 technical support;
Enhanced security.