Many market participants use the TradingView platform as an auxiliary service.
The TradingView platform is extremely popular with traders due to its ease of use, data accuracy and many trading indicators. Experienced users can create their own indicators and signals using the TradingView platform.
You can use signals from the TradingView platform as a condition for starting revenuebot's bots
How does it works?
1. Enable the bot using TradingView signals
To do this, after creating the bot, go to the bot editing page, then in the TradingView Signals menu, activate the Enable the bot using TradingView signals checkbox, and save the bot.
This menu contains information that will be useful when creating signals on TradingView:
Signal URL
Signal message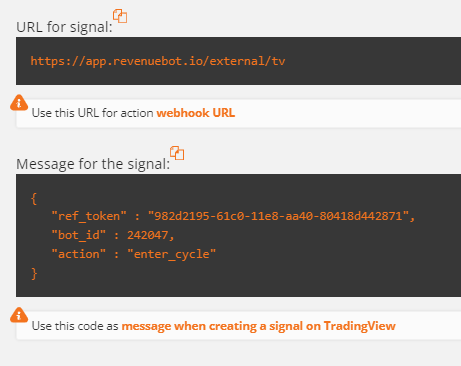 2. Create a signal on the TradingView platform
Customize the alert by choosing a trigger condition, parameters, and a name. Please note that there are one-time and recurring alerts. A one-time alert will only work once. If you want the signal to be repeated to the bot, select the repeating type of notification (for example, "once per bar"). In the alert actions, activate the webhook URL checkbox and paste the link from the "Signal URL" field that is displayed in the bot settings. In the alert message, paste the text from the Alert Message field.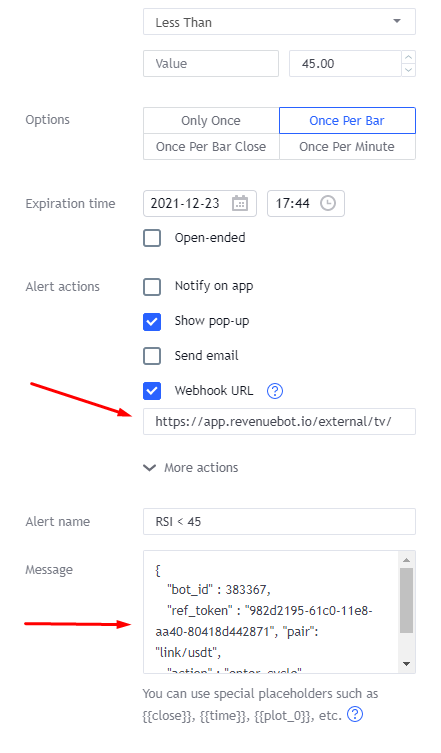 When the alert condition is triggered, the signal will be sent through the webhook to the bot and it will start trading.
You can create multiple signals on the TradingView platform for different trading pairs and use these signals in one bot with the LONG algorithm. The bot will switch the trading pair based on the information about the pair from the incoming signal.
You can find detailed information on how to set up a bot to work with signals from the TradingView platform, and also on how to create and configure signals on the TradingView platform, on our Blog.