With revenuebot you get the chance to perform ByBit automated trading.
What is Bybit?
The Bybit is an exchange that ranks among the top 5 by the daily trading volume on the derivatives market as per CoinMarketCap, while also offering its users a full scope of such services as P2P, spot trading, futures trading, and staking. Launchpad is also held on this exchange, just recently they introduced their own NFT market.
Why Bybit trading bot
Your profits can be multiplied with Bybit trading bots made by revenuebot. Bybit bots were built specifically for the exchange. Thanks to the variety of settings available, the user of the service can create the best trading bot for Bybit and start earning in a short period of time.
According to statistics, about 70% of transactions in the stock market are made using various bots. Why are traders less likely to trade themselves and trust a Bybit trading bot to do it? There are several reasons for using a trading bot on Bybit or other exchanges:
The software or a Bybit bot has no human factor. A trader can make a mistake when filling out an order, forget to close it or do something else. A software or a Bybit bot trades only according to the settings that were originally included in it, so the possibility of errors or inaccuracies is excluded.
Speed of the whole process. A trader cannot analyse several trading pairs or markets at the same time. In addition, you will have to open many trades. Bybit trading bot does a great job with all these tasks.
Versatility and scalability. Having a clear trading strategy, you can run many Bybit bots for simultaneous automatic trading on different crypto exchanges and trading pairs.
Trading will be carried out at any time of the day. A Bybit bot does not need time to sleep and rest, so it can trade around the clock, making a profit for the owner.
FREE BYBIT TRADING BOT BY REVENUEBOT
We have been on the market since 2018 and have carefully worked out all the features of working with the Bybit exchange. revenuebot is offering a free trading bot for Bybit: you have to pay nothing until it generates an income for you. Once a Bybit bot starts to bring you money, the commission will be 20% of the profit, but not more than 50 USD per month.
TYPES OF TRADING STRATEGIES
By using revenuebot ou can create bots and trade perpetual ByBit Futures USDS-M contracts on standard ByBit Spot.
Our Knowledge Base has in-depth instructions with screenshots on how to set up Bybit bots to trade on Spot and Futures USDS-M:
Spot trading
Creating an API key for the Bybit exchange
Creating a bot for MATIC/USDT trading pair on the Bybit Spot exchange
Creating a bot with automatic pair switching on the Bybit Spot exchange
Futures trading and Bybit leverage tools
You can trade on ByBit Futures USDS-M at up to 50x leverage.
Creating a MATIC/USDT bot on the Bybit Futures exchange
Creating a bot with automatic pair switching on the Bybit Futures exchange
How to reduce the risks of trading futures using leverage?
BYBIT LOGIN AND SIGNING UP
All you need to do in order to register at the exchange is to visit the official website and click on Sign Up button. You will see a form where you should enter your email address and password. Please note that you can also use your phone number to register.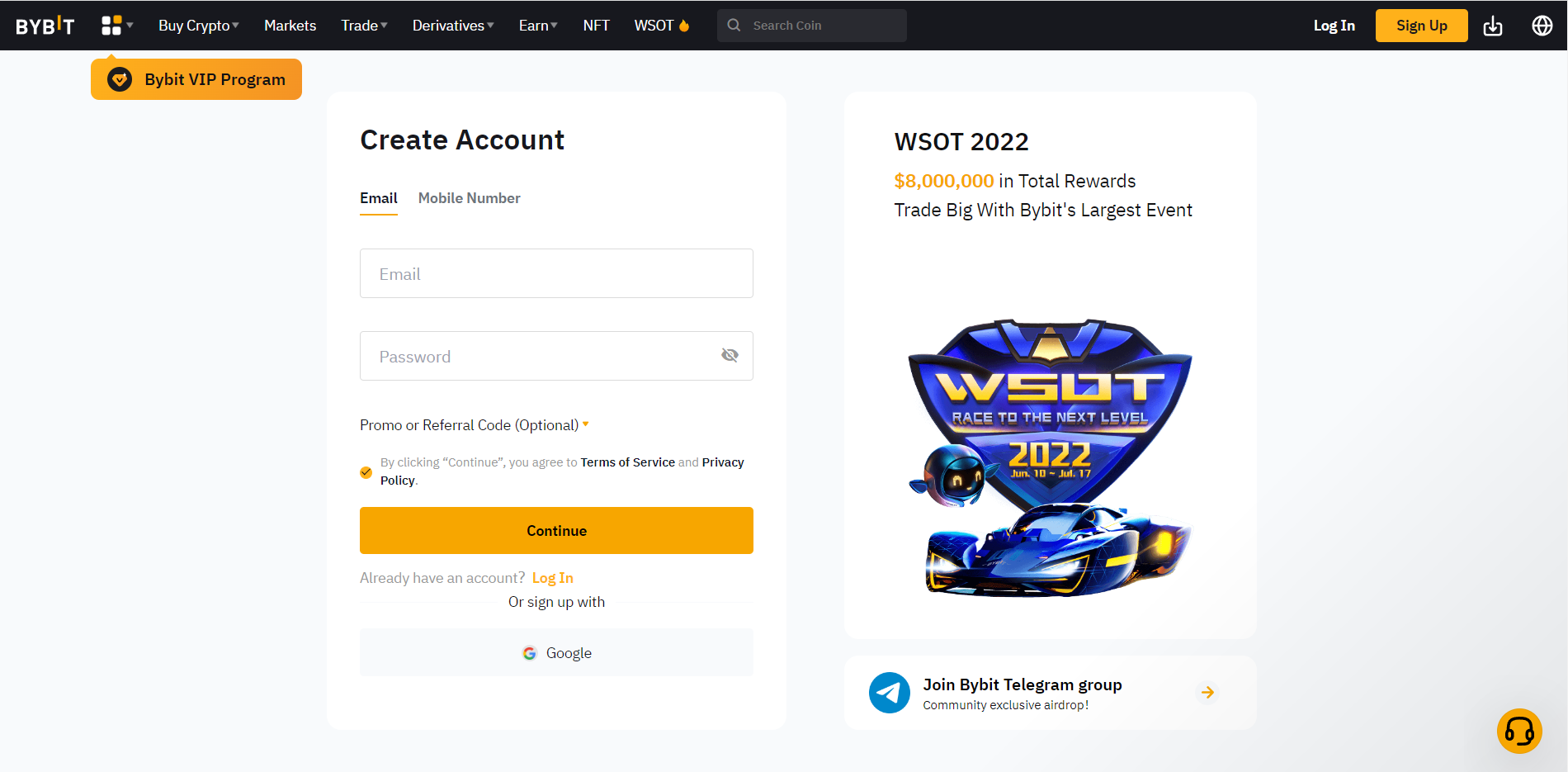 Once you fill in the required data, the system will check whether you reside in the Bybit restricted countries list that includes the following countries: Mainland China, Cuba, Iran, North Korea, Sudan, Singapore, Syria, and the United States of America.
A verification code will be sent to the specified email, which is only valid for five minutes. Copy the code and complete the registration. Once you paste it into the corresponding box, the registration is over, so you can choose the Bybit login option.
You need to paste it into the corresponding box, now the signup is done.
BYBIT SAFETY
Bybit Safety was always a priority for the platform's developers. The exchange operates on an industry-leading system of hierarchical deterministic offline wallets, providing reliable storage of your digital assets.
To gain access to the privacy settings, you need to go to your account, click on the profile icon and select Account & Security.
There you can reset the Bybit login password and activate additional protection methods, namely 2FA two-factor authentication.
You can enable SMS authentication or Google Authenticator: click Settings in front of the desired option and then follow the guide.

VERIFYING YOUR IDENTITY
What makes Bybit exceptional from other platforms is the complete lack of verification procedure. Once registration is complete, you are free to start using the platform.
Thanks to a KYC-free experience on the exchange, its users remain anonymous and keep their privacy completely intact.
BYBIT TRANSACTION FEES AND RESTRICTIONS
Bybit transaction fees for deposits are zero. Still, fees might be charged by the network. Bybit transaction fees for withdrawals depend on the coin.
Also, Bybit transactions fees vary based on the level of the user: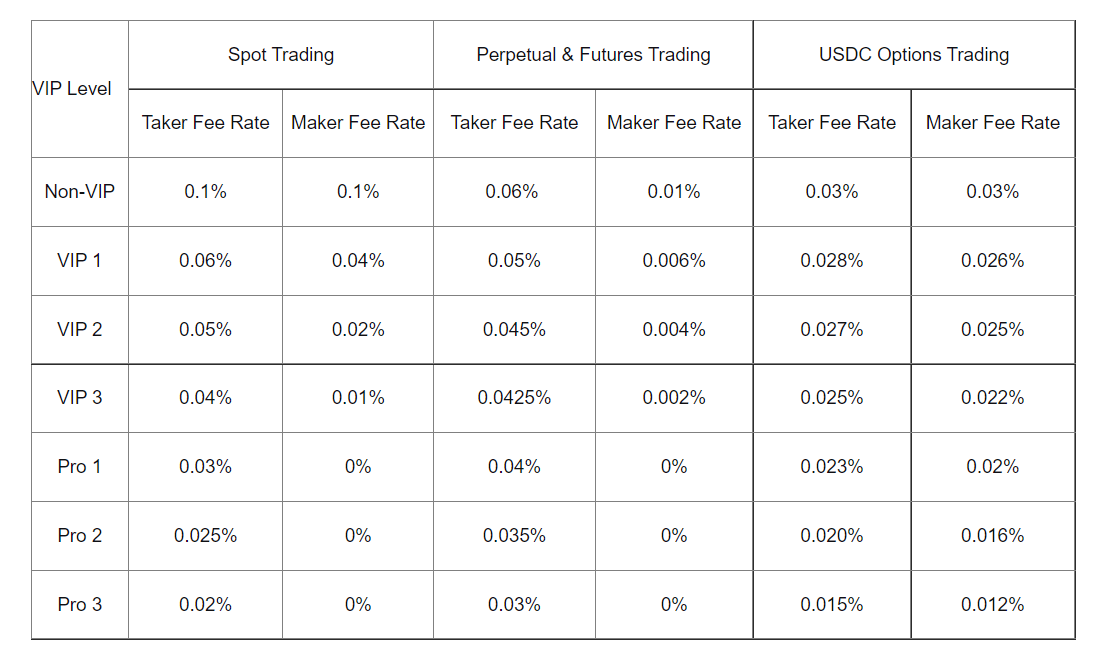 TOPPING UP YOUR ACCOUNT ON BYBIT
For you to start trading, you need to top up your exchange account.
Consider the fact that you can only deposit in cryptocurrency.
How to top up your account:
Go to the Assets tab in your profile header

Then choose the type of account you wish to top up: Spot, Derivatives, Earn or ByFi;
Top-up method at each point is quite similar, so we will show you an example on the Spot one:
Select the desired asset and click Deposit;
You get your Bybit deposit address: just either scan the QR-code or copy the deposit address;
Specify the address on the third-party platform from which you are going to deposit funds to Bybit.
WITHDRAWING FUNDS FROM BYBIT
On the same Assets page, click on the Withdraw button located next to the asset. Provide the address of the wallet for the cryptocurrency and the amended amount. Keep in mind that for this step, you must complete the Google authentication procedure, otherwise the system will not let you withdraw any funds.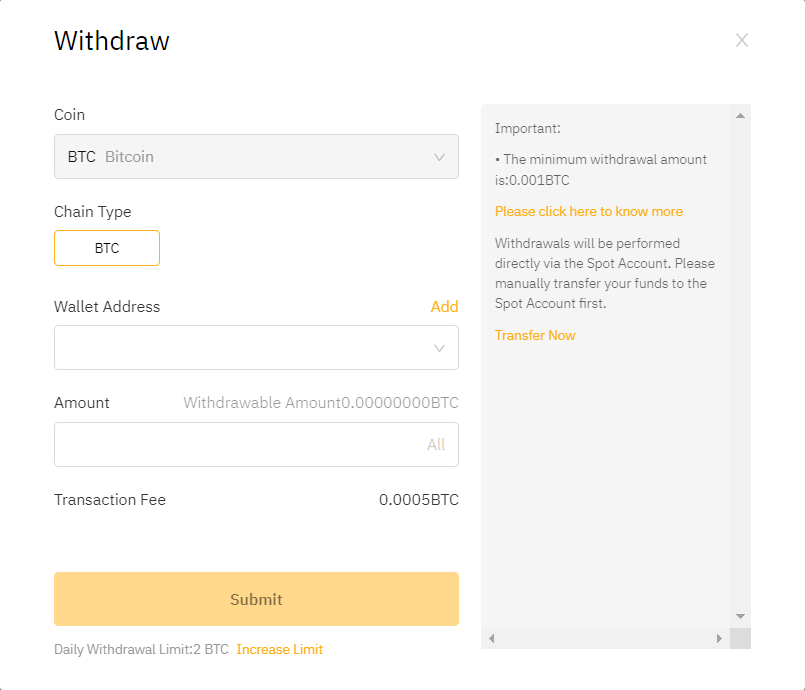 Each coin has a withdrawal fee, which will be displayed in the dialog box. There you can also see the minimum withdrawal limit: Bitcoin having 0.001 BTC, Etherium having 0.02 ETH, Ripple having 20 XRP, etc.
BENEFITS OF BYBIT
A truly world-class trading exchange with over a million users registered;
Perpetual contracts;
Bybit safety is supported by a team of professionals;
UI supporting 5 languages;
No need to complete the KYC verification procedure;
Excellent account security;
Unlimited deposits available;
Rapid order placement: 100,000 transfers per second;
Margin trading at leverage up to 100x;
A user-friendly trading interface;
A take profit and a Stop Loss feature included;
Demo mode;
Quick response from customer service;
A convenient mobile app.
Ready to use a Bybit trading bot to earn more? Have doubts? Run any Bybit bot in demo mode and check its efficiency!