With revenuebot you get the chance to perform automated Huobi trading for free until it brings profits. Learn more about the cryptocurrency exchange, automated trading, and how to make the most out of Huobi bots.
What is Huobi?
Huobi is one of the greatest and most reputable exchanges. It offers a multitude of features and services designed to engage investors and traders all over the world. In terms of trading volume, Huobi repeatedly made it to the top 10. Enjoy Huobi futures opportunities, spot, margin, over-the-counter (OTC) trading, as well as perpetual contracts and options.
Huobi trading bot
Your profits from Huobi trading can be strengthened with robots by revenuebot. Huobi auto trader was built specifically for the exchange. Thanks to the variety of settings available, the user of the service can create the best Huobi trading bot and start earning in a short period of time.
According to statistics, about 70% of transactions in the stock market are made using various bots. Why are traders less likely to trade themselves and trust a Huobi trade bot to do it? There are several reasons for using a trading bot on Huobi or other exchanges:
The software or a Huobi bot has no human factor. A trader can make a mistake when filling out an order, forget to close it or do something else. A software or a Huobi bot trades only according to the settings that were originally included in it, so the possibility of errors or inaccuracies is excluded.
Speed of the whole process. A trader cannot analyse several trading pairs or markets at the same time. In addition, you will have to open many trades. Huobi auto trader does a great job with all these tasks.
Versatility and scalability. Having a clear trading strategy, you can run many Huobi bots for simultaneous automatic trading on different crypto exchanges and trading pairs.
Trading will be carried out at any time of the day. A cryptocurrency trading bot on Huobi does not need time to sleep and rest, so it can trade around the clock, making a profit for the owner.
FREE HUOBI TRADING BOT BY REVENUEBOT
We have been on the market since 2018 and have carefully worked out all the features of working with the Huobi exchange over the entire period of our existence. revenuebot is offering a free trading bot for Huobi: you have to pay nothing until it generates an income for you. Once a Huobi bot starts to bring you money, the commission will be 20% of the profit, but not more than 50 USD per month.
TYPES OF TRADING STRATEGIES
By using revenuebot you can create Huobi bots and trade perpetual Huobi Futures USDS-M contracts on standard Huobi Spot.
Our Knowledge Base has in-depth instructions with screenshots on how to set up Huobi bots to trade on Huobi Spot and Futures USDS-M:
Spot trading
Creating an API key for the Huobi exchange
Creating a bot for ADA/USDT trading pair on the Huobi Spot exchange
Creating a bot with automatic pair switching on the Huobi Spot exchange
Huobi Futures trading
You can trade on Huobi Futures USDS-M at up to 125x leverage.
Creating a BTC/USDT bot on the Huobi Futures exchange
Creating a bot with automatic pair switching on the Huobi Futures exchange
How to reduce the risks of trading futures using leverage?
HUOBI LOGIN AND SIGNING UP
Citizens from more than 130 countries are eligible to sign up for the platform. Huobi has multi-language support with 7 languages available. That means that users from many different countries have no trouble getting registered on the exchange.
It is quite easy to sign up for Huobi trading:
Go to the official website of the Huobi trading platform and click Sign-Up button;

Fill in the sign-up form, first choosing the registration method (phone or Email);
Type in your email address, think of a password, and tick the box for the User Agreement and Privacy Policy;
As soon as you have completed these steps and clicked the Sign Up button, you will receive a 6-digit verification code to your specified email address. The registration is over, so you can choose the Huobi login option.
HUOBI SECURITY
As a way to keep users' funds secure, Huobi uses cold wallets, secure connections, along with data encryption. Platform members may enhance their own account security by enabling one of the two-factor authentication modes by doing the following:
Turning on 2FA authentication which is a straightforward and productive way to validate your sign-in using the Google Authenticator app;
Linking your phone number and confirming your email;
Setting up a strong password and anti-phishing code.
VERIFYING YOUR IDENTITY
As a platform user, you do not have to perform Huobi verification of your account in order to begin trading. Noteworthy, however, is that verified users enjoy higher Huobi limits for withdrawal and are given access to extra features of the exchange. Moreover, Huobi verification is supposed to ensure the highest level of security for the customer's account.
Learn more about the Huobi verification procedure:
Hover your cursor over the Account icon and select Identification in the drop-down menu;
Afterwards, the website would provide you with two methods of identity authentication: Personal Verification or Institutional Verification;

Personal Huobi Verification. It is a standard way of full-fledged registration, by means of which the user intends to execute transactions as an individual. If you select this option, the system will request your identity verification document.

Institutional Huobi Verification. It implies that the person is thinking about making transactions on behalf of the company. All of your company's credentials must be provided for this verification method.
HUOBI FEES
Huobi trading fees may vary depending on the market and the trading type. You can top up your account at the exchange with no Huobi fees.
The base Huobi spot fees are 0.2%. Still, it is possible for you to cut your Huobi fees if you deposit your account with internal HT tokens. The more HT tokens you have in your account, the fewer Huobi fees you are charged with: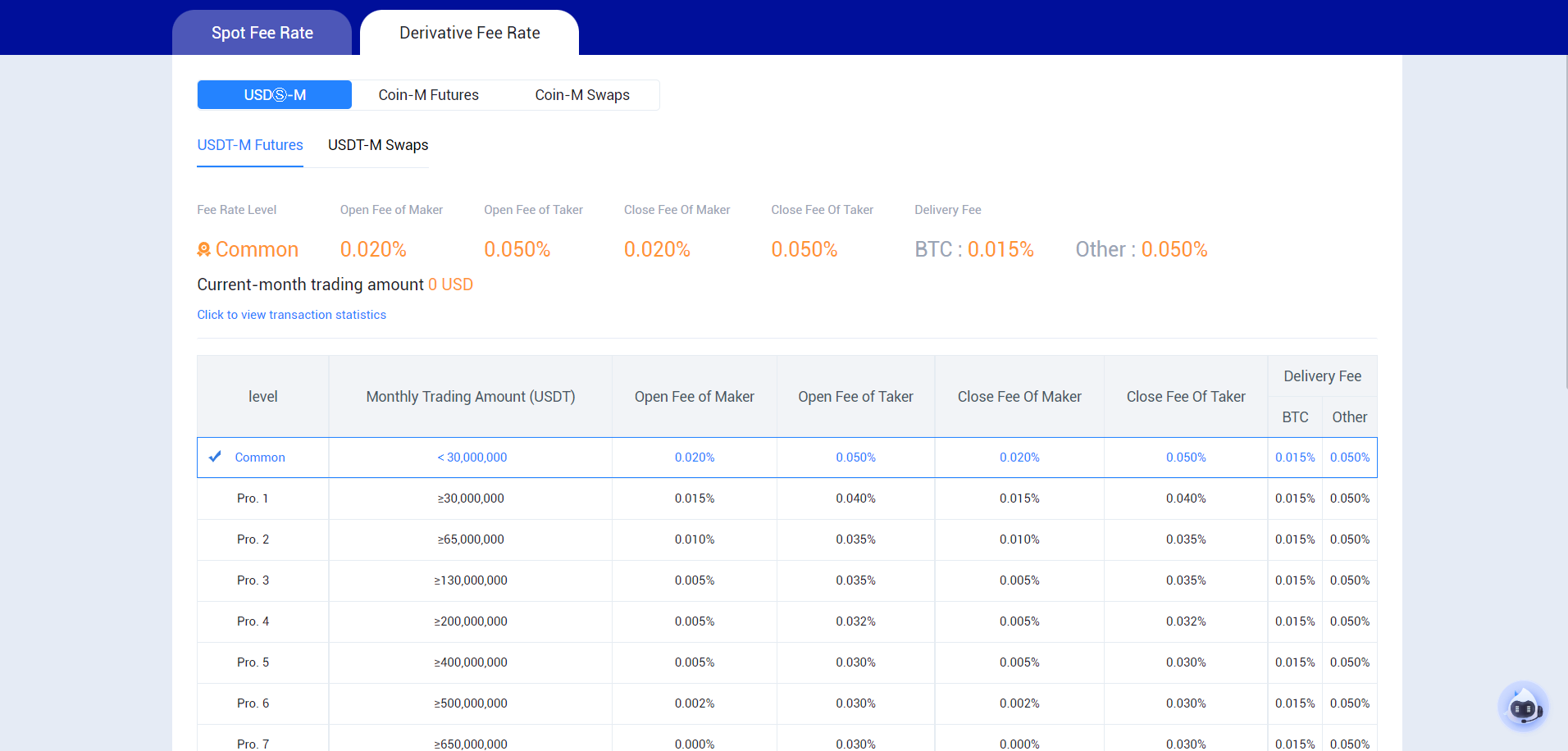 Preferential Huobi fees can also be achieved through trading volumes. The higher the trading volume and the larger your HT balance, the lower the Huobi trading fees.
TOPPING UP YOUR ACCOUNT ON HUOBI
Once the user is verified and their account is secured, they can make a deposit. Deposit can be done in three ways: in cryptocurrency, in fiat and in stablecoins. If you wish to deposit funds into your exchange account, you will need to:
Open the Balances tab and choose the account type (Spot, Margin, Fiat, Derivatives, etc.);
Then select the desired currency and click the Deposit button;
When the new page opens, select the network and click Send deposit address (the address will be sent to the e-mail associated with your account);
Copy the deposit address and send funds there;
Please note that in order to deposit money, the system requests the user to enable at least two methods of 2FA. The minimum deposit amount depends on the coin you plan to use to make your deposit. Deposit requirements are always displayed on the entry form.
For instance, the minimum bitcoin deposit amount equals 0.001 BTC. It takes an average of 10-20 minutes for funds to be transferred.
Platform users are also able to buy crypto for fiat by means of a swift Quick Buy/Sell function located in the Fiat tab. With just 1 click you can buy the crypto you needed and pay by Visa/Mastercard.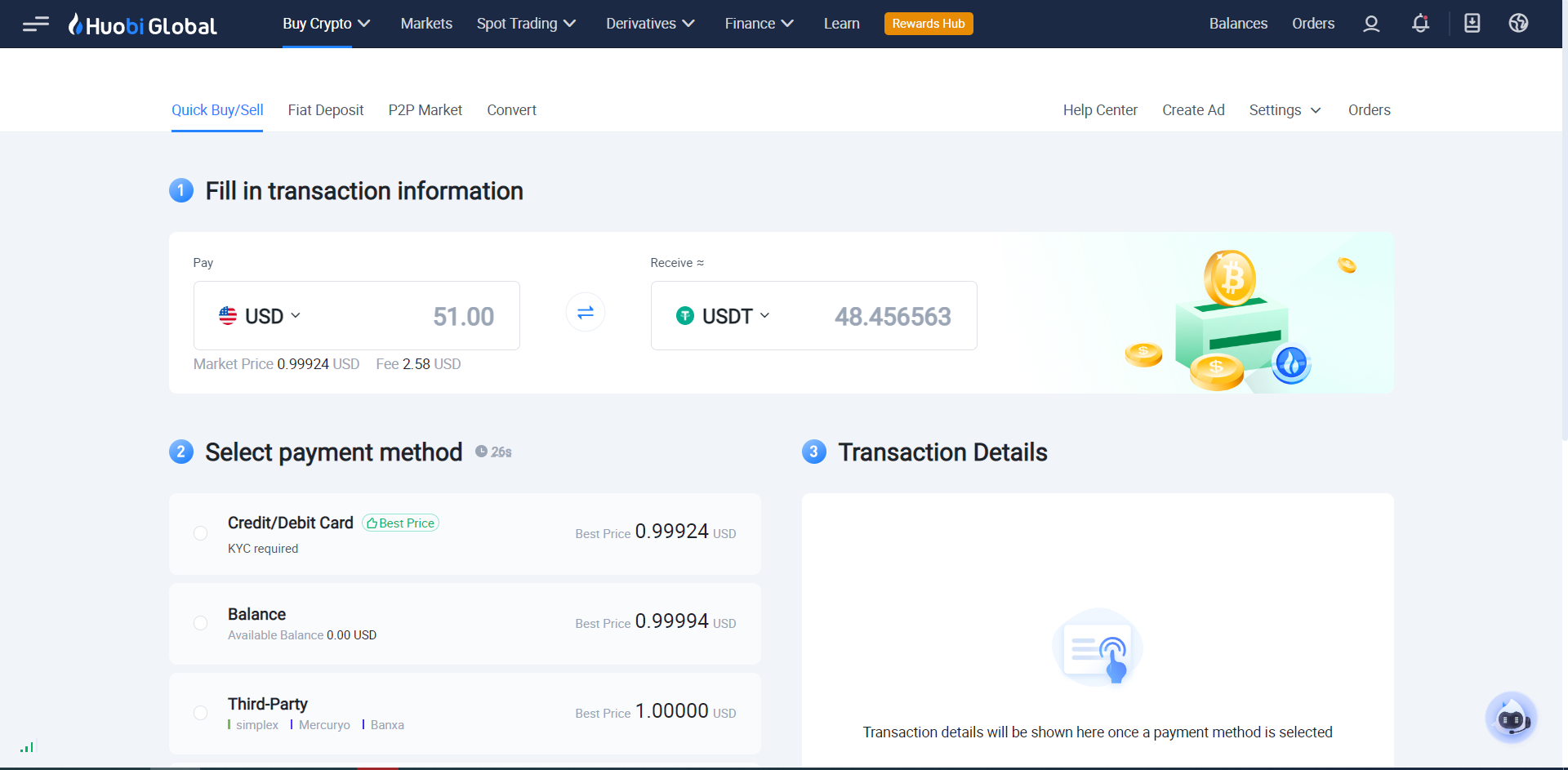 In order to top up an account with fiat currency, you should click on the Balances tab and select a Fiat Account option. Next, specify the desired currency and click the Deposit button. More than 50 national currencies are available for 1-click purchase, including USD, EUR, RUB, GBP, AUD, etc.
HUOBI LIMITS AND FEES FOR WITHDRAWING FUNDS
You can also withdraw crypto from the exchange by going to the same Spot Account page, but this time selecting the Withdraw button. Next, type in the withdrawal address and the amount of money required. The minimum withdrawal amount is equal to 0.0005 BTC. To check Huobi minimum trade amounts, choose the pairs and check "Minimum Order Amount".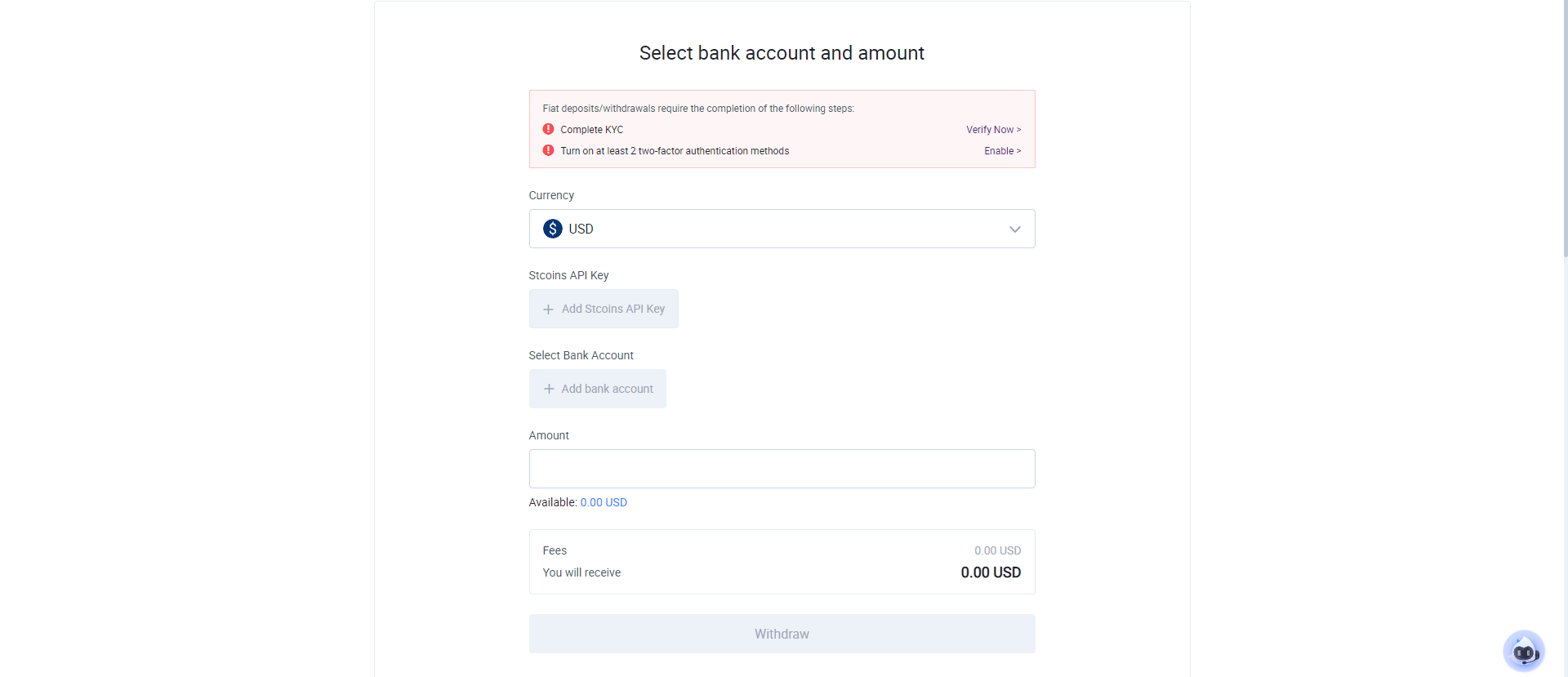 Huobi fees for withdrawal BTC are 0.0001 BTC. Huobi fees are less than the industry average, indicating a considerable competitive edge compared to many other top exchanges in the crypto market.
BENEFITS OF HUOBI
Huobi is In the market since 2013;
Huobi allows various types of trading, including margin trading;
Huobi takes leading positions in terms of trade volumes in the global ranking;
The exchange comprises of a vast array of trading pairs;
It has versatile functionality;
Huobi trading is highly secure;
Huobi trading fees can be reduced as trading volume soars and HT tokens are purchased;
The exhange provides an app for both IOS and Android;
You can get 24/7 technical support.
Ready to use a Huobi trading bot to earn more? Have doubts? Run any Huobi bot in demo mode and check its efficiency