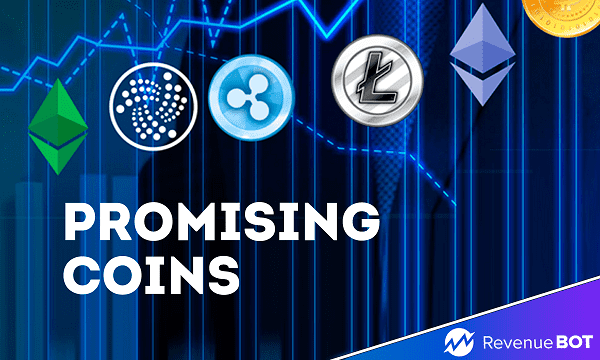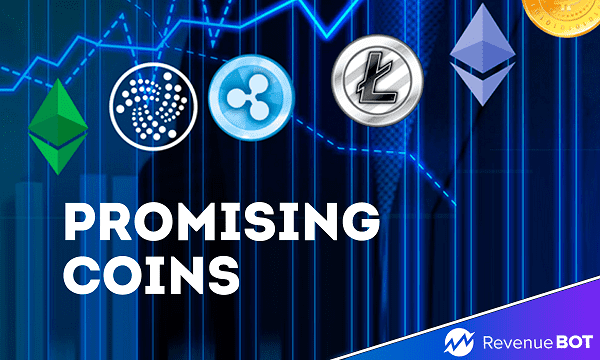 Numerous cryptocurrencies and tokens appear every day. Some of them are of a practical nature, which means they perform some sort of function. Others, on the contrary, have a purely entertainment purpose and may be in demand only due to the strong buzz around the project. RevenueBot has highlighted a few coins to watch out for. 
GMX (GMX)
GMX is a governance token of the eponymous platform, designed for voting and staking. GMX token staking program offers holders an opportunity to earn passive income through their tokens. Holders can stake their GMX tokens and earn interests of over 10% APR (at the time of this writing) on Arbitrum one and Avalanche blockchain. 30% of the fees generated on the platform are used to reward stakers. Staking rewards include ETH or AVAX (depending on where the token is staked), EscrowedGMX (esGMX), and Multiplier Points (MP).
GMX currently supports the Arbitrum and Avalanche networks. The exchange allows DeFi users to trade with 30x leverage without any restrictions, while also offering spot trading. Trading is supported via a unique multi-asset liquidity pool that generates rewards from market making, swap fees, leverage trading (spreads, funding fees & liquidations) and asset rebalancing. GMX uses Chainlink oracles to source dynamic pricing info from a variety of exchanges.
Apart from the GMX token, the platform uses a secondary token dubbed GLP. GLP is an index of the assets being used in the trading pool of the protocol in question. GLP coins can be minted using assets from the index, such as BTC or ETH, and can be burned to redeem these assets. GLP holders provide the liquidity traders need to get leverage. This means they book a profit when traders take a loss, and they take a loss when traders book a profit. Additionally, they receive esGMX rewards and 70% of the fees the protocol generates. The fees are paid in either ETH or AVAX. GLP tokens are automatically staked and may only be redeemed, not sold.
Ripple (XRP)
XRP was custom built for businesses to provide liquidity in cross-border payments. Using XRP, banks can source liquidity on demand in real time without having to pre-fund nostro accounts.
Payment Providers use XRP to expand reach into new markets, lower foreign exchange costs and provide faster payment settlement. You can buy or exchange XRP on a variety of popular crypto markets.
Unlike other cryptocurrencies, XRP is incredibly fast, as it takes only four seconds to set up. If we compare, ETH takes two minutes to process, while BTC takes over an hour. Traditional systems are even worse, lasting three to five days.
XRP is likewise highly scalable, processing 1,500 transactions every second. XRP may even be scaled to deal with the same throughput as Visa. To put this in perspective, ETH runs only 15 transactions per second, while BTC barely processes three or six of them.
TonCoin (TON)
TON is a fully decentralized layer-1 blockchain designed by Telegram to onboard billions of users. It boasts ultra-fast transactions, tiny fees, easy-to-use apps, and is environmentally friendly.
This project is meant to be widely deployed and distributed. TON is scalable and shardable. Its flexible architecture lets it grow and grow, with no loss of performance. It's used for transaction fees, securing the blockchain through staking, deciding how the network develops, and settling payments.
Since 2020, TON has evolved through the tireless efforts of the global decentralized community of crypto enthusiasts, developers, designers, and other experts in this field. Because the project's community is key to the future of TON, the Toncoin team invites everyone to join them.
TON is the backbone of the TonCoin ecosystem. Initially, there were 5 billion coins issued, with the number to grow by 2% each year. The launch took place on May 7, 2020.
Conclusion
When investing in new coins, you keep an open mind on all the risks, because the chances of a coin remaining at the same price brackets or depreciating are sky-high.  
This material is not a piece of financial advice and is for informational purposes only.
If you don't want to count on luck, RevenueBot offers an automated trading interface. You can trade on the leading crypto exchanges, including: Binance, Bittrex, FTX, OKX and others. RevenueBot allows traders to create trading bots that provide stable passive income. Among the main advantages of the platform we can highlight the following:

Fees for the service are charged only after the first profit, no prepayment required;

RevenueBot's native marketplace is a great way to buy a ready-made bot as well as to sell a lucrative configuration; 

The RevenueBot referral program enables you to earn without having to do any trading by yourself;

RevenueBot uses a Dollar Cost Averaging (DCA) strategy, through which you can successfully trade and make profits over the long run;

Automatic switching of trading pairs makes it possible to benefit from trading at any time. The bot itself will switch to another trading pair if the main one will not be able to do the earning. 
You can learn more about the features of the platform on the RevenueBot official website.