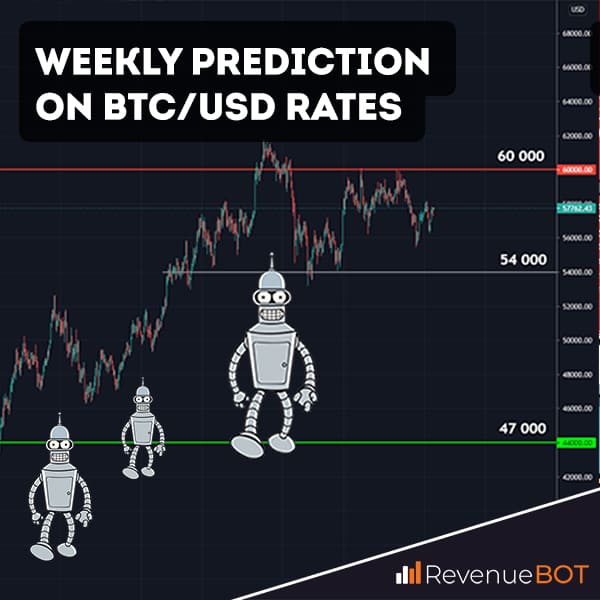 Another week of intense waiting has passed, but where will Bitcoin go from here to recovery or continue falling? Apparently, there were no sales figures, although an attempt was made to raise the price to $32,000. As a result, the price jumped and this morning came very close to an important resistance in the $40,000 area. We will review the Bitcoin-to-the-dollar exchange rate in our weekly forecast. 
BTCUSD forecast
The $32,000 level had already stopped the Bitcoin drop three times, with each subsequent attempt being weaker than the previous one. On June 8, the small sales were immediately bought by bulls, and within a week the price successfully reached $40,000. By the way, this level, too, has twice stopped Bitcoin attempts to recover, and now has a third chance to break this range. There are at least two reasons for this:
The negative news background has worked itself out, but over the past week there have been a lot of positive fundamental events, including the continued growth of inflation in the United States.

The sellers simply had no advantage over the buyers, as evidenced by the extremely weak third attempt to gain support in the $32,000 area.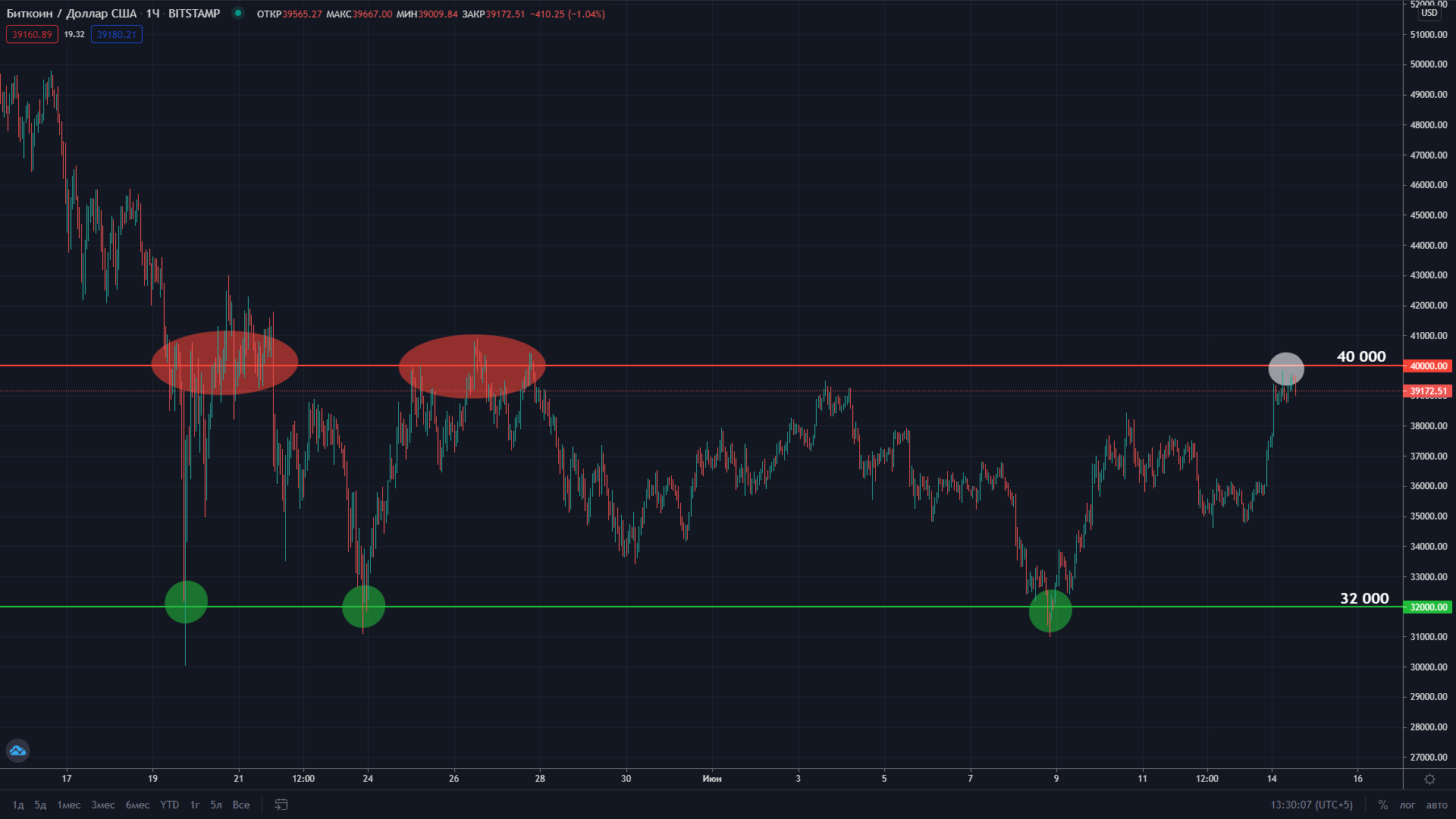 The relative strength index of the RSI indicator also indicates that the oversold zone has been left behind and the growth dynamics are gradually strengthening. Judging by the indicators on the daily timeframe, the growth towards the overbought zone coincides with the attempt to test $48,000. However, such a scenario is only possible if the price manages to successfully overcome the $40,000 level.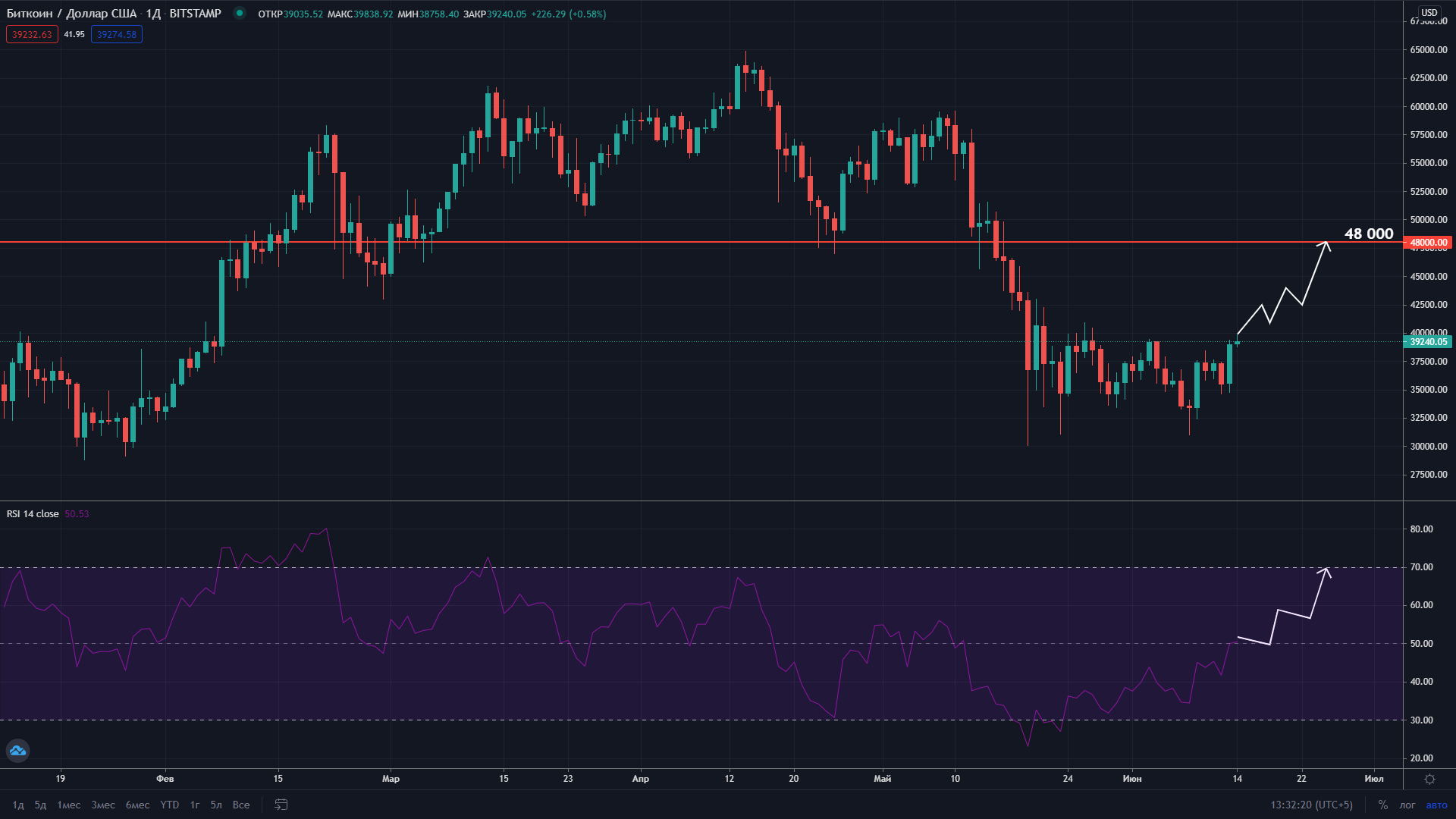 In any case, everything that is happening now in and around the crypto colony, as well as in traditional markets, indicates that recovery is imminent. If nothing terrible happens, let's hope Bitcoin will recover and grow again this week.
Our forecast for Bitcoin (BTCUSD) for today, tomorrow and the week of June 14-20 remains the same – the end of the fall cycle, followed by recovery to $40,000 and then $48,000.