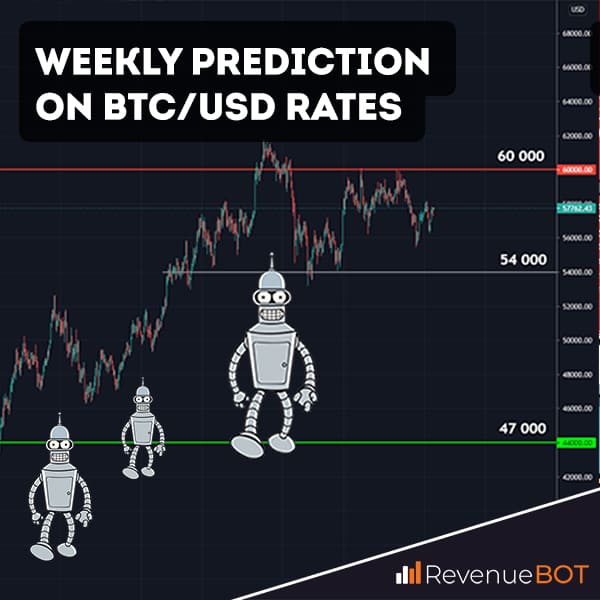 Today marks exactly 2 months since the beginning of the sideways trend in bitcoin. Despite various events, whether from the world of cryptocurrencies or in the global economy, the value of the main digital coin continues to remain locked within a sideways trend. There is one important plus in the tedious waiting – every week the range of the sideways trend narrows, there is a compression of liquidity, which means that in the near future we can expect an impulse that will set a further trend. In which direction the coin will go, we will analyze in our traditional weekly forecast of the bitcoin exchange rate to the dollar.
BTCUSD Forecast
Since the beginning of July, the price highs for bitcoin have continued to decline. Each new attempt at growth ends earlier and earlier, while the price lows continue to reliably keep the price from falling in the area of $30,000 – $31,000. A pronounced liquidity squeeze usually ends with an impulse shot in one direction or another. Here it should be taken into account that the events in China have long been embedded in the price, and there are no other fundamental negative events in the world of cryptocurrencies. In addition, the situation in the global economy is still developing in favor of risky assets, which is quite likely for a long time. Bond yields are falling, gold, stock and commodity markets are rising.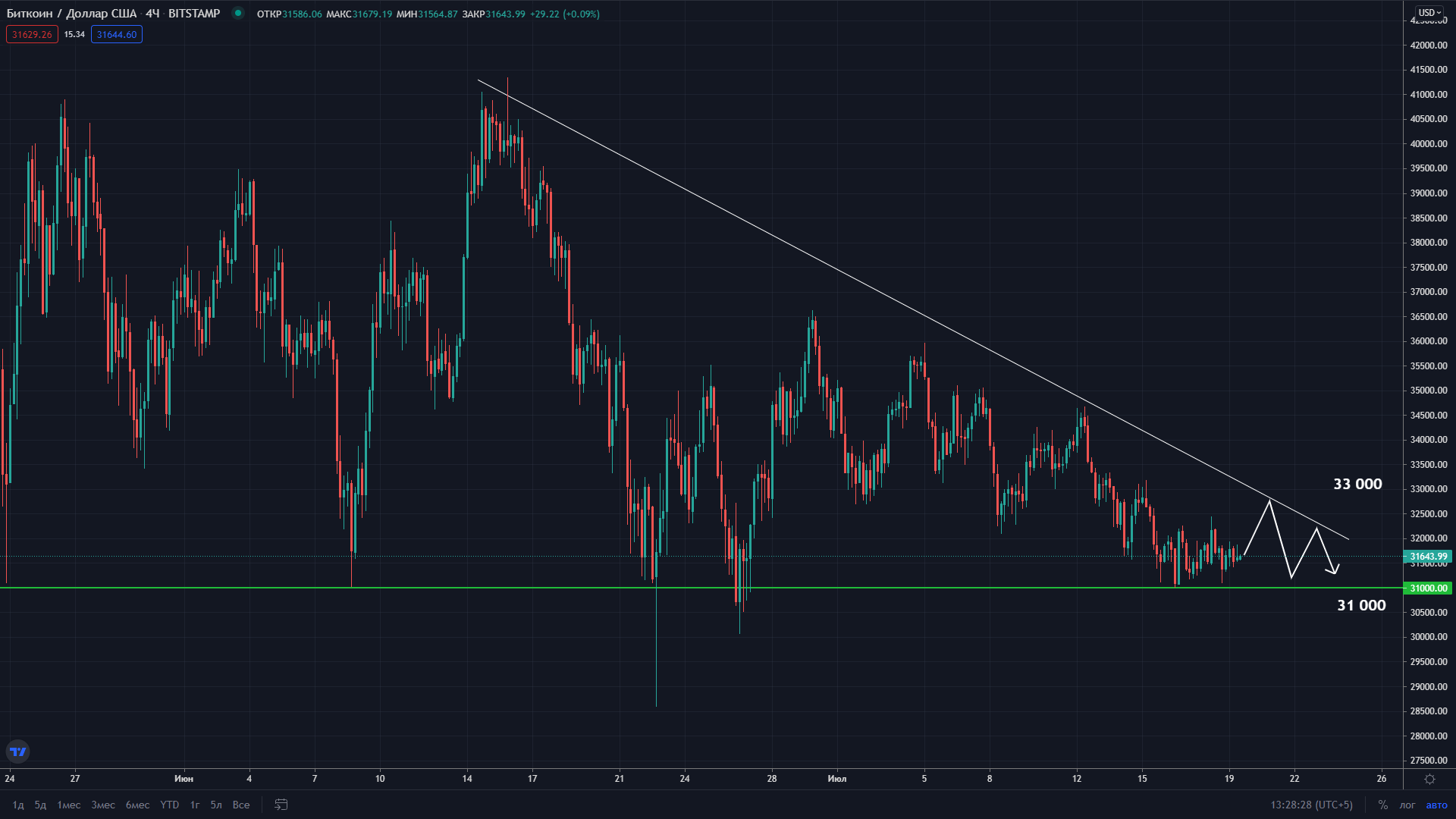 According to various analytical services, the withdrawal of bitcoins from crypto exchanges is growing, which creates a shortage in the market, while the volume of stablecoins that are brought to the exchanges is growing. Usually, such a scenario will soon lead to an increase in the value of bitcoin and other cryptocurrencies. 
The volume of trading on BTC continues to decline along with the price, but do not forget that the accumulation of positions by large players always occurs very smoothly and in small volumes, so as not to affect the volatility and price.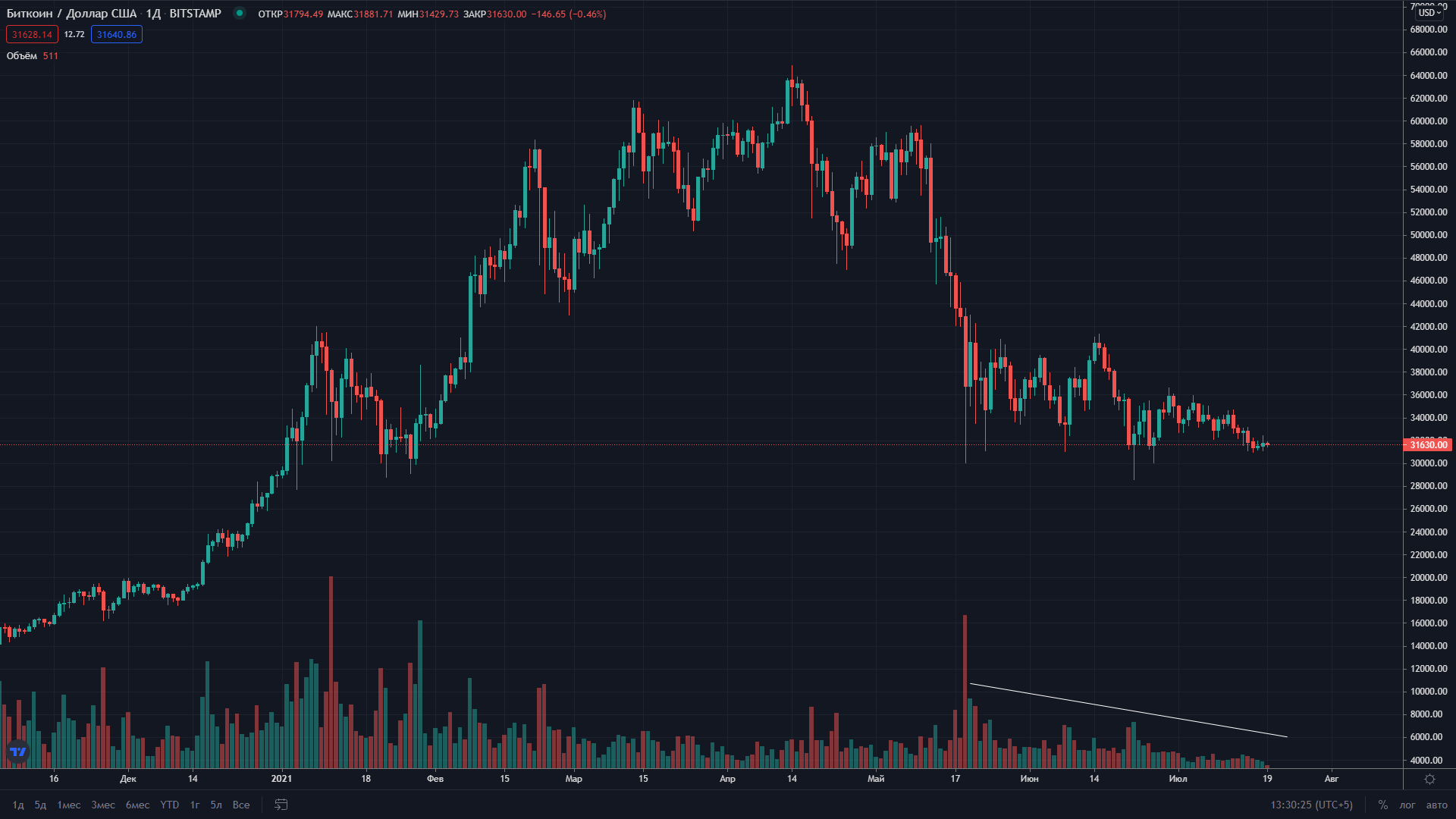 Putting together the resulting puzzle, we remain committed to the position that bitcoin is ready to return to recovery in the near future. Our forecast for Bitcoin (BTC/USD) for today, tomorrow and the week from July 19 to 25 is the culmination of a sideways trend with subsequent growth in the area of $36,000, and then $40,000.