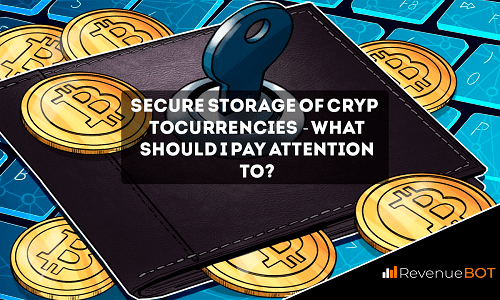 Novice crypto investors often ask the question – how best to store their digital assets? The obvious answer is a crypto wallet. However, not everyone knows that this is not enough. Before choosing a wallet, you should think about security. How to prevent the leakage of personal information and make working with digital assets more secure – we will talk in this article.
Security Basics
Before registering an account on a cryptocurrency exchange, you should create a new email address. The mail that you use for personal purposes, for correspondence or registration of social networks is not suitable. It is best that there is a separate email address for the exchange or each wallet. This item applies not only to email, but also to a mobile phone. It is better to purchase an additional SIM card.
In 2019, a teenager from New York, Yusef Selassie, obtained access to people's email addresses by cloning mobile numbers. After that, he had access to trading platforms and cryptocurrency wallets. Thus, he was able to get the data of 75 people and stole more than $1 million.
When working with cryptocurrency, you need to enable safe mode in the browser. It allows you to stop the recording of cookies and cache. This is done so that confidential information is not stored in the browser's memory.
There were incidents when hackers changed the addresses of crypto exchanges in search results. This led to the fact that user data fell into the hands of intruders. To prevent this from happening, you need to save the exchange address or enter it manually each time.
Diversification
It is worth diversification not only when investing, but also when you are going to store digital assets. For example, you should not store large amounts of funds on the account of a cryptocurrency exchange. A cryptocurrency that is located on a crypto exchange does not fully belong to its owner. If you store the crypt on the exchange, then, therefore, it will lie on her wallet. If hackers break into the exchange, your assets will be in danger.
Over the past decade, hackers have managed to steal more than $13 billion in digital assets. To do this, they had to hack more than 330 crypto exchanges, wallets and applications. It was the exchanges that suffered the most. Hackers were able to steal about $12 billion from them.
When you decide to buy a cryptocurrency for long-term storage, you should think about a cold or hardware wallet. It is worth transferring large amounts to such wallets. For cryptocurrency exchanges, it is better to leave a small amount of funds so that there is something to trade. If the amount of digital assets is impressive, then it is worth distributing it to different wallets. If a hacker manages to hack the wallet, he will not get access to the entire amount at once.
Personal data
When you start working with a cryptocurrency purse, you will need to install it on a PC or mobile phone. For security reasons, keep the seed phrase and save it in a place inaccessible to prying eyes. The best solution would be to print it out and remove it from important documents. The seed phrase is a set of words, usually between 12 and 24. It is used to restore access to the purse.
In 2020, a UK businessman decided to do an experiment. He wanted to know how long it would take hackers to access his wallet. The entrepreneur published 8 words from his seed phrase and stated that 1 BTC is stored on the wallet. Forty-four hours later, a hacker hacked into his wallet and stole the cryptocurrency. The remaining four words of the phrase, he figured out by matching.
Cryptocurrency wallets
Wallets that store digital assets have two classifications:
Custodial wallets.
Stock exchanges. Exchange wallets store keys on servers and do not get to the user's device.

Software wallets. There are also several software wallets, the keys are also stored on servers.
Non-custodial wallets.
Software wallet. As a rule, they are mobile and computer. They are installed on the user's device.

Web wallet. The most popular wallet among novice investors. It is easy to use and all operations are carried out directly on the site. An additional convenience is that the user does not need to install anything on his PC or phone, it is enough to have a browser and Internet access. Hence, there is an obvious drawback of such a wallet – the threat of a hacker attack. If the sites that provide this type of services somehow try to protect their users, then the residents themselves do not always comply with the security rules. The platform cannot monitor all the actions of residents, and if the user himself infects his device with a virus, it will be problematic to protect it from hacking. Therefore, it is worth understanding that you should not keep large amounts of assets in a web wallet.

Mobile wallet. Mobile wallets are gaining worldwide popularity. They store both small amounts and impressive ones. A large number of stores are starting to accept digital assets as payment for goods and services, so storing digital assets in a mobile wallet can help if you want to pay with cryptocurrency.

A paper wallet. It is the most secure among all wallets for storing digital assets. To start using a paper wallet, the user prints the key on paper, and then integrates it into an online wallet.
Conclusion
Despite the fact that many people strive to protect themselves when it comes to money, attackers still find ways to enrich themselves. In order not to become an easy target for hackers, you should not store your assets in one place. Remember about the basics of security and diversification. And then it will be difficult for scammers to cash in on you.