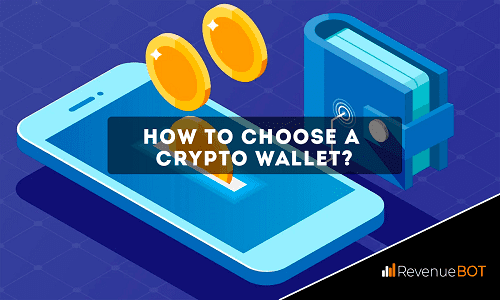 One of the main stages of working with cryptocurrencies is the choice of storage. Before you start investing in digital assets, it is best to take care beforehand about which wallet to choose. Each type of cryptocurrency wallet has different advantages and disadvantages. Some attract investors with security, others with a convenient interface and the ability to work with several assets at once. Therefore, before making a choice between software and hardware wallet, you need to consider the level of protection, availability and other factors. We will talk about how to choose a cryptocurrency wallet and how to work with them in this article.
What is a cryptocurrency wallet
A cryptocurrency wallet is an application or device that can reside on a user's computer or phone. A wallet secures private keys, generates requests for transactions on the network, and provides the user with access to the blockchain. Many newcomers to the crypto industry mistakenly believe that once a coin or token is purchased, it automatically goes to the user's device. In fact, a cryptocurrency wallet can be compared to a debit or credit card, or an online banking system. These tools provide the customer with access to the account where the savings will be stored in the future.
Types of cryptocurrency wallets by storage method
All transfers of tokens or coins are entered into a blockchain. Without access to the Internet, it is impossible to receive or send a digital asset. However, a user can write down a private key on a piece of paper and manually enter it into the site every time he plans to make a transaction. This kind of media can be kept safe or securely hidden. 
There are two types of wallets: hot and cold. They differ in that hot wallets are connected to the Internet using:
Mobile apps;

Programs installed on your computer;

Online services;

Cryptocurrency accounts that are embedded in international payment systems.
Cold Wallets
In order to keep digital assets secure with cold wallets are used:
Paper-based methods of key recordings;

Hardware-based cryptocurrencies;

Computers and mobile devices not connected to the Internet.
In addition, some cryptocurrency exchanges provide users with a "Safe Deposit Box" feature. Clients of the exchange can deposit assets into this "Safe Box", after which they go into the platform's cold wallet. It is only possible to retrieve assets from the "safe deposit box" in manual mode and usually once a day. Even if the account is hacked, the investor may have time to notice the attack and cancel the transaction.
This way of storing cryptocurrencies cannot be equated to a full-fledged cold wallet, since the user has no guarantee that the keys are reliably hidden from intruders.
Hot Wallets
To work with hot wallets, a user downloads blockchain-accessible software to his computer or phone. In addition, it is possible to use them directly on the exchange. Hot wallets have both advantages and disadvantages:
Benefits:
Ability to quickly transfer coins and view the balance.

User-friendly and intuitive interface.

Additional features. Applications for work with cryptocurrency are usually combined with exchange services, exchanges, and analytical tools.
Disadvantages:
High risk of hacking. If a hacker manages to gain access to the user's device, he can steal all of the victim's assets.

The risk of losing assets due to the termination of the service. If the user stores digital assets in a separate exchange wallet, he could lose his cryptocurrency because the platform is blocked.
Top cryptocurrency wallets for storing digital assets
Usually the rating of programs and services for working with digital assets is made taking into account several criteria. One of the main parameters is reliability, i.e. resistance to hacker attacks.
Trust Wallet
An American mobile application that runs on the Android and iOS operating systems. Trust Wallet has the following features:
Multi-currency interface. Users can work with different assets simultaneously.

Built-in investment offers. The cryptocurrency holder can transfer it to stacking. Thanks to this, not only the safety of capital will be ensured, but also the accrual of interest.

Built-in decentralized exchange (DEX).

Possibility to store non-exchangeable tokens (NFT).
Coinbase
A crypto wallet for Ethereum and ERC-20 tokens. The developer is Coinbase exchange of the same name. Unlike the crypto exchange, the wallet does not require verification when creating an account. Coinbase wallet can be installed on mobile devices with Android and iOS operating systems. In addition, the program has an extension for Google Chrome.
ShapeShift
An e-wallet, combined with a DEX-platform. It allows buying digital assets for fiat, exchanging tokens and coins. 
Conclusion
Any beginning investor or trader before starting work must decide on which exchange he will trade and in which wallet he will keep his digital assets. That's why this question should be taken as seriously as possible. However, a person, especially a beginner, needs a lot of time to trade on the top exchanges and platforms. That's why we recommend asking for help from a trader's assistant – a trading bot. One of the leaders in the segment is RevenueBot. The service provides the opportunity to create trading bots on the largest cryptocurrency exchanges: Binance, Bittrex, Bitfinex, Exmo and others. Creating a bot is free of charge, the service will not take commissions until the client begins to make a profit from trading the bot. With the help of deep settings of the bot, the service's clients implement trading strategies that are problematic to experience in normal trading. We will immediately indicate: the bot does not have access to customer funds on the exchange, but trades using API keys, that is, the account will remain out of access. RevenueBot has over 35 thousand customers who earn money thanks to trading bots.
Why should I choose this service?
Pay the commission only after making a profit.

The bot settings open up a variety of ways to make a profit.

Inside RevenueBot, a marketplace is implemented where customers can buy a ready-made bot so as not to bother creating their own, or sell their own if the configuration has shown efficiency. Also, the services of a mentor (an experienced customer of the service) are purchased on the marketplace, who is ready to answer the questions of newcomers. Over time, you can become a mentor yourself, getting additional profit for this.

Regular updates of the service's features that optimize the trading process.

The presence of the RevenueBot referral program allows you to earn money on trading, even without resorting to trading. Attract new customers for the service and get up to 30% of the profit they receive every month (but not more than 15 USD).
This is a small list of the advantages of the service. You can continue to list the positive qualities of RevenueBot, but why do this if you can go to the official website of the service and see for yourself everything? It is highly recommended to make decisions faster, because the crypto market does not stand still, but grows at exorbitant steps. Who knows how much profit is missed by someone who does not dare to come and start trading with RevenueBot.