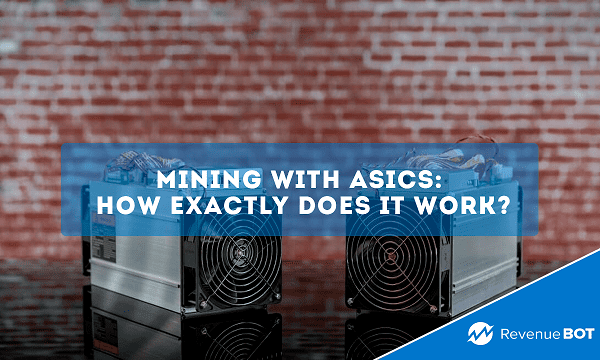 Back in the days when digital assets first started to emerge, they were mined using average home computers. As time passed, mining became increasingly sophisticated and demanding. Yet technology makes progress and evolves over the years. This is how the ASIC device was born. Compared with common video cards, they are significantly higher in performance. However, barely anyone is aware of what this device truly is.
Definition
An ASIC is a device for mining digital assets. The distinctive feature of ASICs is the inability to switch to coin mining with other algorithms, but they are most productive for BTC mining. These tools are placed on industrial Bitcoin farms.
Most private miners have long been unable to afford the price of such equipment. Yet later the things have changed, the price has become more acceptable. For example, the Antminer S9 was worth $2400 in 2016, $2000 in 2017, and only $500 in 2018. Modern versions of ASICs are getting cheaper in the same way. Whenever you choose a device, you need to choose it wisely.
Each ASIC for mining works according to a certain algorithm and is designed to mine selected cryptocurrencies. One and the same device cannot generate either BTC or LTC. The point is that they have unique cryptographic techniques.
Background
Multi-core processors we had in 2009 were only powerful enough for 50 H/s. The income was up to a few dollars a day, as well as the BTC was worth about 0.0008 USD.
In 2010, there was a code for mining BTC using video cards, but even that did not allow to scale the hashrates. Once the FPGA (Field-Programmable Gate Array) became available, mining evolved at a breakneck pace.
Later in 2012, ASIC-based technology was introduced.
The following year Bitmain released its first ASIC called Antminer S1. The hash rate of the device peaked at 180 GH/s, which was a new high at the time. The next model was completed within half a year and its speed was now 1 TH/s. Hence, each new device grew more powerful and energy-efficient than its predecessor.
Over the following years, the manufacturer kept releasing new models of Antminer. By 2019, revenues from BTC mining reached 5 billion. Despite the volatility of the industry development, such figures have contributed to a strong increase in demand for crypto mining systems. Back then, Bitmain issued Antminer S17, which is still relevant today.
Modus operandi
If you want to understand how an ASIC-miner works, you need to consider the way it works, by the example of BTC mining:
An ASIC connected to the Bitcoin network solves the complex computational problem of finding the next block.

The first miner to find a solution will receive a reward and transaction fees;

Owners of mining farms and ASiCs with more than 4 TH/s are contending for this bonus. Once the hash is guessed, the block is closed and a new node is created.
The operating principle of an ASIC for mining crypto is similar to torrent trackers. They keep the system running by distributing music, movies, and other files that are available to other users.
How ASICs differ from GPUs
ASICs and GPUs are similar just because both devices are capable of mining crypto, the rest is where the differences begin:
Effectiveness. The hash rate of ASICs can be as much as 1.5 to 2 times higher;

Actual dimensions. A graphics card farm takes up quite a lot of space, while an ASIC one can be half or even three times smaller;

Noisiness. GPU-based hardware runs on common computer power supply units, which function far silently than most ASICs;

Heating up. Video cards heat up more and require serious cooling because their operating temperature reaches 90 degrees Celsius. ASICs also heat up (as high as 70-80 degrees), but the ventilation incorporated into their casings is just fine enough to stay at a normal operating temperature;

Versatility. The GPU farm can be disassembled at any time and the video cards can be used to create gaming computers. ASIC for mining is designed in such a way that it is only used to mine crypto. It fails at other tasks.

Setting up. The GPU farm requires fine-tuning. If you' re a beginner, you will have to figure out a lot on your own or pay a specialist for his services. ASIC, in turn, is user-friendly. You need to connect it, enter a pool and a wallet, and only then it will run;

Maintainability. Video card farms are recoverable. You can take the components to a computer service center where they will be fixed. When it comes to the ASICs, things get trickier – they are not yet repaired en masse.
Conclusion
It wouldn't be the worst idea to buy ASICs in 2022. Given the progress in the field of digital asset mining, it can easily justify such an investment when there is a suitable room and access to cheap electricity. 
Nevertheless, even here it is not so unequivocal. There is no one who can say with absolute certainty whether or not the hardware in question has time to at least pay for itself, until the moment when it breaks down or the exchange rate of the crypto will collapse, thereby minimizing the profit.
For crypto market traders, RevenueBot offers an automated trading interface. The user can trade on top crypto exchanges, including: Binance, Bittrex, FTX, OKX and others. RevenueBot provides traders with the opportunity to create trading bots that allow them to receive stable passive earnings. The main advantages of the service include the following:
Fees for the service are charged only after the first profit, no prepayment required;

RevenueBot's native marketplace is a great way to buy a ready-made bot as well as to sell a lucrative configuration; 

The RevenueBot referral program enables you to earn without having to do any trading by yourself;

RevenueBot uses a Dollar Cost Averaging (DCA) strategy, through which you can successfully trade and make profits over the long run;

Automatic switching of trading pairs makes it possible to benefit from trading at any time. The bot itself will switch to another trading pair if the main one will not be able to do the earning. 
RevenueBot hosts a Telegram group for its customers and an official Telegram channel, where you can find the latest news and info about the crypto industry. You can learn more about the features of the platform on the RevenueBot official website.