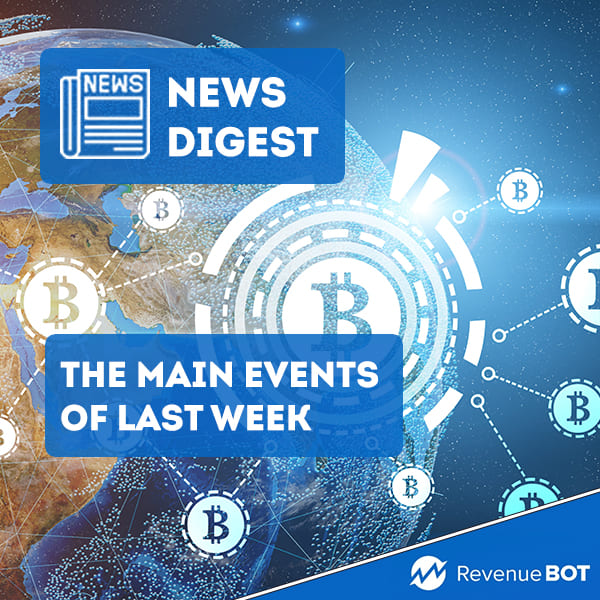 Friday, 20th of May. As the week comes to an end, we can focus on the highlights of the crypto industry over the past few days.
BitMEX set up a platform for spot crypto trading
The BitMEX crypto derivatives exchange team revealed the launch of a spot trading platform with digital assets.
There will initially be XBT/USDT, ETH/USDT, APE/USDT, UNI/USDT, MATIC/USDT, LINK/USDT and AXS/USDT available on BitMEX Spot.
At some point in the future, there will be trading pairs with their native BMEX token, with access to the platform via a mobile app.
Taker fees range from 0.03% to 0.1%, maker fees vary between 0% and 0.1%.
In addition, for proactive traders, there are discounts of up to 66.67% to the standard taker fee. For BMEX holders, the discount would be 15%.
First 10,000 users will be rewarded with as much as 200 BMEX for signing up, completing a KYC, and making trades. The offer will be valid until July 17. There is also a referral program.
They will divide prizes worth a total of $1 million among users as part of the initiative. You will need to make trades in any pair for the equivalent of at least $250 in order to participate. The winner will get $500,000. 
Other awardees can anticipate $3,000 and $2,000, BMEX and Ledger Nano X payouts, as well as a Saifedean Ammous' new book, The Fiat Standard.
You may recall that in the spring of 2021 the current head of BitMEX Alexander Heptner introduced an updated development strategy of the platform, under which it expects to become the world's leading crypto exchange. In particular, spot trading and custodial services for cryptoassets should appear on the platform.
Back in March 2022, a BitMEX affiliate rejected the purchase of Germany's Bankhaus von der Heydt.
Spotify tests NFT support feature
Spotify, the streaming music service, is eyeing the use of NFT on their platform. Music Ally reports.
Based on the profiles of indie band The Wombats and DJ Steve Aoki, Spotify is piloting the posting of NFTs that can be purchased on external marketplaces. So far, the company hasn't planned to sell tokens directly.
Only a limited number of U.S. Spotify Android app users participate in the test.
If it succeeds, the company would implement the feature for all artists.
People on Twitter are also responding to Spotify's survey about NFT, Web 3.0 and crypto.
As a reminder, the audio streaming service has unveiled a new vacancy for a senior backend developer to join its growth promotion team through new technologies such as Web3.
SEC head warns of possible prosecution of non-listed crypto-exchanges
Most cryptocurrencies are subject to the jurisdiction of the SEC so exchanges dealing with them must register themselves at the agency. This is what Gary Gensler, the head of the agency, said at a hearing in the U.S. Congress.
"Crypto exchanges should come in and register. Or frankly, we're going to continue to use what Congress has given us in enforcement and examination function," he said.
Gensler disagreed with the observation that the agency had not created clear legal rules for the crypto industry.
"If you're raising money from the public, you're an entrepreneur raising money from the public, you should have full and fair disclosure, and, guess what, not lie to them," Gensler stated.
At the same time, Gensler acknowledged that bitcoin, like some other crypto, can be "commodity tokens" subject to CFTC regulation.
Proceedings focused on the SEC's budget for next year. It was an increase in funding and the need to strengthen oversight of the digital asset industry, among other things that Gensler requested.
Gate.io to celebrate its 9th anniversary by announcing its rebranding and a $9 million prize pool
Gate.io crypto-exchange released details of its ninth birthday celebration. On May 27, the platform will showcase a new website design and identity, as well as an updated mobile app. In addition, the exchange will hold several competitions with a total prize pool of $9 million. It was reported in a press release.
The redesign will affect the logo, tagline and color scheme. The Gate.io mobile app will feature a Lite App mode with a simplified interface for trading 1400 cryptocurrencies and tokens. 
Moreover, Gate.io will hold a series of contests with a total prize pool of $9 million. The first event will be the Golden Bar. Participants will share $50,000 in prize money, and the winner will receive a 999 gram gold bar.
Gate.io is a Chinese cryptocurrency exchange that has over 10 million users and is one of the top 10 exchanges in terms of attendance. The platform was rated 4.5 in 2021 by Forbes Advisor. Exchange adheres to the recommendations of the world financial regulators and may deny residents of the U.S., Canada and several other countries in access to some of the tools.