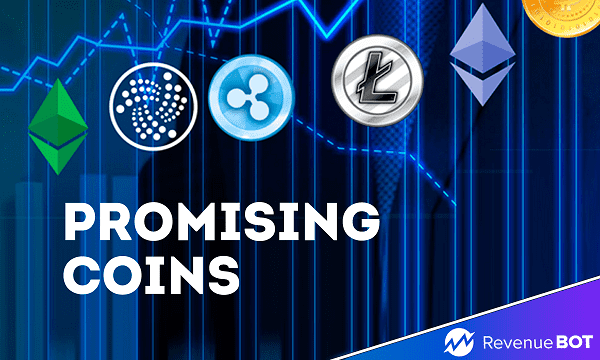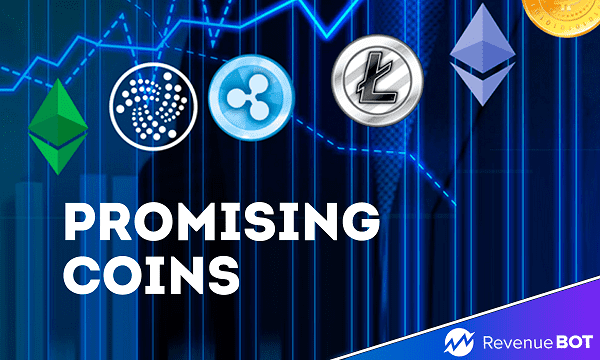 Numerous cryptocurrencies and tokens appear every day. Some of them are of a practical nature, which means they perform some sort of function. Others, on the contrary, have a purely entertainment purpose and may be in demand only due to the strong buzz around the project. RevenueBot has highlighted a few coins to watch out for.
Elrond 
Elrond (formerly ERD, then EGLD) is a blockchain platform that implements an adaptive segmentation (sharding) scheme for practical scalability and maintains performance using the SPoS (Secure Proof of Stake) consensus mechanism. It puts emphasis on security against attacks such as Rogue-key, Sybil, Nothing at Stake, and so on, as well as offering an EVM-compatible engine. The IEO of the token on the Binance exchange took place on July 2, 2019. During the lottery process, 5 billion ERDs were sold.
It is considerably more efficient than centralized alternatives in terms of throughput. The architecture can be seen as an extension of existing models, seeking a balance between decentralization, scalability and security. This is a revision of the blockchain architecture, to some extent. To accomplish their goal, the team developed a new adaptive state sharding mechanism that improves scalability as new nodes join the network. 
NEM (XEM)
NEM (XEM) is a decentralized P2P platform with its native blockchain to create apps, tokens and crypto. NEM public network was launched on March 31, 2015. The internal currency is XEM, using which you can carry out transactions between people with no third parties involved such as banks and other financial institutions.
These features make it possible to transfer money anywhere in the world rapidly and at extremely low commission fees.
As one of the oldest cryptocurrencies on the market, the NEM blockchain was created long before the ICO boom of 2017, a time when plenty of new projects emerged. Like Ethereum, NEM offers a number of features aimed at forming a new, smarter decentralized economy.
NEM was made in 2015 as a fork of the NXT blockchain, yet the developers later wrote their own code for the NEM chain from scratch. Based in Singapore, the NEM Foundation is responsible for managing the project.
From the outset, XEM was designed to show that crypto could be more than just a means of payment, and could be used for a whole range of other purposes as well, starting with the creation of custom tokens and ending with the tracking of the supply chain.
Quant
Quant is a protocol which provides dApps developers with the know-how to share information and assets securely across any network and at any scale. Overledger corporate DLT-gateway provides such properties by supplementing existing systems with distributed ledger technology, thereby boosting the development of a company or an entity. To put it in a nutshell, Quant is a link between blockchain and other organized systems.
QNT is an ERC-20 token that has a very functional role in the system: it is used to pay for products, services, and various fees in the ecosystem. The crypto has a total mintage of just over 14.6 million coins, with most already issued, 4.5 million of which will be allocated to the Quant network. The ICO of the project was held in May 2018.
The QNT token runs on the Ethereum blockchain and belongs to the ERC-20 standard. It is used as the main tool for transactions in the Quant. Since the token burn in September 2018, QNT issuance has peaked at approximately 14.6 million units.
All Overledger transactions involve Treasury, a special series of Ethereum smart contracts. The Treasury acts as a third party in each transaction, charging a small commission fee, which is passed on to the Quant Network. Even though all transactions are conducted using the QNT token, they are priced in dollars. In order to calculate the QNT needed for a transaction, an internal price is applied.
As it was previously mentioned, in 2018, Quant Network held an ICO. Then, the top volume of the issue reached 45.5 million, 70% of which was sold at the token sale. A total of $11,000,000 was raised at the ICO, suggesting it was a failure ( which is below the soft cap of $16,000,000).
Conclusion
When investing in new coins, you keep an open mind on all the risks, because the chances of a coin remaining at the same price brackets or depreciating are sky-high.  
This material is not a piece of financial advice and is for informational purposes only.
If you don't want to count on luck, RevenueBot offers an automated trading interface. You can trade on the leading crypto exchanges, including: Binance, Bittrex, FTX, OKX and others. RevenueBot allows traders to create trading bots that provide stable passive income. Among the main advantages of the platform we can highlight the following:

Fees for the service are charged only after the first profit, no prepayment required;

RevenueBot's native marketplace is a great way to buy a ready-made bot as well as to sell a lucrative configuration; 

The RevenueBot referral program enables you to earn without having to do any trading by yourself;

RevenueBot uses a Dollar Cost Averaging (DCA) strategy, through which you can successfully trade and make profits over the long run;

Automatic switching of trading pairs makes it possible to benefit from trading at any time. The bot itself will switch to another trading pair if the main one will not be able to do the earning. 
You can learn more about the features of the platform on the RevenueBot official website.