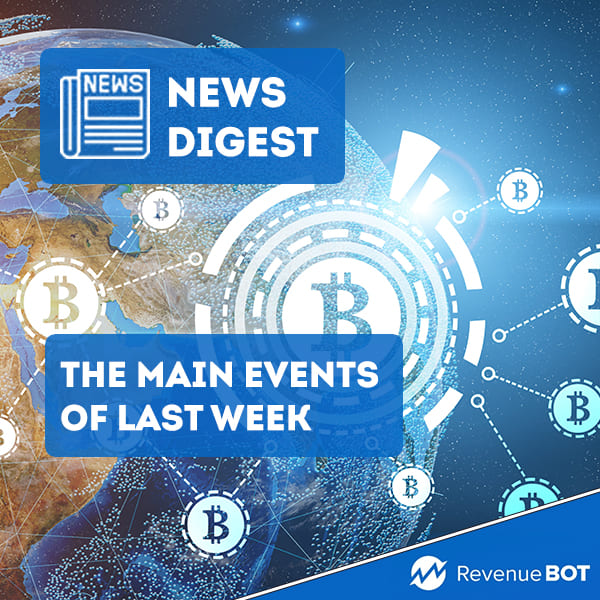 Friday, 10th of June. As the week comes to an end, we can focus on the highlights of the crypto industry over the past few days.
Forbes: about 30% of billionaires invest in crypto
Forbes America surveyed 65 "world's wealthiest people" and figured out that approximately thirty percent of them are investing in crypto-assets. 
The magazine specified that this figure is higher than that of investors who do not possess a billion-dollar fortune.
There were about 18% of respondents who claimed to hold at least 1% of their fortune in cryptocurrencies. Most of them invest in the industry as a trial run.
80% of billionaires who deposited in crypto said they invested less than a tenth of their net worth. 3.2% of respondents poured more than half of their money into digital assets. 
Another 10% reported that they did not make direct investments in cryptocurrencies, but rather backed industry-oriented companies. 
Sam Bankman-Fried, one of the survey participants said that between 76% and 100% of his $20.6 billion fortune is in crypto-assets.
More and more people are stepping into the crypto world of business. Mark Cuban, for example, who used to criticize bitcoin, is now a big investor in cryptocurrencies. 
"It's no different than investing in stocks, bonds, other assets. "My tech stocks outperformed my cryptocurrency," he told Forbes.
John Sobrato, the real estate billionaire revealed that he is not investing directly in digital currencies, instead he is investing in an Andreessen Horowitz-focused fund. To him, that's how he gets engaged in the industry, thus avoiding "brain overheating from being in an asset class you don't understand," he explained.
Some analysts believe that billionaires fit perfectly for experimenting with crypto and possess the necessary resources to do so:
"They're not so worried about what will happen to the price of Bitcoin next month."
Changpeng Zhao discussed Binance's plans to acquire a license in the Philippines
Binance, a crypto exchange, intends to apply for virtual asset service provider and e-money issuer licenses in the Philippines. It was announced at a press conference by Changpeng Zhao, head of the company, according to ABS-CBN journalist Jekki Pascual.
As the Manila Bulletin notes, Zhao highlighted the country's advanced payment infrastructure and the familiarity of its people with cryptocurrencies. From his perspective, the Philippines has an environment in which "innovation works better."
The CEO of Binance disclosed that he had already met with government officials to negotiate the issue. In addition, he announced that the company would expand its local team because the Philippines is a crucial market in Southeast Asia.
"We work very closely with governments to either consult or help shape the regulations by giving our best practices, feedback, and know-how from the industry perspective," he added.
Zhao did not mention a precise timeframe of registration in the Philippines. As he says, there are too many external factors influencing this development. However, the leader of the company expects that within a few months the plans will actually work out.
Solana to raise $100M fund to promote South Korea-based Web3 startups
Both Solana Ventures and the Solana Foundation have set up a $100 million fund to finance South Korean startups focusing on DeFi, NFT and GameFi.
"Korea is at the forefront of web3 game design and development, and we are committed to helping more developers in Korea bring their ideas to life," said Johnny B. Lee, general manager of games for the Solana Foundation.
In the long term, he believes, gaming Web3-projects will be welcomed on a massive scale, on a par with free mobile games. For Solana Ventures, the new fund is by far the first structure with a clear geographic focus.
Apart from funding, South Korean developers will get help and advice regarding design. Lee didn't rule out releasing more "high-quality and fun games" based on Solana in the second half of 2022.
As of May 2021, the Solana Foundation has raised $60 million for three funds targeting the expansion of the ecosystem in emerging economies.
Then in November, Solana Ventures, Lightspeed Venture Partners and FTX created a $100 million entity to invest in startups developing blockchain-based games.
During the same month, Seven Seven Six Ventures, together with Solana Ventures, committed $100 million to create a foundation to boost Web3 and social networking projects.
PayPal adds crypto withdrawals and deposits to third-party wallets
The PayPal payment system has made it possible to transfer cryptocurrencies between accounts, as well as to withdraw them to non-PayPal wallets. This is reported on the company's website.
So far, the option to send Bitcoin, Ethereum, Bitcoin Cash, and Litecoin to different addresses is available for limited number of US users. All American customers will be able to get access to the option over the coming weeks.
What the company also got was a BitLicense permit from the New York Department of Financial Services (NYDFS) to deal with New York State residents.
Before that, Vice President of PayPal Richard Nash asserted that the firm is pushing hard to integrate blockchain and cryptocurrencies into its services.