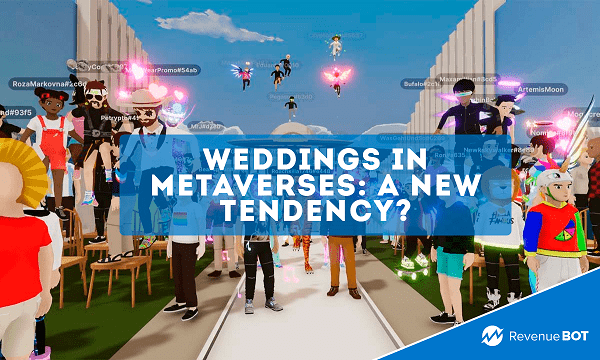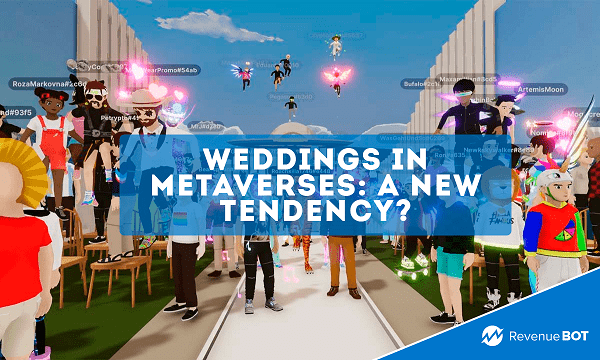 Marriage celebrations have been taking place in the metaverse for quite some time. Numerous multiplayer games introduce such things for gameplay diversity. These kinds of weddings are held mostly for in-game entertainment rather than to showcase the couple's earnest relationship. For this reason, most people do not take virtual marriages seriously.
Because of the coronavirus, however, lots of people started looking for a way out of the issue of the all-round ban on holding any social activities. Dating couples seemed to think of such weddings as an alternative to traditional celebrations.
Who and how conducts weddings in the metaverses
To perform a wedding ceremony in a metaverse, people contact agencies employing developers and 3D designers. If the metaverse is located in a blockchain network, a special NFT is designed for it, which records details about the ceremony and the marriage contract.
These designers and developers gather the newlyweds' preferences and build a personalized virtual setting with 3D avatars of the bride, groom, and their guests. Certain metaverses also have ready-made facilities for weddings. Such procedures are severely limited by the resources of the platform, which is why they are inexpensive. 
Weddings in a metaverse might suit all sorts of audiences. Marriage celebrations are performed in the virtual world by:
Individuals who, for whatever reason, are reluctant to hold traditional and formal occasions;

Teenagers who can't get married until they are a certain age;

People who happen to have a large number of friends from different countries, all of whom can be united in a metaverse;

Sexual minorities being denied having traditional weddings;

Dating couples who wish to have a more fashionable marriage ceremony;

Gamers, IT workers, virtual platform users and everyone who uses the latest technologies.
Why virtual weddings are so popular
It has become especially mainstream in the U.S. and Asia to have weddings in the metaverse and to broadcast wedding celebrations. They are held at Zoom, VR platforms, or gaming websites. Some American states already permit videoconference marriages by law, notably Florida, Colorado, Texas, and Washington, D.C. Hence the great demand for virtual weddings among average people after the imposition of COVID restrictions.
Back in October 2020, Zola.com, a major wedding website, polled 12,000 couples. The survey found that 37 percent of respondents said they would seriously consider a virtual wedding as an alternative to a classic ceremony. In fact, the adoption of pandemic restrictions is not the only reason for its popularity.
Wide array of settings. You can create any possible combination of spaces for the wedding party as desired by the newlyweds in the metaverse. These could be outer space, a dreamland, a futuristic or the medieval world – it all depends on the couple's imagination.
Remote access from any place. As things stand today, people can keep in touch with each other from almost anywhere in the world. Still, not everyone has the chance to attend the wedding of the newlyweds. Metaverses can help everybody meet in the same virtual environment.
Unlimited number of guests. Typical wedding locations can accommodate several hundred people. A metaverse provides you with a solution to this issue.
Wedding gamification. Not only does the virtual space become a gem of a ceremony, but it also serves as a platform for entertainment. Your guests can not only spectate the ceremony from the distance, but also engage in many different quests. Contests are much more exhilarating than traditional toastmasters.
NFTs of chosen metaverse as a gift Not all guests are able to bring a gift to the newlyweds in person. It is easier for people from foreign countries to make a transfer, though it can take longer or result in a high fee. Moreover, not everyone is aware of the best gift for the newlyweds. Therefore, game NFTs of the metaverse may become an alternative to traditional gifts. 
Absence of discrimination. You can have virtual weddings between people of any sex, age, nationality, and gender identity. 
Affordability. To hold a real-life wedding, you rent cars and facilities, buy lots of beverages and food, hire a host, a photographer, and pick up fresh flowers. You also buy an expensive bride's dress, the cost of which can account for up to half of the cost of the wedding. In the metaverse, however, all expenses are incurred to create a virtual setting to suit the customer's preferences, and that is far less costly. As an example, the average U.S. purchase size for a Zoom wedding is estimated to be $2,000, while the average for a classic wedding is $23,000. 
Fast arrangements. It is advisable to book all the necessary facilities in advance to celebrate a real-life wedding. People spend months on waiting lists for locations to become available because of the high demand. Meanwhile, a virtual wedding can be organized within just a week.
Conclusion
Hosting a wedding in the metaverse may be an alternative or a supplement to real-life ceremonies. These are suitable for people who want to celebrate anniversaries, companionate marriages, minority parties, activities held by gamers or IT specialists. There is no maximum number of guests, you can attend such weddings from any part of the globe, as well as they are both faster and more affordable to arrange than real-life ceremonies.
For crypto market traders, RevenueBot offers an automated trading interface. The user can trade on top crypto exchanges, including: Binance, Bittrex, FTX, OKX and others. RevenueBot provides traders with the opportunity to create trading bots that allow them to receive stable passive earnings. The main advantages of the service include the following:
Fees for the service are charged only after the first profit, no prepayment required;

RevenueBot's native marketplace is a great way to buy a ready-made bot as well as to sell a lucrative configuration; 

The RevenueBot referral program enables you to earn without having to do any trading by yourself;

RevenueBot uses a Dollar Cost Averaging (DCA) strategy, through which you can successfully trade and make profits over the long run;

Automatic switching of trading pairs makes it possible to benefit from trading at any time. The bot itself will switch to another trading pair if the main one will not be able to do the earning. 
You can learn more about the features of the platform on the RevenueBot official website.