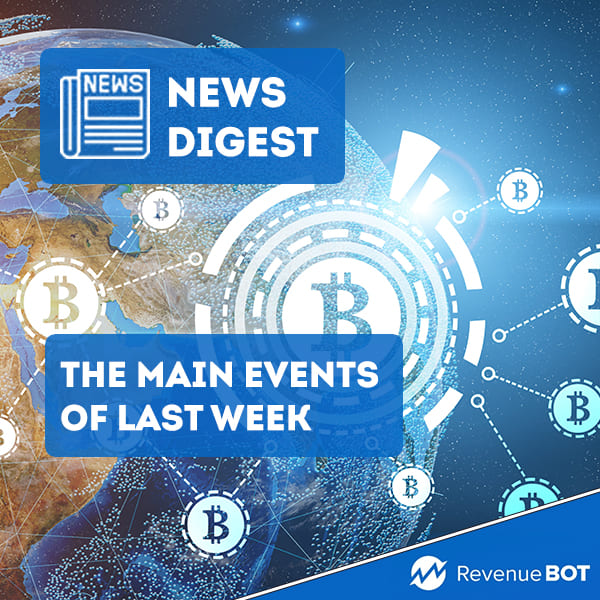 Friday, 2nd of September. As the week comes to an end, we can focus on the highlights of the crypto industry.
Mt․Gox to halt receiving requests for bitcoin refunds
Starting September 15, the Mt․Gox exchange, which slid into bankruptcy, will stop accepting applications for third-party refunds as part of the civil rehabilitation process. This is stated in a letter to creditors.
The ban will last until the base maturity date. It is up to the rehabilitation trustee, with the permission of the court, to determine a specific date.
 "The assignment, transfer or succession, provision as collateral, or disposition by other means of rehabilitation claims are prohibited" during this period. According to the paper, this is necessary "to ensure safe and reliable payments."
The Rehabilitation Trustee will discontinue accepting applications for claim transfer procedures through all available channels of communication, including the Rehabilitation Claim Filing System, email, offline and others.
The deadline for repayment in cash may be delayed by a court order due to delays for the sale of cryptocurrency.
Mt.Gox has also asked to refrain from transferring rehab claims to a third party for that period to avoid additional complications. The system access for such users will be restricted, whereas the registered applications of the recipients who declared the transfer of claims will be deleted as invalid.
As you may remember, Mt.Gox, once the largest bitcoin exchange, collapsed in early 2014. This came after it was reported that 850,000 BTC ($480 million at the time) were allegedly hacked and stolen.
The civil rehabilitation process was launched in 2018.
As of 2020, Mt.Gox trustee Nobuaki Kobayashi had filed a plan to compensate creditors in a Tokyo court, where the document was approved. At that moment the Mt.Gox wallet held 137,891 BTC.
FTX assists South Korea's Busan to launch a crypto exchange
South Korean city Busan signed an agreement with FTX crypto exchange to develop blockchain-based businesses and create infrastructure for trading digital assets.
According to the press release, the collaboration with FTX is part of the authorities' broader plans to transform the city into a center for digital finance.
FTX would further develop and promote blockchain-specialized education in connection with regional universities and launch projects in the Busan blockchain special free zone.
FTX will offer technological and infrastructural support to the city in establishing the Busan Digital Asset Exchange.
As FTX investment division CEO Amy Woo says, the company will establish a Korean branch in Busan.
Reddit co-founder to raise $177.6 million in start-up crypto-fund
Seven Seven Six, the venture capital company run by Reddit co-founder Alexis Ohanian, intends to raise $177.6 million for a new fund called Kryptos. Papers of the framework were reviewed by The Information.
"Now is potentially a unique opportunity to invest in strong founders at a discount," the marketing materials say.
They will focus on buying cryptocurrencies like Bitcoin and Ethereum.
Katelin Holloway, founding partner of Kryptós said, "It's on sale. Everything is on sale."
Management fee will be 2.5% of AUM, while incentive fee will account for 25% of profits (35% if the fund is five times as large as its original level).
The new fund, named Kryptos, will be the two-year-old firm's first focused exclusively on crypto.
As a reminder, Alexis Ohanian's firm brought in $500 million for two entities in February 2022.
The total amount of funds under the management of Seven Seven Six, taking into account the fund launched jointly with the Polygon project reached $750 million.
Binance ranked 6th world's largest Unicorn
With an estimated $45 billion, Binance is now the sixth-largest exchange in the global "unicorn" ranking, according to the semi-annual Global Unicorn Index 2022 report from Hurun Research.
The cryptocompany moved up 15 positions at once. Only half a year ago its market cap was $15 billion.
Douyin ($200 billion) remained at the top of the list. The valuation of TikTok media platform dropped by $150 billion.
Elon Musk's SpaceX came in second ($125 billion), ahead of Ant Group ($120 billion).
In total, Hurun counted 1,312 non-public companies with valuations over $1 billion in 48 countries. They have a combined value of $4.2 trillion. The top 10 accounts for 17.6% of the total.
"In the first six months of the year, 369 new 'unicorns' were identified – two per day. Almost a third of these are doing fintech, SaaS and blockchain. 80% are providing services, with only 20% having physical products. 65% are selling to businesses and 35% to consumers," noted Rupert Hoogewerf, Hurun principal investigator.