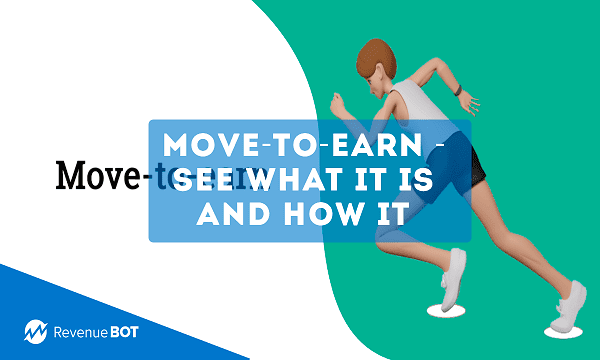 Move-to-Earn is the whole concept of making money in the crypto space, which literally means 'move and earn.' These bring together elements of gaming finance (GameFi) and fitness apps (FitnessFi) to to incentivize exercise. FitnessFi apps use blockchain technology for an immutable record and powerful crypto earning and spending capabilities. 
The combination of financial incentives and gamification techniques is what gives rise to the umbrella term GameFi. We've already witnessed the Play-to-Earn (P2E) economy boom of games based on unplugged life. Nevertheless, we can treat traditionally uninteresting activities, such as physical exercise, in the same way. As for the actual profit-making technologies, they remain the same as in the case of Play-To-Earn – that is, the mining of intra-platform crypto and NFT tokens, as well as their staking.
Features of the concept
Move-to-earn is a new phenomenon that encompasses a wide range of products and services that reward customers for being active. They're online platforms that reward users for staying in shape, allowing them to earn extra money for doing their regular workouts or participating in specific fitness challenges.
Most of the M2E crypto projects are free and do not require any upfront investment. Instead, users are rewarded with money for hiking, biking or other sports. The more you are physically engaged, the more money you can raise. It's quite a simple concept, and there are far more projects in this area than one might think.
Though the "Move and Earn" idea is something of a niche market, it does have value. For example, instead of staying in a chair or in bed all day, people should move as much as possible to improve their health. A few dollars can motivate people to stay active. In addition, it is quite simple to track actions and activate rewards for certain tasks, using cutting-edge technologies such as step counters, augmented reality, GPS, and so on.
Financial incentives for exercise and healthy living are in no way a new concept. In the past, employers, insurers and independent companies have created various models based on this idea to encourage participants to quit smoking, lose weight and exercise more. The rewards often range from reduced insurance premiums and shopping vouchers to actual cash payments. In fact, there are even studies showing that incentivizing healthy behaviors can effectively stimulate movement not only during the program, but also in the long run.
Cryptocurrency earning apps can help you combine the best of both worlds by gamifying exercise and combining it with stimulation. M2E applications could be just what the doctor ordered when it comes to motivating people to engage in healthier physical activity in their daily lives. Like play-to-earn games that allow you to earn crypto just by playing, M2E apps and FitnessFi games use a variety of interactive programs and rewards to encourage you to get active.
At this point, you have to keep in mind that it's not quite right to refer to all Move-To-Earn projects as games. These may include software programs or apps that do not feature a gaming element. Moreover, some developers primarily market their projects as health and fitness apps. It is their goal to inspire people to live healthier lifestyles and spark interest in Web 3.0-related technologies.
Promising Move-To-Earn projects
M2E projects are likely to become even more prosperous than Play-to-Earn projects because of their hands-on approach to life and the emphasis they place on players' health. Since it can benefit players, this trend of "Move and Earn" is certainly not about to cease in the crypto market.
STEPN is an app which lets users earn tokens for walking, jogging or running. The platform defines itself as "a Web3 lifestyle app with Social-Fi and Game-Fi elements."
Walken is also a Move-to-Earn mobile app that tracks your physical activity in the background and rewards you with WLKN tokens. Walken blends sports and NFT while highlighting the natural human urge to walk and move. By walking around in real life, players earn Gems, which upgrade their game characters and compete for prizes in the form of WLKN tokens.
DOTMOOVS provides the world's first crypto-mobile competitive environment that lets you rival other players around the world. The idea behind the project is to create a powerful sports platform where anyone can challenge their friends or any other like-minded experienced players worldwide to take on their favorite sport.
Genopets is the first-ever Solana-based free mobile NFT game that enables you to generate income and enjoy an active lifestyle. With this Move-to-Earn project, you are rewarded for building your body, mind, and spirit as you take care of your digital pet. Convert your physical movements and cognitive efforts into game advancement to revamp and develop your Genopet NFT. Once you set up your Genopet to your likeness, you will find that the Genopet is as rare and valuable as you are.
Step App is a blockchain-based AR fitness app to help users exercise, communicate, and earn crypto. Step App token economy includes staking, locks, liquidity incentives, buy backs, and burns. These are driven by demand drawn by both gameplay perks and value drawn from the game economy.
OliveX is a gaming fitness ecosystem powered by a DOSE token that compensates users depending on their athletic performance. Players will receive DOSE tokens for completing workout based gameplay in Dustland Runner, Dustland Rider, 22 Pushups and other experiences.
Conclusion
If you work out or just want to stay in shape, Move-to-Earn apps are the perfect solution, giving you the chance to earn income just by doing what you're already doing. However, most M2E apps require rather significant preliminary investment, which is a drawback, of course. Even so, there are those that do not require any kind of initial investment.
For crypto market traders, RevenueBot offers an automated trading interface. The user can trade on top crypto exchanges, including: Binance, Bittrex, FTX, OKX and others. RevenueBot provides traders with the opportunity to create trading bots that allow them to receive stable passive earnings. The main advantages of the service include the following:
Fees for the service are charged only after the first profit, no prepayment required;

RevenueBot's native marketplace is a great way to buy a ready-made bot as well as to sell a lucrative configuration; 

The RevenueBot referral program enables you to earn without having to do any trading by yourself;

RevenueBot uses a Dollar Cost Averaging (DCA) strategy, through which you can successfully trade and make profits over the long run;

Automatic switching of trading pairs makes it possible to benefit from trading at any time. The bot itself will switch to another trading pair if the main one will not be able to do the earning. 
You can learn more about the features of the platform on the RevenueBot official website.