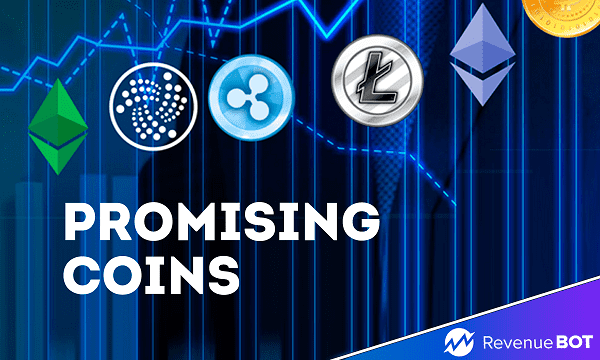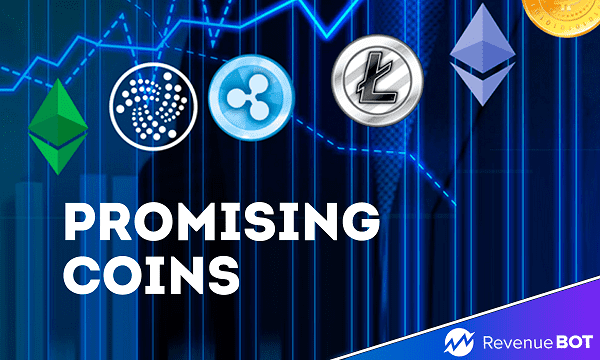 Numerous cryptocurrencies and tokens appear every day. Some of them are of a practical nature, which means they perform some sort of function. Others, on the contrary, have a purely entertainment purpose and may be in demand only due to the strong buzz around the project. RevenueBot has highlighted a few coins to watch out for. 
PancakeSwap (CAKE)
CAKE, the BEP-20 token for PancakeSwap, is based on the Binance Smart Chain. You can use CAKE for staking and receive rewards in the form of BNB tokens, thanks to a partnership with Binance.
PancakeSwap is a DEX designed to exchange BEP-20 tokens using the Binance Smart Chain. PancakeSwap relies on the Automated Market Maker (AMM) model, where users trade against a liquidity pool. Such pools are funded by users. They deposit money in the pool, in exchange for liquidity provider (LP) tokens. These tokens can be used for a refund of their share as well as a fraction of the trading fees.
PancakeSwap is similar to UniSwap and SushiSwap that run on Ethereum. The main task of such platforms is to arrange anonymous exchange using your own tokens, which also allow you to take part in a wide range of incentives for special rewards (by farming new coins or buying them at the start of sales, as well as by taking part in the voting).
TonCoin (TON)
TON is a fully decentralized layer-1 blockchain designed by Telegram to onboard billions of users. It boasts ultra-fast transactions, tiny fees, easy-to-use apps, and is environmentally friendly.
This project is meant to be widely deployed and distributed. TON is scalable and shardable. Its flexible architecture lets it grow and grow, with no loss of performance. It's used for transaction fees, securing the blockchain through staking, deciding how the network develops, and settling payments.
Since 2020, TON has evolved through the tireless efforts of the global decentralized community of crypto enthusiasts, developers, designers, and other experts in this field. Because the project's community is key to the future of TON, the Toncoin team invites everyone to join them.
Uniswap (UNI)
Uniswap (UNI) is an ERC-20 token for the decentralized governance of the Uniswap exchange. UNI holders are responsible for ensuring that governance decisions are made in compliance with applicable laws and regulations. Uniswap is a DEX system aimed at exchanging ERC-20 tokens and uses an Automated Market Maker (AMM) as the price determination.
Uniswap aggregates tokens into smart contracts, thus creating liquidity pools. Participants of the platform can swap assets, create new trading pairs, and add tokens to pools to collect fees.
Uniswap does not require you to register and complete KYC and AML procedures. The only thing needed is an Ethereum wallet like MetaMask. What distinguishes Uniswap is the use of a model called the Constant Product Market Maker (CPMM).
You can access the Uniswap protocol through the uniswap.org web interface. To sign up, you can use an Ethereum wallet, say, MetaMask. Customers can exchange tokens or add assets to the Uniswap liquidity pool. It is necessary to specify the token that the user wants to receive and the asset to use for payment. Afterwards, the user must approve the transaction with their wallet and confirm it by paying the Ethereum transaction fee.
Conclusion
When investing in new coins, you keep an open mind on all the risks, because the chances of a coin remaining at the same price brackets or depreciating are sky-high.  
This material is not a piece of financial advice and is for informational purposes only.
If you don't want to count on luck, RevenueBot offers an automated trading interface. You can trade on the leading crypto exchanges, including: Binance, Bittrex, FTX, OKX and others. RevenueBot allows traders to create trading bots that provide stable passive income. Among the main advantages of the platform we can highlight the following:

Fees for the service are charged only after the first profit, no prepayment required;

RevenueBot's native marketplace is a great way to buy a ready-made bot as well as to sell a lucrative configuration; 

The RevenueBot referral program enables you to earn without having to do any trading by yourself;

RevenueBot uses a Dollar Cost Averaging (DCA) strategy, through which you can successfully trade and make profits over the long run;

Automatic switching of trading pairs makes it possible to benefit from trading at any time. The bot itself will switch to another trading pair if the main one will not be able to do the earning. 
You can learn more about the features of the platform on the RevenueBot official website.