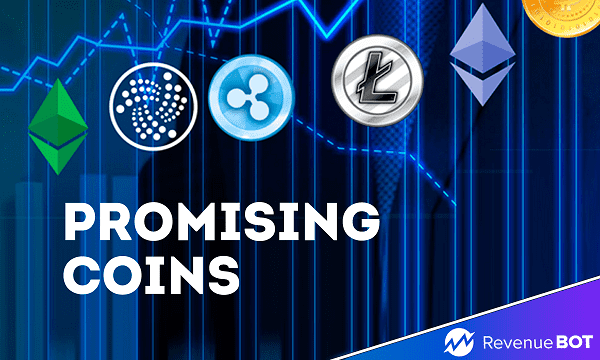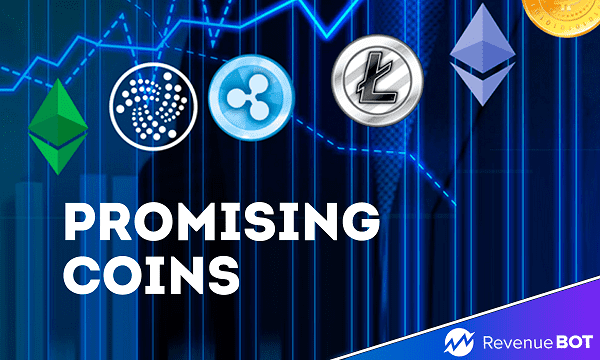 Numerous cryptocurrencies and tokens appear every day. Some of them are of a practical nature, which means they perform some sort of function. Others, on the contrary, have a purely entertainment purpose and may be in demand only due to the strong buzz around the project. RevenueBot has highlighted a few coins to watch out for.
Ripple (XRP)
XRP is one of the prevalent cryptocurrencies (ranked 3rd by market cap as of August 2021). Despite the debate surrounding it, the project still boasts many followers. And this is easily explained. No other digital coins look like this project, neither in technology nor in idea. This review about XRP cryptocurrency will help to understand the intricacies of the coin and discover its purpose. From this it will be easier to judge the pros and cons, to understand the advisability of investing in the token.
In early 2011, three developers — David Schwartz, Jed McCaleb, and Arthur Britto — were fascinated with Bitcoin but observed the waste inherent in mining. They sought to create a more sustainable system for sending value. Their initial observations about the high energy consumption and scalability issues that would plague Bitcoin proved prescient. In 2019, estimates suggest Bitcoin mining used more energy than the entire country of Portugal. Their initial read indicated that significant problems could arise if any miner obtained greater than 50% of the mining power. That risk persists with Bitcoin and Ethereum today. Even in 2021, the same problem is in place because the mining capacity has been consolidated in China (until May 2021).
Binance Coin (BNB)
It is a digital token powered by Binance Chain.
The BNB token was designed by the founders of the eponymous crypto exchange – Binance, one of the best trading platforms for the purchase and sale of digital assets.
Throughout its lifetime, Binance has never been compromised and even managed to hold the first place in terms of trading volume. BNB is the Binance's native cryptocurrency, intended to facilitate investors' interaction with the exchange and to act as a kind of loyalty program incentive reward. We should also note that Binance Coin can enter into trading pairs on the Binance exchange, so you can buy other cryptocurrencies using BNB for it.
At the inception of Binance, its creators wanted to offer investors something that would have value and could be used to reward customers. This is how BNB appeared, which came in the form of a token based on the ERC20 protocol, supported by the Ethereum.
STEPN (GMT)
GMT is the native governance token behind the STEPN project. In addition to governance function, the GMT token allows you to maximize the income received for in-game actions, and it is also involved in such important roles such as minting new NFTs.
STEPN is a Solana blockchain-based app that enables you to earn tokens for walking or running. The platform defines itself as "a Web3 lifestyle app with Social-Fi and Game-Fi elements." 
Here's the idea of making a profit in STEPN: a user buys a pair of sneakers (which equals 1 NFT) and walks or runs in them in real life – that is, he chooses sneakers, starts training and goes running. The STEPN app tracks your workout through GPS, mobile Internet and accelerometer, while also giving you real-time rewards. That was an overview of the STEPN ecosystem itself. 
Conclusion
When investing in new coins, you keep an open mind on all the risks, because the chances of a coin remaining at the same price brackets or depreciating are sky-high.  
This material is not a piece of financial advice and is for informational purposes only.
If you don't want to count on luck, RevenueBot offers an automated trading interface. You can trade on the leading crypto exchanges, including: Binance, Bittrex, FTX, OKX and others. RevenueBot allows traders to create trading bots that provide stable passive income. Among the main advantages of the platform we can highlight the following:

Fees for the service are charged only after the first profit, no prepayment required;

RevenueBot's native marketplace is a great way to buy a ready-made bot as well as to sell a lucrative configuration; 

The RevenueBot referral program enables you to earn without having to do any trading by yourself;

RevenueBot uses a Dollar Cost Averaging (DCA) strategy, through which you can successfully trade and make profits over the long run;

Automatic switching of trading pairs makes it possible to benefit from trading at any time. The bot itself will switch to another trading pair if the main one will not be able to do the earning. 
You can learn more about the features of the platform on the RevenueBot official website.