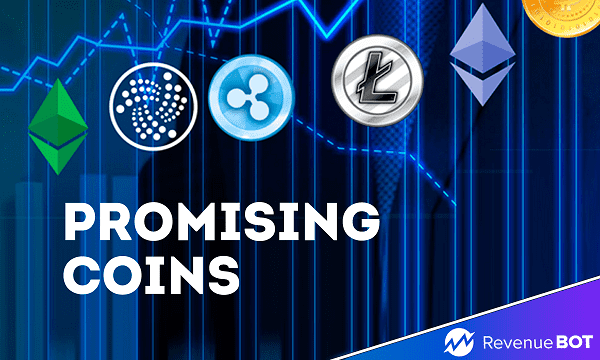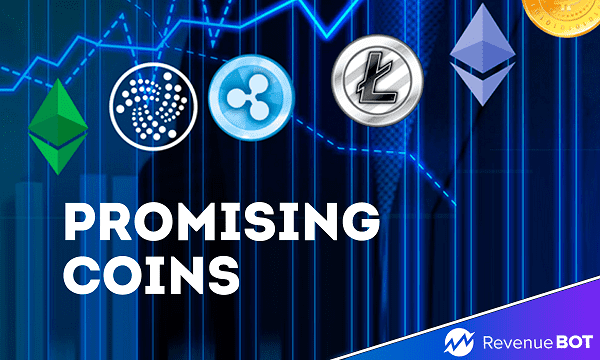 Numerous cryptocurrencies and tokens appear every day. Some of them are of a practical nature, which means they perform some sort of function. Others, on the contrary, have a purely entertainment purpose and may be in demand only due to the strong buzz around the project. RevenueBot has highlighted a few coins to watch out for. 
Maker (MKR)
MKR is a digital token powered by the Ethereum network. Its main goal is to create equivalents of real assets. These tokens are pegged to real currencies or precious metals. They are known among experts as stablecoins, i.e. stable cryptocurrencies. All projects of this kind are called DAOs.
With the Maker platform, tokenization in fiat currencies is possible. By using Maker, digital coins can be converted into rubles, dollars, euros, or whatever currency you want to use. Fiat currency acts as collateral for tokens. Token's price will be equal to the rate of the monetary unit to which it is pegged.
In this case, the Maker was created so that users could have a better understanding of the mechanism used to form the value of this or that coin. The platform itself promises to grow significantly as the developers are announcing their own exchange, based on the well-known Ethereum smart contracts.
There has been considerable support for the idea of stabelcoins among analysts, depositors, and ordinary users. Moreover, Maker helps to overcome one of the main obstacles that prevents the widespread use of digital coins. That very obstacle is the fact that traditional digital coins are not backed by anything.
Stablecoins created on the Maker platform can be applied in a decentralized manner. Nevertheless, the platform fails to protect monetary units from issuance, inflation, and other coin-making processes. To some extent, the collateralization of virtual money with real money is an outgrowth of the creation of digital coins and bank cards.
Enjin Coin (ENJ)
ENJ is an ERC-1155 token built on the Ethereum network. It was created as a configurable cryptocurrency for gaming platforms. ENJs can be used to trade virtual items and assets on the Enjin platform, apart from several other features.
For game developers, content creators and game communities, this platform empowers them with the necessary cryptocurrency value as well as the tools to sell and manage virtual items. Using the open source code, developers have the opportunity to design innovative and viable payment platforms, wallets, etc., available in various languages.
Enjin was founded in 2009. It reports 60 million hits a month and conducts multi-million dollar transactions in its stores each month. The team develops Enjin Coin using the entire Enjin CMS platform, comprising more than 250,000 gaming websites.
Flow (FLOW)
Flow is a native currency of the Flow network, intended to be stacked and managed on the platform so as to earn transaction fees and rewards.
FLOW implements the standard Flow Fungible Token interface , which all other on-chain fungible tokens also conform to. This interface is defined in Cadence, Flow's native smart-contract programming language, which makes it easy to write applications that interact with FLOW.
Brought to you by the team behind CryptoKitties, Flow is the foundation for entire ecosystems of consumer applications starting with games, collectibles, and the apps that interact with them.
Flow is based on a novel architecture that achieves the performance required for mainstream applications without compromising decentralization or sharding the network. It means that Flow developers can create secure and compliant applications that open up new opportunities for billions of users around the world.
Conclusion
When investing in new coins, you keep an open mind on all the risks, because the chances of a coin remaining at the same price brackets or depreciating are sky-high.  
This material is not a piece of financial advice and is for informational purposes only.
If you don't want to count on luck, RevenueBot offers an automated trading interface. You can trade on the leading crypto exchanges, including: Binance, Bittrex, FTX, OKX and others. RevenueBot allows traders to create trading bots that provide stable passive income. Among the main advantages of the platform we can highlight the following:

Fees for the service are charged only after the first profit, no prepayment required;

RevenueBot's native marketplace is a great way to buy a ready-made bot as well as to sell a lucrative configuration; 

The RevenueBot referral program enables you to earn without having to do any trading by yourself;

RevenueBot uses a Dollar Cost Averaging (DCA) strategy, through which you can successfully trade and make profits over the long run;

Automatic switching of trading pairs makes it possible to benefit from trading at any time. The bot itself will switch to another trading pair if the main one will not be able to do the earning. 
You can learn more about the features of the platform on the RevenueBot official website.