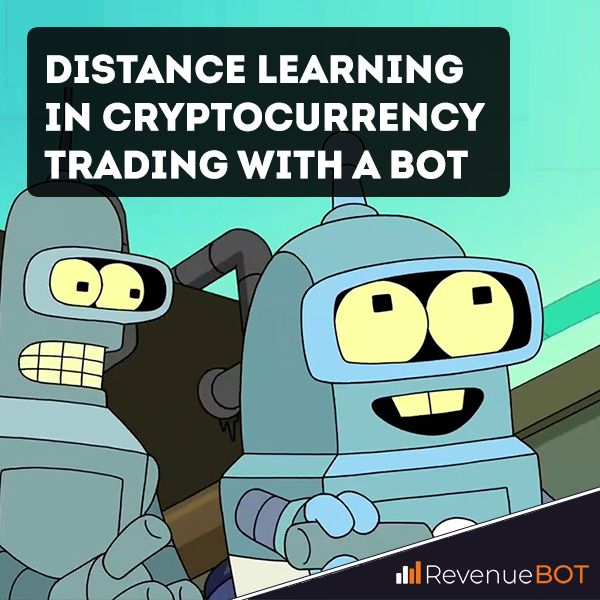 Nowadays, many people want to learn how to trade in cryptocurrency. And, of course, everybody wants to make a profit. The amount of theoretical information about trading on the Internet is off the charts. And each trader at the beginning of their journey watched educational videos and read the necessary articles on trading on the exchange cryptocurrency. But it is impossible to collect all the information into a structure quickly, especially most are realized only in practice. Many people just don't have the patience to read and search.
But like to try…
How to start trading on the cryptocurrency exchange quickly and profitably?
Profitable trade always requires constant supervision and participation in trading. But in practice, everyone uses additional help, such as our bot RevenueBot (a cloud service that works for % of the profit).This will allow you to play on the exchange without significant time costs and will minimize trading risks. But it takes time to understand the platform, their pros and cons. 
We've noticed that no matter how many articles and training we've written, there will always be someone who doesn't have time to deal with it, who just wants to get started fast and right. The Bot Support Service cannot physically handle such newcomers qualitatively. 
That is why our trading bot has a section where beginners can get a mentor (the same RevenueBot user who is ready to help you with trading). The main thing is you should have a desire to learn.
Basic information on mentoring (with the help of experienced crypto traders):
All proposed mentors are traders who use our bot and have registered as a mentor.

Each mentor has set his own price and put his services on the market. At the moment it ranges from 300 to 6000 rubles.

Mentors have their own rating. But, remember that "mentoring" works not so long ago — do not pass by new teachers. Look at the description, the date of registration in the service and try to communicate with the person before paying for the service.

Mentors describe /advertise their services by themselves. It looks like this, for example:
Hello!

Do you have a crypt ?! The selling rate doesn't suit you ?! She lies until better times ?! So why not multiply it ?!
If you still think, we are waiting for you!

Buy / Sell BTC ! / 
Trust Management /
 Guarantor Services /
 Individual settings for TK from $ /
 Ready-made settings \"BB RSI CCI TF from 1min\" from $  purchase instructions!

all this and not only to @iz1402

Our referrals will receive comprehensive information and assistance in setting up the bot on the recommendation of the blog.

+ 50% discount on the purchase of settings
+ Bonus up to 15% when replenishing the balance of the bot!
+ 10% refund of fees on Binance upon registration indicate MVGA69B6 spot
+ 10% refund of fees on Binance upon registration indicate  iz1402 futures
ID:  21727  Telegram @vvslava 


ID: 21727 Telegram @vvslava  Support in English.

RevenueBot is a great option for those who want to make money in the crypto market without prior knowledge.
I bought bitcoins and wanted to multiply them somehow.
 Having crossed the Internet, I came across this option, which offers to try it for free. I found a person who, having registered me using his referral link, helped to understand and set up the first bots. 
For which I am very grateful to him. Now I myself, having figured out the intricacies of the bots' settings, suggest that you go an easier way and turn to a mentor for help.
By registering using my referral link ID: 21727 and purchasing the service, you will receive:

- full amount of information on setting up bots,
- registration on the most popular crypto exchange Binance and Binance Futures with a 10% discount on commission,
- initial knowledge of technical analysis,
- support in becoming a crypto speculator :)

Active member of the group in Telegram RU and EN
5
The time, the way of communication and other organizational issues – you determine with the mentor.
6When designing aid for trade in cryptocurrency, read the agreement carefully:
---
1. As soon as you request mentoring service, the amount 0.001 BTC will be blocked on your RevenueBot account for 48 hours.
2. You can find pending request:
for you – in menu My Mentors with status "Awaiting confirmation from mentor"
for mentor – menu I am a mentor where the mentor should confirm his mentoring for the user
3. if the mentor doesn't accept the request within 48 hours, your request will be removed and blocked price will be available again on your RevenueBot account
4. when request is confirmed:
the request status changes to active and you will see all contact details of the mentor
as soon as the mentor fulfils its pledged commitments, you must resolve this issue
if you do not resolve this issue by yourself during 7 days, your mentor will aslo get the oppotunity to close the issue, so that he can use it if he feels right.
as soon as issue is resolved, the amount 0.001 BTC will be debited from your RevenueBot account as a payment for mentoring
NOTE: RevenueBOT administration does not force you to use internal communication, doesn't read your letters and chat, provides an opportunity to use any forms of communication you like.
Anyway, we must also protect the interests of the mentor, so, you have a right to contact your mentor only on the subject of the original question. If you have more additional questions just create new request. The mentor has the right to refuse answering questions which differ from his service.
---
7When submitting an application for mentoring, describe your questions/goals/tasks in as much detail as possible in the window that appears.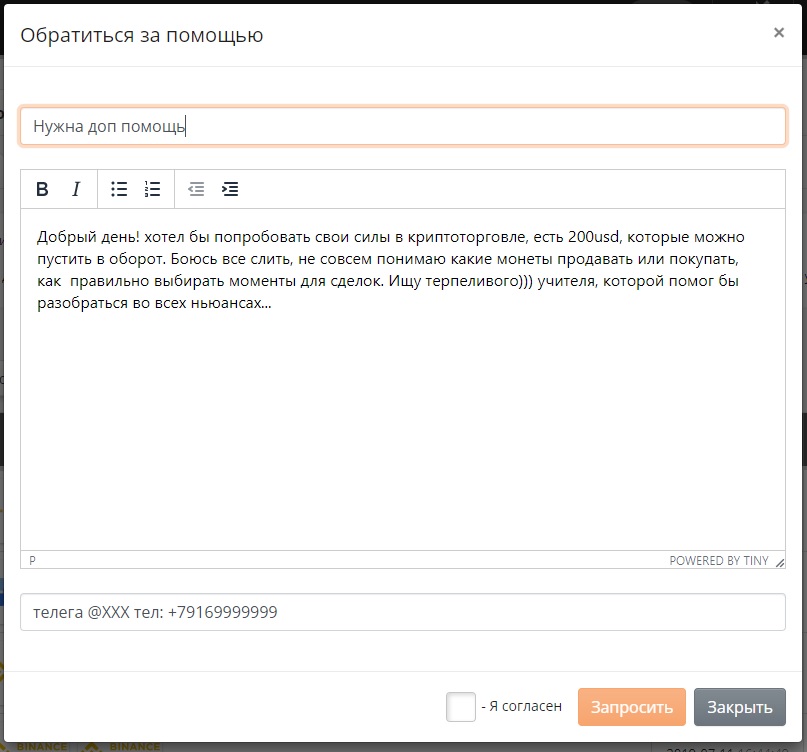 We wish you seminal work and excellent results!
By the way, do not be afraid to ask questions in our chat cables https://t.me/
RevenueBot_users_EN.