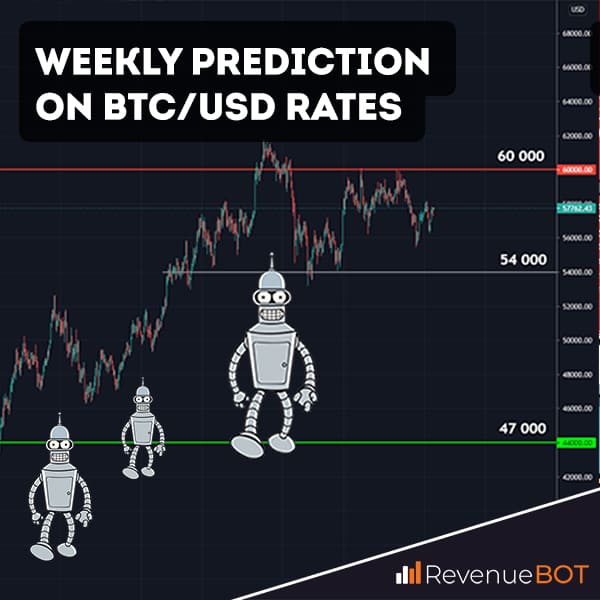 For the second week in a row, bitcoin continues to hold at lows since the beginning of the year. Many members of the crypto community believe that a new crypto-winter has begun. However, the main reason for the fall and the continuation of the decline are bans in China and the likely tightening of regulation of the crypto market in the United States. At the same time, the fundamental reasons for the growth of cryptocurrencies continue to operate. What does the market expect in the coming week? Let's look at our traditional weekly forecast of the bitcoin-to-dollar exchange rate.
BTCUSD Forecast
This morning, the support range in the area of $32,000 – $34,000 for the fourth time knocked the price up, which indicates a decrease in pressure from sellers and a gain of strength by buyers. The nearest resistance zone is in the area of $40,000, and despite the fact that it is intermediate, only after its decline in prices can we talk about the end of the fall. The next target of bitcoin now is the level of $48,000, from which the rise to historical highs started in February. Also, this level has repeatedly supported the price from falling during periods of corrections. Upon the fall in prices of this level, the current cycle of decline will end and bitcoin will again move to growth.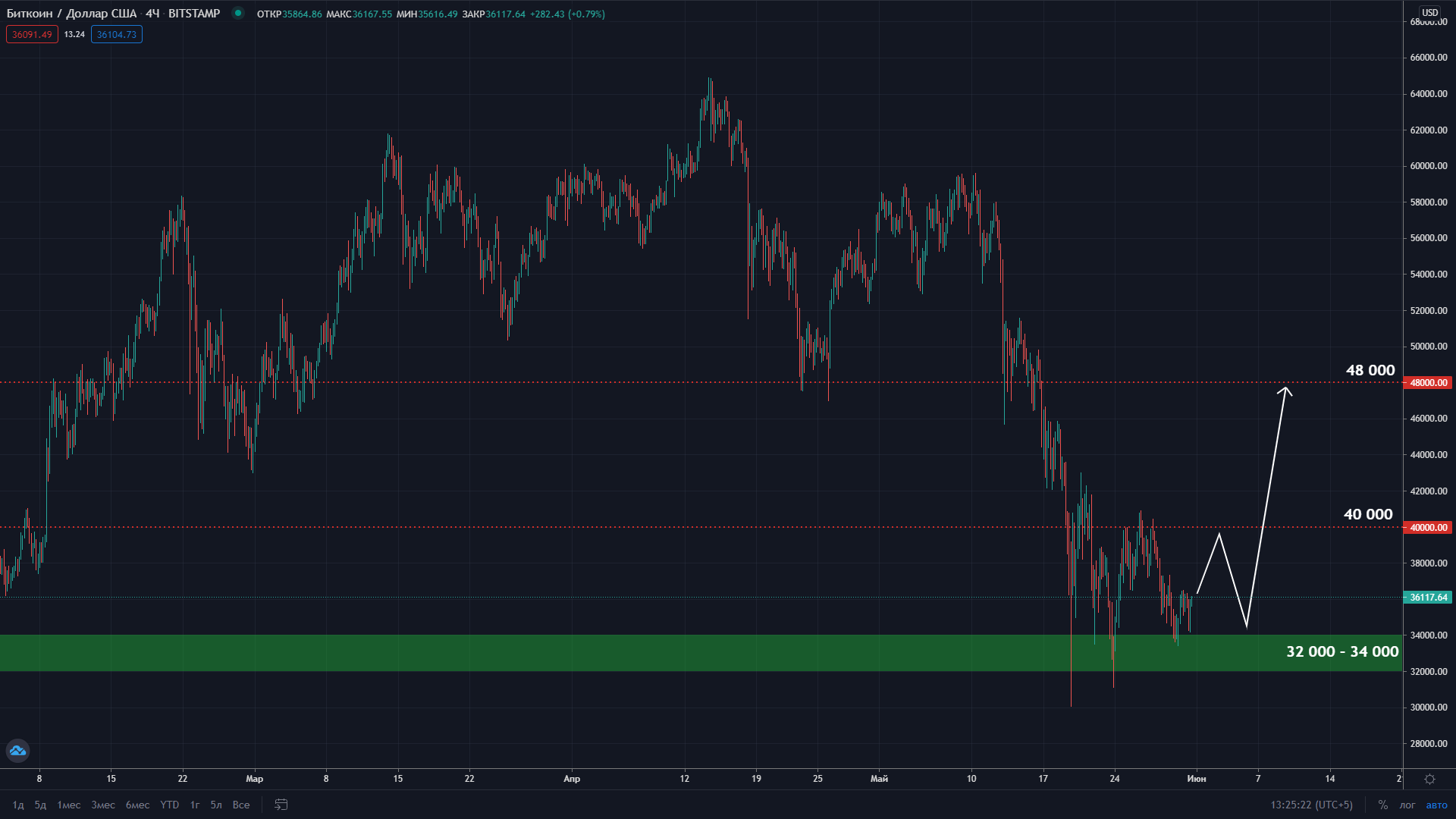 If you focus on a more global chart, for example, on the daily timeframe, the price easily broke through the MA 200 down and even managed to gain a foothold there. This event is also associated by many with the beginning of the fall cycle. However, if you pay attention to the news feed, the current price for many large investors is considered extremely attractive, as a result of which the volume of purchases, the level of open interest and the withdrawal of bitcoins from exchanges are growing. Thus, despite the technical picture, which is more inclined to continue the fall, Bitcoin remains fundamentally strong.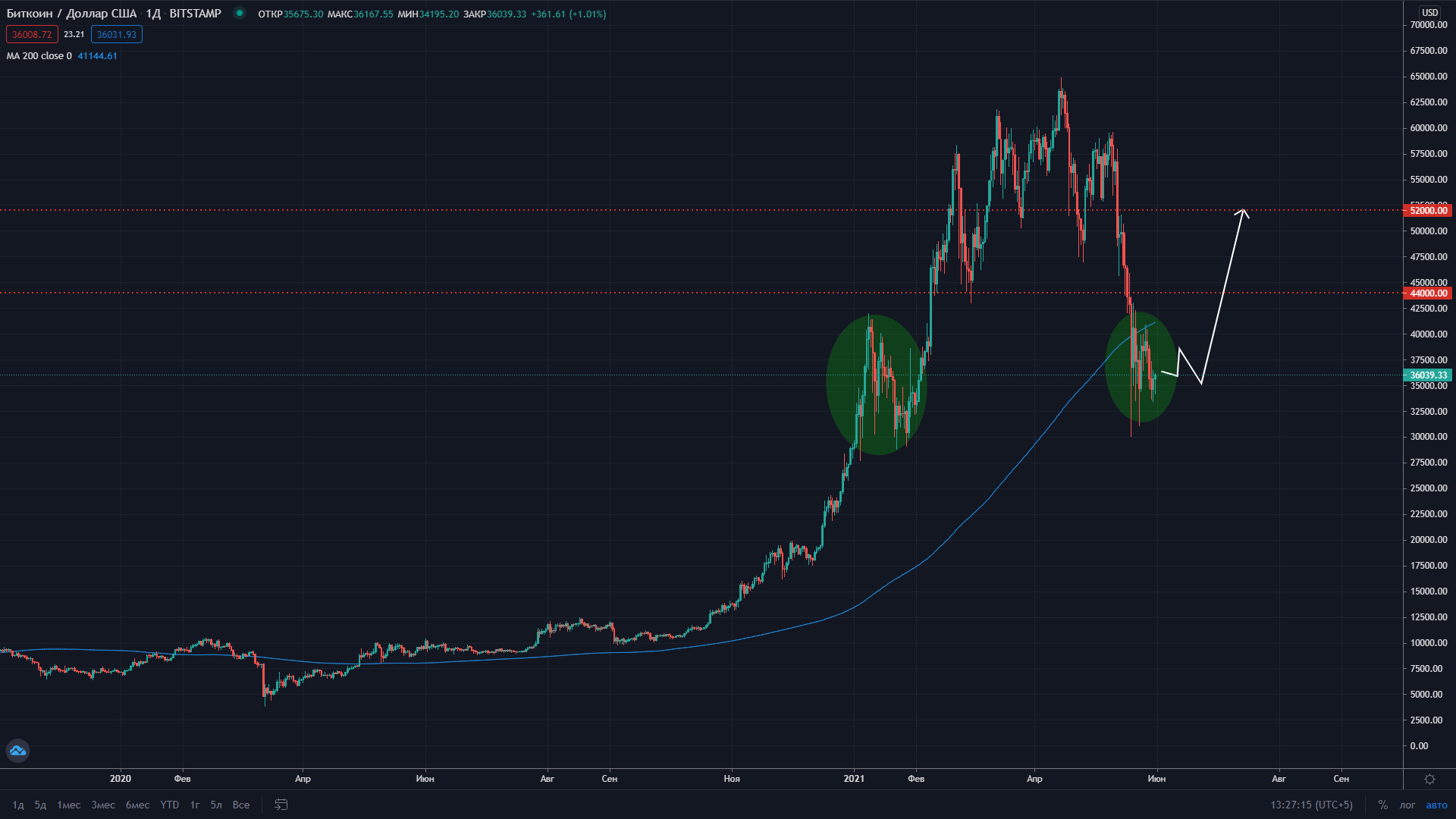 Our forecast for Bitcoin (BTCUSD) for today, tomorrow and the week of May 31 to June 6 is the completion of the fall, followed by the restoration to the area of $40,000 and then $48,000.