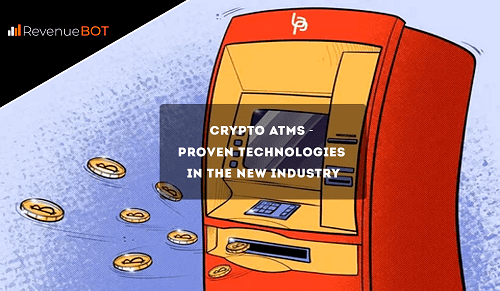 Cryptocurrency ATMs are a popular way to buy and cash out digital assets. With their help, you can bypass the banking system. At the beginning of 2021, the total number of crypto atms worldwide was about 24,068. About 50 new ATM's are installed every day around the world. This indicates that the sector is steadily developing and growing. In this article, we will tell you why cryptocurrency ATMs are popular and how they work.
What is a cryptocurrency ATM and what is it for
A crypto ATM is a device that makes it possible to buy or cash out digital assets. ATMs exist for both bitcoin and altcoins. As a rule, one ATM only works with a certain coin. The difference from a traditional ATM is that there is no need to use a bank card, instead a cryptocurrency wallet is used, to which assets are either credited or debited.
A cryptocurrency ATM is a pretty convenient way to buy coins for cash. They are popular with users who do not have permanent access to high-speed Internet.
Sector development
The first cryptocurrency ATM was installed in Canada in 2013. It was installed in one of the popular coffee shops in downtown Vancouver. Since then, the sector has been steadily developing. As the level of trust in digital assets increases, so does demand. Basically, cryptocurrency ATMs are located in the USA, Canada and the UK. Demand for the service in Latin American, Asian and Australian markets is also growing rapidly. In general, cryptocurrency ATMs are installed in more than 70 countries.
Regulation of Crypto ATM
Crypto ATMs provide the ability to buy digital assets with cash, which means they must be regulated. Therefore, in countries where cryptocurrency is allowed, ATM owners must comply with money laundering laws. For example, in the United States, they have the same responsibilities as banks with their ATMs. They must be licensed by the state and must be registered with the Federal Network for Combating Financial Crimes.
In a number of countries, cryptocurrency ATMs are controversial. They are not prohibited, however, regulators constantly carry out various checks and if something does not suit them, it may come to the point that the owner will simply be arrested. Often, ATM holders change their jurisdiction. However, even in those countries where cryptocurrency is legal, things are not so smooth with ATMs. This is due to the concern of the authorities that digital assets can be used by fraudsters for money laundering.
In Russia, the first cryptocurrency ATM appeared relatively recently, in 2017, in Ufa. At the moment, there are only two firms that are developing this sector. This is due to the fact that in the country not everything is clear with the legal field of digital assets. When the legislation is spelled out and cryptocurrency becomes legal, then crypto ATMs will begin to develop further.
How cryptocurrency ATMs work
Before you start working with this kind of ATM, it is worth finding one. This is not difficult to do. There are a number of specialized services that will show the nearest ATM on the map. The most popular among them is Coin ATM Radar. After you find an ATM, it is worth finding out what functions it provides. This must be done due to the fact that not all ATMs are multifunctional. Some of them provide services only for the purchase of an asset, others for the sale and cashing out.
Then everything is as easy as in traditional ATMs:
Select the item "Sell" or "Buy";

Next, you need to scan the QR code of the wallet. It can be either in the application or pre-printed. Also, the user can enter it manually, but here you need to be careful. If at least one character is mistaken, it will be impossible to undo the operation;

See course and commission;

Deposit cash upon purchase, or cash out the crypt using a QR code;

Confirm the operation and wait for the end of the transaction;
In most cases, crypto ATMs do not accept bank cards, but only work with cash. This is done to avoid canceling the transaction provided by bank cards.
Pros and cons of cryptocurrency ATMs
Pros
It is usually possible to buy a crypt in an ATM faster than on an exchange, where it will be necessary to pass verification and provide a full package of documents. Verification for the use of cryptomats, in cases where it is needed, takes only a couple of minutes.

You can buy a digital asset using cash.

This is often the most convenient option to buy or cash out cryptocurrency for people who do not have access to the banking system.
Cons
The exchange rate and commissions are not as profitable as on cryptocurrency exchanges or exchanges.

Cryptocurrency ATMs are usually found in big cities.

For an advanced user who is not afraid to use bank accounts and cards to buy or cash out cryptocurrency, crypto ATMs are usually not particularly needed. First of all, it is because of the commissions and the gap in the course.
Conclusion
As you can see from this article, using cryptocurrency ATMs is not that difficult and sometimes beneficial. However, if you do not want to overpay the commission, then it is better to use the usual exchanges or exchangers.
But for comfortable trading with top digital assets, we can suggest paying attention to the RevenueBot service. The service provides the opportunity to create trading bots on the largest cryptocurrency exchanges: Binance, Bittrex, Bitfinex, Exmo and others. Creating a bot is free of charge, the service will not take commissions until the client begins to make a profit from trading the bot. With the help of deep settings of the bot, the service's clients implement trading strategies that are problematic to experience in normal trading. We will immediately indicate: the bot does not have access to customer funds on the exchange, but trades using API keys, that is, the account will remain out of access. RevenueBot has over 28 thousand customers who earn money thanks to trading bots.
Why should I choose this service?
Pay the commission only after making a profit.

The bot settings open up a variety of ways to make a profit.

Inside RevenueBot, a marketplace is implemented where customers can buy a ready-made bot so as not to bother creating their own, or sell their own if the configuration has shown efficiency. Also, the services of a mentor (an experienced customer of the service) are purchased on the marketplace, who is ready to answer the questions of newcomers. Over time, you can become a mentor yourself, getting additional profit for this.

Regular updates of the service's features that optimize the trading process.

The presence of the RevenueBot referral program allows you to earn money on trading, even without resorting to trading. Attract new customers for the service and get up to 30% of the profit they receive every month (but not more than 15 USD).
This is a small list of the advantages of the service. You can continue to list the positive qualities of RevenueBot, but why do this if you can go to the official website of the service and see for yourself everything? It is highly recommended to make decisions faster, because the crypto market does not stand still, but grows at exorbitant steps. Who knows how much profit is missed by someone who does not dare to come and start trading with RevenueBot.