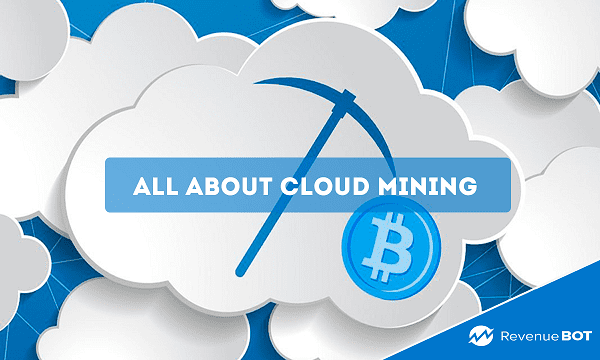 Cloud mining is a common way to mine a cryptocurrency. It eliminates the need to buy expensive equipment and understand how mining works. All you need is funds that you can invest. You rent computing power in a remote data center and receive a portion of the mined coins in return. How much profit you can get from cloud mining all depends on the platform and a number of nuances. In this article, we will discuss everything about this method of mining cryptocurrencies.
How cloud mining farms work
Organizations opening a data center for cloud mining proceed through several steps to ensure smooth operation:
Purchasing equipment: video cards, processors, cooling systems, etc.

Hiring experienced professionals to create a cryptocurrency farm. Each mining farm consists of several items of computer equipment, and its operation is controlled by special software. To make sure everything is properly connected and runs correctly, you'll need specialists.

Launching the mining. Companies can offer a variety of digital assets to mine, it varies depending on the specificities of the farm.

Creating a website. To enable a potential customer to find the services offered, you need a website.

Miners buy a contract to lease computing power. In return, they get a percentage of the coins mined. The more expensive the rate, the higher the profitability.

Companies receive revenue in the form of commissions for the lease of computing power. Part of the amount is spent on farm maintenance and staff salaries. The rest of the money is the net profit.
In the end, both sides keep on benefiting. Miners earn cryptocurrency with no equipment of their own, and services profit by renting computing power.
Why cloud mining has made such a big splash
We have a few main explanations for why cloud mining has become popular among crypto users:
Ease of use. No need for you to be versed in computing power in order to set up a farm and monitor its operation. All of the work will be taken care of by professionals. All you have to do is pay for a contract with a company and make a payment in fiat or a digital asset.

Efficiency. Cloud farms often have the high computing power for crypto mining, thus increasing the hash rate. When mining at home with your own farm, there is a high chance that you will have to wait quite a long time for the mined cryptocurrency to get to you. Besides, it takes some time for all the equipment and electricity to pay off so that you can start mining in the black.

Accessibility. On the Internet, you can find a large variety of platforms which offer cloud mining services. As for you, you only need to figure out which company is more profitable for you personally.

Security. Numerous European crypto mining data centers have official legal status. They strictly abide by the laws and never mislead customers. Therefore, you do not have to worry about the safety of your funds.
Pros and cons of cloud mining
Cloud mining has a lot of advantages, here are the main ones:
It is not necessary to be familiar with computing power in order to set up a farm;

All the farm maintenance is done by the company. This may include component upgrades, repairs, etc;

No need to sacrifice part of your living space for a home farm;

The remote farm runs 24/7. You won't have to worry about power outages or sudden connectivity issues;

If you have a limited budget, it is more profitable to rent decent computing power from a company rather than spend money on equipment;
Despite the obvious pros to cloud mining, there are some disadvantages:
As with many such projects, there is a considerable number of scammers and pyramid schemes, which are hiding behind the cloud mining activity;

Lots of companies do not provide full reports and statistics to miners. The real profit of a mining farm is never known;

Cloud platforms are often vulnerable to hacker attacks. Therefore, the safety of customers depends on the trustworthiness of the company;

If the mined coin gets cheaper, the contract may not pay off;

It is not always an option to switch over to mining another currency, you have to wait for the contract expiration. This problem also gets worse during periods when the exchange rate of the mined coin drops.
Given all of the previously mentioned disadvantages, you should be aware of the fact that the more long-term is the contract signed by the miner, the higher the risks they take on themselves.
Conclusion
Thanks to cloud mining, it is indeed possible to make a passive profit. Nevertheless, before you begin to use the services of any platform, it is wise to take into account a number of details. Search for reviews about the companies and compare which one will work best for you.
But in order to start earning cryptocurrency today, we suggest using RevenueBOT, a platform for creating trading bots. You can use RevenueBOT to create a stable passive income. The platform allows you to create trading bots on the largest and top cryptocurrency exchanges such as: Binance, Bittrex, FTX, OKX and others. The creation of the bot is completely free, the commission fee will be charged by the platform only after the first profit has been made. It should be noted right away that the bot does not have access to the user's funds on the exchange, and that it trades using API-keys, which means that the exchange account will remain inaccessible. RevenueBot has over 40,000 customers, who make money thanks to our trading bots.
The following is, however, not an exhaustive list of the advantages offered by our platform:
The commission fee is charged only after the user has made a profit; 

The bot settings open up a variety of ways to make a profit;

RevenueBot has a marketplace where customers can buy a ready-made bot so they don't have to create their own, or they can also sell their own bot if its configuration has proven to be effective. Furthermore, users can acquire in the marketplace the services of a mentor (an experienced user of the platform), who is ready to answer questions from beginners. Over time, you can become a mentor yourself and earn an extra income from it. 

Regular updates of the platform's features, which optimize the trading process. 

The RevenueBot referral program allows you to earn money without having to trade. Refer new clients to the platform and you will get up to 30% of the platform's commission on all profitable transactions conducted by the new user attracted by you every month (but no more than 15 USD).
As you can see, the platform has quite a lot of advantages to offer, all you have to do is start trading. There is no need to list them all when you can check everything yourself through RevenueBot's official website. It is strongly recommended that you decide quickly, because the crypto market does not stand still, it grows by leaps and bounds. If you hesitate to come and start trading with RevenueBot, who knows how much profit you are missing out on?