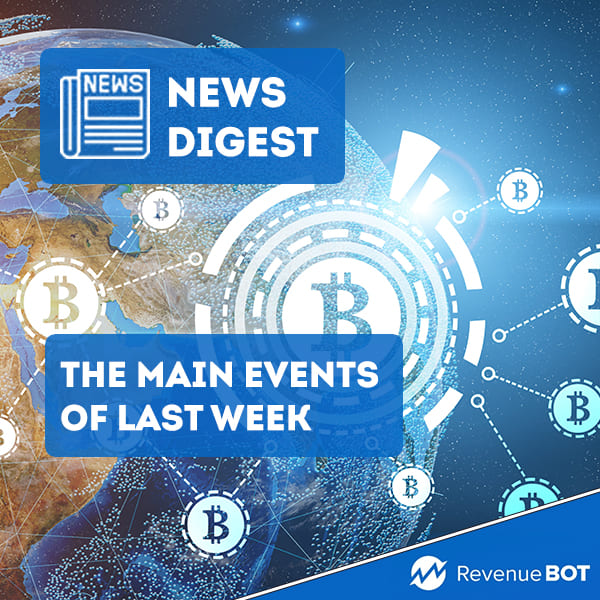 Friday, 27th of May. As the week comes to an end, we can focus on the highlights of the crypto industry over the past few days.
Balenciaga U.S. boutiques to accept BTC and ETH
Luxury brand Balenciaga, owned by Kering, made it public to use crypto for payments in its U.S. flagship stores and online platform, according to WWD.
Originally, the fashion house will adopt Bitcoin and Ethereum. The list of supported currencies and countries will be expanded later on.
Balenciaga has not yet chosen a payment solution for this initiative.
When it comes to the volatility of digital assets, the company noted:
"Balenciaga is thinking long-term about crypto, and fluctuations in currency value are nothing new."
Previously, Gucci, another fashion house from the Kering group, piloted a project to receive payments in digital currencies inside the U.S. Customers can pay in bitcoin, Ethereum, Wrapped Bitcoin, Bitcoin Cash, Litecoin, Shiba Inu, Dogecoin and five stablecoins with a dollar peg.
To refresh your memory, back in April, Off-White, a fashion brand belonging to LVMH, introduced the ability to purchase goods in crypto in a number of its European stores.
MetaMask to integrate with Coinbase Pay service
There would be integration of MetaMask with Coinbase Pay service, allowing to buy cryptocurrencies using bank cards and top up a non-custodial wallet from an exchange account. 
The service was introduced by Coinbase in March 2022. It will be the pioneering third-party dApp to join the platform. Coinbase Wallet and Coinbase NFT run it already.
The process of integration is to be held "in the coming weeks." In the first phase, Coinbase Pay will be added to the MetaMask extension for desktop browsers.
eBay rolls out its first NFT collection
EBay, the U.S. online marketplace, has released a collection of non-fungible tokens under a partnership with OneOf, an NFT platform.
"NFTs and blockchain technology are revolutionizing the collectibles space, and are increasingly viewed as an investment opportunity for enthusiasts," said Dawn Block, vice president of eBay.
The opening Genesis collection features 3D and animated images of iconic athletes who have appeared on the covers of Sports Illustrated. They chose four-time Stanley Cup-winning Canadian hockey player Wayne Gretzky to be their first NFT.
"Forty years ago, I was grateful to be on the cover of Sports Illustrated, it was a monumental moment in my life. I'm honored to bring this collectible experience to my hockey fans who have followed my career for decades," Gretzky claimed.
Prior to that, Alesso, a DJ and music producer, as well as the American National Academy of Recording Arts and Sciences, had declared a partnership with OneOf.
So in May 2021, OneOf brought in $63 million in a seed funding round. Participating included environmental activist Bill Tai,  Jack Herrick, Nima Capital's Suna Said, Sangha Capital, and the Tezos Foundation. 
As you may remember, eBay approved NFT trading for users that same month. Until then, Jamie Iannone, CEO of the company, explained that the website is looking into the possibility of processing payments in crypto. 
Jack Dorsey stepped down from Twitter's board
The former CEO of Twitter has ceased to be a member of the company's board of directors. This is what the Washington Post reports.
He was scheduled to leave back in November, as he left his post as leader of the platform. This is when Dorsey said he would maintain the role up until the 2022 shareholder meeting.
That shake-up comes as discussions of Twitter's takeover by Elon Musk are underway. He was not present at the meeting, while the top managers would not elaborate on the details of the deal.
Although Dorsey was Twitter's CEO until 2008, he was ousted from his position but stayed on as chairman of the Board of Directors. Once again, he took over Twitter in 2015.
Nowadays, Dorsey runs Block (formerly Square), a payment services company. In Q1 2022, the company earned $1.73 billion in BTC sales through the Cash App.
As of July 2021, Block announced the development of a hardware wallet and bitcoin storage system. Dorsey later mentioned that the firm was considering creating a device to mine the first-ever open-source crypto.
In addition, the top manager stated that he was currently focusing on TBD, an open platform designed to launch a decentralized bitcoin exchange on the basis of his payment company. Several months later he published a link to the white paper.
Mind that the NFT of Jack Dorsey's first tweet went up for sale for $48 million. Its seller was offered 0.05 ETH ($96.17).
Earlier, Dorsey questioned the decentralization of Web 3.0.