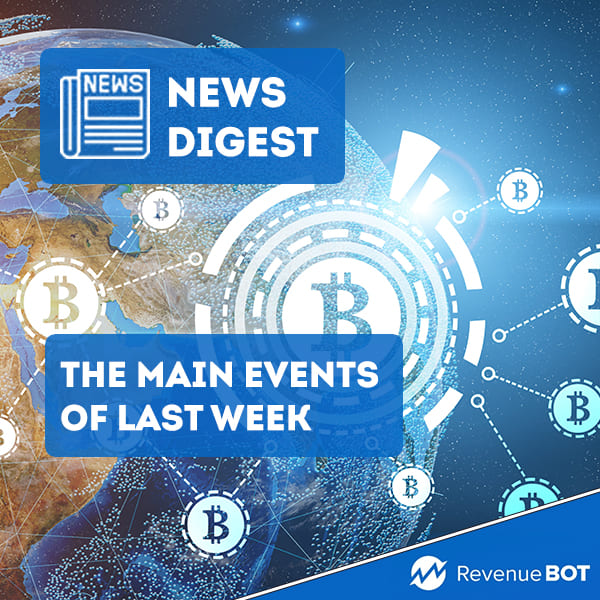 Friday, June 3rd. As the week comes to an end, we can focus on the highlights of the crypto industry over the past few days.
Robots tackle workforce shortages in Singapore
A Singapore-based business has adopted robotic assistants on a mass scale due to manpower tightness. This is reported by Reuters.
The number of foreign workers shrank by 235,700 between December 2019 and September 2021 due to pandemic-era migration restrictions, according to Singapore's Ministry of Manpower. This has boosted the "pace of technology adoption and automation by companies," authorities said.
Gammon, a construction firm, revealed that it began using Spot's four-legged robot to scan areas of dirt and gravel. As soon as the work flow is tested, the data is returned to the control room.
It only takes one employee to use Spot instead of the two who previously did the work manually, explains Michael O'Connell, Gammon's general manager.
"Replacing the need for manpower on-site with autonomous solutions is gaining real traction," he stated.
O'Connell believes the industry's shortage of employees, aggravated by the pandemic, isn't likely to go anywhere.
The National Library of Singapore has introduced two shelf-reading robots capable of scanning labels on 100,000 books, or around 30% of its collection, per day.
"Staff do not need to read call numbers one by one on the shelf, reducing routine and labor-intensive aspects," said Lee Yee Fuang, deputy director of the Board of the National Library.
Robots are also being employed for customer-related tasks, with more than 30 metro stations set to have robots making coffee for commuters.
Still, some people who use such facilities pointed out the lack of interaction with people.
"We always want to have some kind of human contact," said Ashish Kumar, a metro rider.
As you may remember, back in April, Elon Musk claimed that Tesla's robobusiness would surpass the automobile business in terms of profitability.
By 2040, widespread automation in factories would put 12 million Europeans out of work, researchers said in January.
Bybit offers pools for liquidity mining with an annual yield of up to 30%
The Bybit cryptocurrency exchange has announced the launch of liquidity mining pools. This is reported in a press release from the trading platform.
Bybit has added three pools: for bitcoin (BTC), Ethereum (ETH) and BitDAO (BIT) paired with Tether Stablecoin (USDT). Liquidity providers deposit both assets or one with automatic conversion.
You can use up to 3x leverage. It was estimated by Bybit that the yield of liquidity mining with leverage reaches 30% annualized interest.
This financial tool works under the automated market maker (AMM) model. LPs divide transaction fees for each trade between them. The exchange returns profits in USDT.
We understand the importance of having a diversified trading and investment strategy optimized for earning passive income on your assets. This marks another milestone in sharing growth opportunities with our community. We believe in a future of DeFi and personal financial freedom," commented Bybit CEO Ben Zhou on the pool launch.
Bybit offers a platform for trading crypto-assets and derivatives, as well as for staking, DeFi-mining, NFT-trading and P2P-trading.
Based on the estimates of CoinMarketCap analytical service, this exchange ranks third among crypto exchanges in terms of derivatives trading volume. 
Earlier, Bybit has run options trading on bitcoin.
AGI in 2029, predicted by Elon Musk
Elon Musk, head of Tesla, assumed that by the year 2029 mankind will develop Artificial General Intelligence (AGI).
Gary Marcus, author of Rebooting AI and an outspoken critic of general AI, asked Musk in an open letter to bet $100,000 on whether AGI would emerge by 2029.
What he added was that the entrepreneur's comments were pointless in the broader discussions about AI.
"Musk's statements about AGI only increase the hype around modern technology, when in fact we probably need to take a step back to understand where we are and really face difficult problems," Marcus claimed.
As he sees it, too much funds are currently being invested "not in what is needed."
"There is a tendency to look at AGI as 'something magical'. This misled corporate business and politicians, " the pundit noted.
Musk did not respond to the challenge. Marcus in turn mentioned the urgency of a public debate regardless of whether or not there is money on the line.
Keep in mind that it was Tesla in March that included artificial intelligence in the company's long-term roadmap.
Back in January, Musk declared that the carmaker could have a major role in creating general AI, as well as preventing a possible rise of the machines against humans.
Gate.io rebranded: brand new logo, colors and slogan
The Gate.io exchange has revamped its logo, corporate colors, slogan and brand message. Rebranding is dedicated to the platform's 9th birthday and the 10 million registered users.
As the design team of Gate.io says, the new blue and green logo symbolizes the honesty, reliability and vigor of the exchange.
Gate.io's new slogan "Gateway to Crypto" outlines its beginner-friendly nature and a wide range of cryptocurrencies and trading tools. 
Furthermore, the Gate.io team presented a list of values used by the platform:
honesty – keeping promises;

insight – following the industry news and creatjng long-term value;

innovativeness – finding solutions to important problems and keeping products adjustable;

purposefulness – identifying and meeting the needs of users;

collaboration – sharing information, helping users and partners, and building a healthy ecosystem in the blockchain industry. 

Gate.io is a crypto exchange that maintains 10 million users and is one of the top 10 exchanges in terms of traffic.
In 2021, the platform was rated 4.5 by Forbes Advisor. Exchange abides by the rules of the world's financial regulators and may not grant residents of the U.S., Canada and several other countries access to some of its products.