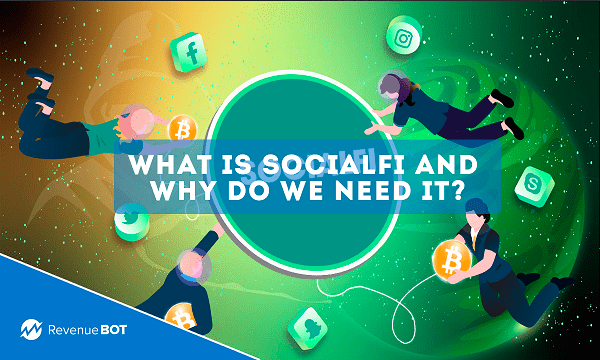 SocialFi is rapidly evolving in the era of Web 3.0 to become a crucial part of the decentralized ecosystem of the metaverse in the not-too-distant future. It will help you to earn money by posting your content and through social interactions as well. 
What SocialFi exactly is
Now there's a new concept in the crypto industry called SocialFi (Social Finance). It brings extra value to social networks since it is their combination with decentralized finance (DeFi) on the blockchain. 
SocialFi empowers users with the ability to earn income from content production, NFT creation, socializing with other users, entertaining and playing games. In other words, users can donate tokens to platforms for their favorite content, NFT, or just a simple conversations. 
It is more like Boosty and Patreon in terms of how you interact with your audience. To learn more about these and other services that offer the opportunity to receive direct support from the audience, watch the video.
These are the key advantages of SocialFi projects over standard social networks:
All data is stored on a blockchain rather than on centralized servers;

Both users and content creators can receive financial rewards in the form of tokens for publishing and sharing content; 

Tokenized social influence. Users are awarded for drawing attention, views, and interactions with their content.
Issues you can solve with SocialFi
Personal data leakage and loss of privacy, which is linked to censorship, are the biggest problems of social networks. 
Leakage of personal data and loss of privacy. Personally identifiable information is likely to be stolen and sold on the black market or misused against the user interests. For example, criminals can extort money from your friends in social networks under your name. While being blockchain-based, SocialFi projects help protect the user's privacy and security.
What's important about SocialFi platforms is that they let you put the data back under your control. It is up to you whether you want to sell your personal data and who you sell it to. Not only do these platforms allow users to receive a fraction of revenue for advertising content, but they also get to choose the types of products and services they want to advertise.
Neither do users lose ownership rights to the content they publish on social media platforms. This is how SocialFi addresses not just the loss of private data, but the rights to the published content as well. 
Censorship. While social media maintains an enormous amount of information on the web, its proneness to censorship has dramatically increased lately. SocialFi projects can fix these problems. They will become essential tools for preserving freedom of speech and data protection in the future. 
One of the qualities of blockchain technology is that uploaded data cannot be modified or deleted. That allows common users and content creators to post whatever they want without fear of deplatforming or censorship.
Torum Metaverse
As an example of a successful SocialFi-project, you can find Torum with more than 200,000 registered users. Its protocol is made specifically for the crypto community and integrates social media with NFT marketplace and Avatar NFTs for users of the Torum metaverse. In fact, the project calls itself a "metaverse", but in reality there is no commonplace plots of land, and the project resembles a social network with a cryptocurrency and NFT. 
Torum provides users a way to control and manage the creative content they create using tokens. In return, all participants receive a benefit on the platform in the form of an XTM token. Moreover, users may earn income not only for making content, but also for contributing to the creation of the NFT and for interacting with other users.
Using the Torum platform, you can take advantage of one of the hot features – Avatar NFTs. Unlike the common avatars that have long been used in the social media environment to portray a user's online personality, Torum applies the same concept, but with an extra meaning. It is possible for an Avatar NFT in the Torum ecosystem to represent the owner's identity in the crypto-world, to name a few.  Moreover, any user account on the website can lead exactly to Torum, instead of his social network page with actual data.
Use of NFT in such a way made it a perfect inspiration for other classic social media platforms. For example, on Twitter you have the option of using NFT as a profile picture. 
Conclusion
Sometime in the near future, the concept of SocialFi within the crypto industry will constitute an important part of the metaverse ecosystem. Here is an illustration of a successful SocialFi project known as Torum Metaverse, with more than 200,000 users registered.
Because of SocialFi, people can benefit from posting content, taking part in DAO management, creating NFTs, communicating with other users, having fun, and enjoying games. Eventually, you could also use this concept to solve the challenges of personal data breaches, loss of privacy, or censorship.
For crypto market traders, RevenueBot offers an automated trading interface. The user can trade on top crypto exchanges, including: Binance, Bittrex, FTX, OKX and others. RevenueBot provides traders with the opportunity to create trading bots that allow them to receive stable passive earnings. The main advantages of the service include the following:
Fees for the service are charged only after the first profit, no prepayment required;

RevenueBot's native marketplace is a great way to buy a ready-made bot as well as to sell a lucrative configuration; 

The RevenueBot referral program enables you to earn without having to do any trading by yourself;

RevenueBot uses a Dollar Cost Averaging (DCA) strategy, through which you can successfully trade and make profits over the long run;

Automatic switching of trading pairs makes it possible to benefit from trading at any time. The bot itself will switch to another trading pair if the main one will not be able to do the earning. 
You can learn more about the features of the platform on the RevenueBot official website.