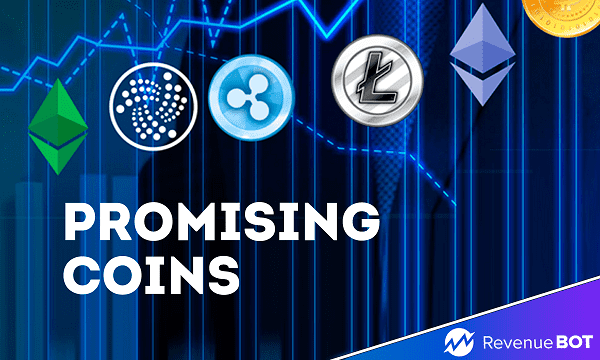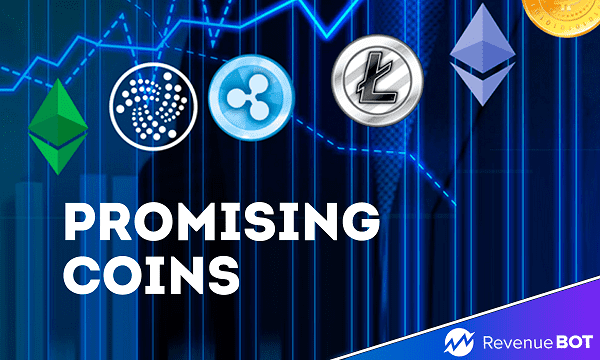 Numerous cryptocurrencies and tokens appear every day. Some of them are of a practical nature, which means they perform some sort of function. Others, on the contrary, have a purely entertainment purpose and may be in demand only due to the strong buzz around the project. RevenueBot has highlighted a few coins to watch out for. 
Arweave (AR)
Arweave is a protocol for decentralized data storage available for a certain upfront fee. It matches people who need to store data permanently or host some content with those who have unused hard drive space.
AR is a crucial economic engine of the platform, providing an incentive for miners and serving as a transactional tool. Arweave was released with a genesis supply of 55 million AR tokens with total maximum token circulation which is 66 million AR tokens. The remaining 11 million will be distributed to incentivize miners.
Also, a key concept used in the Arweave ecosystem is Permaweb.
As a stable, decentralized network built on top of Arweave, it includes a set of interchangeable, modular protocols. Arweave allows developers and users to share sustainable information, which is constantly replicated in enormous amounts around the world. The system is powered by two fundamental elements: a scalable structure (such as a blockchain) using an innovative mining scheme, and the sustainable accessibility and persistence of randomly tagged data.
In addition to storing static files, Permaweb enables you to host dApps that are self-managed and independent of anyone else. No maintenance is required for running the apps.
Symbol (XYM)
XYM is a native coin of Symbol public blockchain, which is a sidechain of the NEM project. The XYM token is used to pay network fees, thereby incentivizing nodes in Symbol's network. These nodes process and record transactions, which gives the XYM token a core value.
Symbol is marketed as a public blockchain for corporate use. According to NEM developers, Symbol's hybrid technology means businesses can not only benefit from the transparency brought by Symbol to the public blockchain, but also allow data security, data protection, data restrictions and encryption measures to protect businesses' confidential information.
"Created for enterprise use, Symbol is purpose-built to be flexible to a suite of use cases, spanning regulated markets, supply chain, fintech, healthcare, government and more," said Dave Hodgson, NEM Group CIO. In fact, NEM Group is the parent company intended to support the expansion of the NEM ecosystem.
Convex Finance (CVX)
CVX token is the native token of Convex Finance. The token can be staked on the network to earn a share of CRV earnings of the Curve liquidity pool. CVX is minted in proportion to each CRV token declared by Curve LP on Convex. The token offers holders a share of the Convex platform's fee.
Introducing Convex Finance, a platform built to boost rewards for CRV stakers and liquidity providers alike, all in a simple and easy to use interface. Convex aims to simplify staking on Curve, as well as the CRV-locking system with the help of its native fee-earning token: CVX.
If you've ever been a Curve LP, you know it is somewhat non-trivial to maximize your boost by depositing/maintaining your veCRV balance. If you've never been a Curve LP, it may be intimidating to do so without being a DeFi power user. Convex aims to make this process easy and bring the CRV boost ecosystem to everyone.
Conclusion
When investing in new coins, you keep an open mind on all the risks, because the chances of a coin remaining at the same price brackets or depreciating are sky-high. 
This material is not a piece of financial advice and is for informational purposes only.
If you don't want to count on luck, RevenueBot offers an automated trading interface. You can trade on the leading crypto exchanges, including: Binance, Bittrex, FTX, OKX and others. RevenueBot allows traders to create trading bots that provide stable passive income. Among the main advantages of the platform we can highlight the following:

Fees for the service are charged only after the first profit, no prepayment required;

RevenueBot's native marketplace is a great way to buy a ready-made bot as well as to sell a lucrative configuration; 

The RevenueBot referral program enables you to earn without having to do any trading by yourself;

RevenueBot uses a Dollar Cost Averaging (DCA) strategy, through which you can successfully trade and make profits over the long run;

Automatic switching of trading pairs makes it possible to benefit from trading at any time. The bot itself will switch to another trading pair if the main one will not be able to do the earning. 
You can learn more about the features of the platform on the RevenueBot official website.