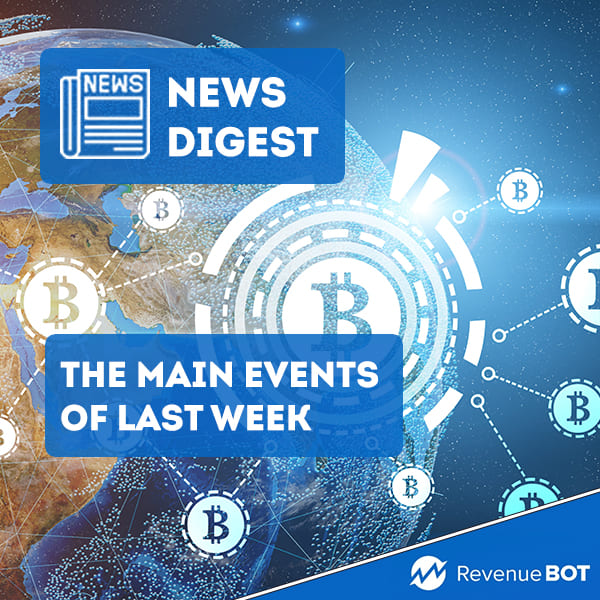 Friday, 9th of December. As the week comes to an end, we can focus on the highlights of the crypto industry over the past few days.
Goldman Sachs to boost investment in crypto industry amid FTX collapse
Financial conglomerate Goldman Sachs expects to spend "tens of millions of dollars" to buy or invest in cryptocurrencies whose valuations have fallen due to the FTX collapse. This is reported by Reuters.This is reported by Reuters. 
Matthew McDermott, the head of digital assets in Goldman Sachs, confirmed that the bank was doing due diligence on several crypto firms. However, no details were disclosed.
McDermott explains that the FTX crisis has accentuated the need for more robust regulated service providers and major banks have seen the prospect of expanding their business.
"We do see some really interesting opportunities, priced much more sensibly," McDermott said.
Goldman Sachs has already invested in 11 cryptocurrencies, including CertiK, One River Digital, Elwood Technologies, Blockdaemon and Coin Metrics. The bank's digital asset department is staffed by about 70 people. The institution is also developing its own private blockchain.
"It's definitely set the market back in terms of sentiment, there's absolutely no doubt of that. FTX was a poster child in many parts of the ecosystem. But to reiterate, the underlying technology continues to perform," McDermott claimed.
He also pointed out that the FTX crisis pushed up Goldman Sachs' crypto trading volumes since investors shifted to regulated and well-capitalised players.
"What's increased is the number of financial institutions wanting to trade with us. I suspect a number of them traded with FTX, but I can't say that with cast iron certainty, " McDermott stressed.
Ledger unveils Stax device designed by Tony Fadell
Ledger, a manufacturer of hardware wallets, introduced a new device, the Stax. Its development involved the former head of development and production of Apple's iPod player, Tony Fadell.
A credit card-sized device is scheduled for release next year. It will cost $279, which is $130 more expensive than the Ledger Nano X wallet.
This "electronic ink" screen displays custom NFTs in black and white. Stax allows you to manage crypto assets (including swapping and blocking for staking), as well as connect to the Ledger Live app via Bluetooth.
A year and a half ago, Fadell got involved in developing the Stax. According to him, such devices are not just for geeks to use. 
Ledger CEO Pascal Gauthier expressed the hope that Tony Fadell's experience in creating devices for the mass market would help spread the word about hardware wallets. As he said, the latter used to be more like USB flash drives. However, Stax is set to change that by becoming the "Future of Web3 Devices."
"You go first the iPod and then the iPod Touch, and then eventually you get to the iPhone. And it takes a few years. Right now we are almost pre-iPods at Ledger and Stax is the iPod," Gauthier likened.
As you may remember, Ledger and Trezor reported significant growth in hardware wallet sales amidst the FTX collapse.
Chainlink launches staking, LINK token drops by 5%
The Chainlink decentralized oracle network team rolled out the Ethereum-based staking service named LINK. The price of the token fell by 5% overnight.
Initially, the mechanism is available to users who meet the Early Access Eligibility. By December 8, all network members will be able to stake 7,000 LINKs to a single address. The v0.1 pool will total 25 million tokens, with 2.5 million LINKs reserved for node operators.
Assets under staking and rewards will be suspended until the Staking v0.2 mechanism is launched. This will presumably happen in 9 to 12 months. Node Operator Stakers are expected to have a baseline rate of 5% per year in LINK against their committed stake, as well as rewards sourced from the 5% delegation fee derived from Community Staker rewards. Assuming an entirely filled 25M LINK pool, Node Operator Stakers can earn an effective annualized reward rate of ~7%.
The initial volume of Staking v0.1 is about 2.5% of the total Chainlink ICO. The Chainlink team intends to submit a proposal to increase the pool in early 2023.
With a number of initiatives, including staking, the program aims to cement Chainlink's dominance in the oracle segment and become a global industry classification standard.
U.S. court reveals charges against OneCoin partner
The Southern District Court of New York has released an indictment against Frank Schneider, a Luxembourg resident involved in the OneCoin, a crypto pyramid scheme.
This was requested by prosecutor Damian Williams on December 5. What is meant here is a classified document dated September 2020.
As per the indictment, Schneider was charged with wire fraud and money laundering. As authorities believe, OneCoin participants tricked people "throughout the world, including in the Southern District of New York" into investing in a pyramid scheme.
In 2021, Schneider was detained in the French town of Auden-le-Tiches on an international warrant issued by a New York court. At the time, it was reported that Schneider had engaged the law firm Carter-Ruck and reputation management firm Chelgate as a partner of OneCoin to exert pressure on the FCA.
Subsequently, the agency since removed a warning about OneCoin from its website, as the representatives of the agency used it for a PR campaign.
In June 2022, Schneider, held under house arrest in Joudreville, France, was interviewed by Luxembourg radio 100.7. As he said, he would have preferred to face trial in his home country, where he could face up to five years in prison. Should OneCoin's partner be extradited to the U.S., he could go to prison for up to 40 years.