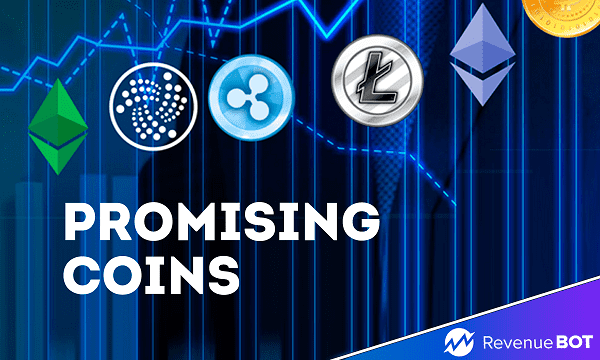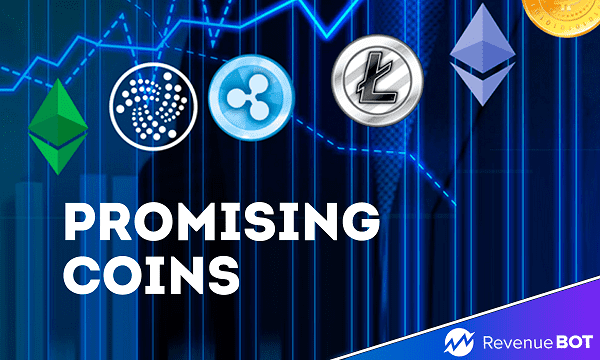 Numerous cryptocurrencies and tokens appear every day. Some of them are of a practical nature, which means they perform some sort of function. Others, on the contrary, have a purely entertainment purpose and may be in demand only due to the strong buzz around the project. RevenueBot has highlighted a few coins to watch out for. 
Celo (CELO)
CELO is a utility and governance token of the Celo community that has a fixed-supply variable value. With this cryptocurrency, you can help shape the destination of the platform and participate in its governance.
The Celo platform markets itself as an open, decentralized project "that makes financial Dapps and crypto payments accessible to anyone with a cell phone". It aims to create a robust ecosystem of organizations, validators and developers to build an inclusive financial system that keeps their communities growing and thriving.
There are other cryptocurrencies being developed based on the platform, such as Celo Gold (CGLD) and Celo Dollar (CUSD), the latter of which is backed by reserve assets. Additionally, the company is working on its proprietary wallet, one that allows you to transfer and receive cryptocurrency using your cell phone.
Despite its global ambitions, Celo is first and foremost a company that is focused on emerging markets. Fetch is currently promoting its Android app in Kenya, Tanzania and Argentina.
Gala (GALA)
GALA is an ERC-20 utility token used in the Gala Games ecosystem, an Ethereum- and Binance-based gaming platform. GALA can be used as the medium of exchange between participants in the ecosystem and to purchase digital goods or in-game items. Node owners earn GALA by supporting the ecosystem.
Gala Games in turn seeks to create a vast and highly inclusive ecosystem of game enthusiasts and passionate developers. Unlike most blockchain projects, Gala Games eschews focusing primarily on blockchain and instead focuses on blockchain-based games. This allows players to actually own the items they buy. One way to do this currently is by means of NFT.
Gala Games' decentralized ecosystem aims to fling its doors wide open and give players back the freedom that they deserve. Not only do players own their game items through decentralization, but they also have a say in how the Gala Games roadmap evolves. Players and node owners will be enlisted, via distributed voting mechanisms, to help determine what games should be added to the platform or what should be funded by the decentralized Gala Games ecosystem.
Waves (WAVES)
Waves is a decentralized platform where you can create your own digital assets and exchange currencies with other participants based on secure transactions. At the same time, the coin emission process should be as simple as possible. The platform brings together investors, traders, project teams and other motivated businesses.
For developers, the platform provides fast networking and low transaction fees. As for common users, there is a separate lightweight client for secure storage of assets. Both the desktop version and the online version in the browser are offered in the beta release. You can use the built-in exchange to trade assets swiftly. The exchange lists several widely used currencies and tokens created through the platform.
Waves was officially launched on June 12, 2016. During this rather short period, Waves succeeded to pass the ICO, raise 30,000 BTC (which is equal to $16 million at that time) and even enter the top list in terms of capitalization.
Conclusion
When investing in new coins, you keep an open mind on all the risks, because the chances of a coin remaining at the same price brackets or depreciating are sky-high.  
This material is not a piece of financial advice and is for informational purposes only.
If you don't want to count on luck, RevenueBot offers an automated trading interface. You can trade on the leading crypto exchanges, including: Binance, Bittrex, FTX, OKX and others. RevenueBot allows traders to create trading bots that provide stable passive income. Among the main advantages of the platform we can highlight the following:

Fees for the service are charged only after the first profit, no prepayment required;

RevenueBot's native marketplace is a great way to buy a ready-made bot as well as to sell a lucrative configuration; 

The RevenueBot referral program enables you to earn without having to do any trading by yourself;

RevenueBot uses a Dollar Cost Averaging (DCA) strategy, through which you can successfully trade and make profits over the long run;

Automatic switching of trading pairs makes it possible to benefit from trading at any time. The bot itself will switch to another trading pair if the main one will not be able to do the earning. 
You can learn more about the features of the platform on the RevenueBot official website.