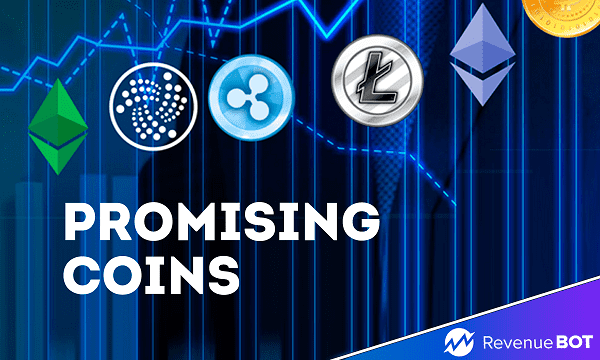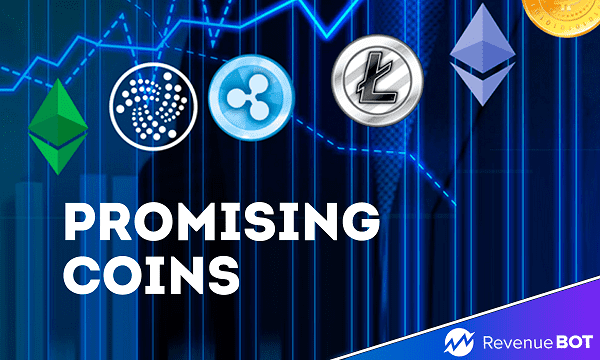 Numerous cryptocurrencies and tokens appear every day. Some of them are of a practical nature, which means they perform some sort of function. Others, on the contrary, have a purely entertainment purpose and may be in demand only due to the strong buzz around the project. RevenueBot has highlighted a few coins to watch out for. 
Ergo (ERG)
ERG is the Ergo platform's native coin which is used to pay all transaction fees in the transfer and implementation of smart contracts, as well as for chain voting and storage rental fees. With the storage rent you can charge a small fee for coins that have not been shifted for four years or more. This prevents the loss of ERG forever and helps incentivize miners to continue to protect the network in the long run, avoiding the UTXO (Unspent Transaction Output) infaltion which we see in Bitcoin and other UTXO-related chains.
Ergo is a next-generation Proof of Work smart-contract platform that enables new models of financial interaction, underpinned by a safe and rich scripting language built with flexible and powerful Zero-Knowledge proofs (Σ-protocols). Ergo is a self‐amendable protocol, that allows it to absorb new ideas and improve itself in the future. Prioritize useful features without sacrificing security with a research-based but practical development model.
The main goal of the project is to provide an efficient and reliable environment for executing financial contracts, which is by far considered as the most popular usage of blockchain today. Creating financial contracts on the blockchain is not just about functionality. It's also about making that very functionality safe, accessible and powerful. In addition, the project has its own programming language, called ErgoScript, which offers its developers greater versatility and broader functionality compared to, say, Bitcoin.
Alchemy Pay (ACH)
ACH is Alchemy Pay's native token used for transaction fees, rewards for network use, lowering transaction costs, and it is pledged by business partners during the onboarding process. Anybody who has Alchemy Pay can take part in governing the system. The organisation says that there is a need for people to be incentivised  to make use of cryptocurrency, so ACH tokens can be pledged, rewarded,  accumulated and paid as fees, meaning they have a certain kind of  flexibility within the network.
Dev team supports cryptocurrency's mission to provide people from all economic and geographical backgrounds with equitable access to  global finance. At Alchemy Pay, the founding team's expertise in traditional finance and technology provides a unique opportunity to overcome long-standing barriers and drive mass adoption of crypto. The payment system's services are available to commercial enterprises and developers through connecting payment channels, APIs, and other SaaS solutions.
Stargate Finance (STG)
STG is the first multichain fungible native token that can circulate freely between all LayerZero blockchains. STG holders can lock their STG tokens to receive veSTG, Stargate's governance token. The Stargate token (STG) offers a "bridging trilemma" solution and  allows users and decentralized applications to transfer native assets  between blockchains, gaining access to unified pools of protocol  liquidity with instantly guaranteed completeness.
Stargate Finance is a cross-chain of bridges as well as dApps, first-ever built on LayerZero. Stargate employs the LayerZero infrastructure to create a liquidity pool on the blockchain that supports the project (Ethereum, BNB Chain, Avalanche, Polygon, Arbitrum, Optimism, Fantom), thereby forming a network. The cross-chain helps connect the blockchain expected to be used with one another. Stargate's vision is to ensure that the cross-chain transfer of liquidity flows smoothly through a single transaction.
With Stargate, users may swap the usual sequence of their own assets (specifically, a property or a root) to Stargate in just a single transaction. For instance, users are able to quickly and easily exchange USDC for Ethereum and USDT for BNB. Furthermore, the applications help Stargate to easily create a cross-chain root transaction. The cross-chain of active swaps is supported by a single liquidity pool (pool bar account) owned by the community. What Stargate envisions is to develop a solution that would help bring the liquidity back into a simple and seamless blockchain-to-blockchain transaction process.
Conclusion
When investing in new coins, you keep an open mind on all the risks, because the chances of a coin remaining at the same price brackets or depreciating are sky-high.  
This material is not a piece of financial advice and is for informational purposes only.
If you don't want to count on luck, RevenueBot offers an automated trading interface. You can trade on the leading crypto exchanges, including: Binance, Bittrex, FTX, OKX and others. RevenueBot allows traders to create trading bots that provide stable passive income. Among the main advantages of the platform we can highlight the following:

Fees for the service are charged only after the first profit, no prepayment required;

RevenueBot's native marketplace is a great way to buy a ready-made bot as well as to sell a lucrative configuration; 

The RevenueBot referral program enables you to earn without having to do any trading by yourself;

RevenueBot uses a Dollar Cost Averaging (DCA) strategy, through which you can successfully trade and make profits over the long run;

Automatic switching of trading pairs makes it possible to benefit from trading at any time. The bot itself will switch to another trading pair if the main one will not be able to do the earning. 
You can learn more about the features of the platform on the RevenueBot official website.