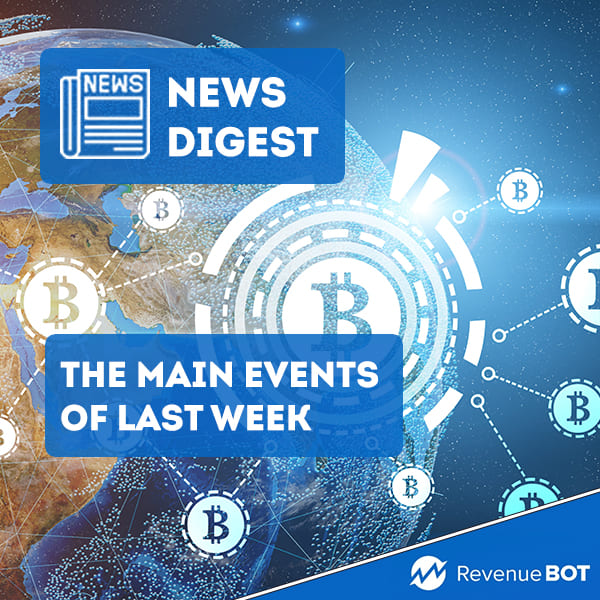 It's Friday, April the twenty-eighth. As the week comes to an end we can focus on the highlights of the crypto industry over the past few days.
Binance CEO's net worth estimated at $28.2B by Bloomberg
Changpeng Zhao (CZ), the head of Binance, ranked third in Bloomberg's "25 Financial Titans" with a fortune equal to $28.2 billion.
According to calculations of the news agency, the annual revenue of the largest crypto exchange exceeds $12 billion.
Journalists recalled that Zhao was introduced to digital currency by entrepreneur Bobby Li while playing poker in Shanghai. Before creating Binance, the businessman worked at Bloomberg Tradebook and later joined Fusion Systems, a platform specializing in trading systems. 
Colin Wu, a cryptojournalist, suggested that the data could be unreliable because the exchange does not publish its financials and CZ share.
Zhao himself denied the information by Bloomberg on his Twitter. He stated that "numbers all wrong" and he hasn't "anywhere near as much" funds.
As far as you may remember, on March 27, the U.S. Commodity Futures Trading Commission (CFTC) filed a lawsuit against Binance and Zhao. The regulatory authority accused the crypto exchange of "willful evasion of U.S. law" and noncompliance with regulations. 
CZ responded that the CFTC's claims contained an "incomplete recitation of facts," and his company disagreed with the most of the claims' specifications.
Blockchain detective discovers address responsible for creating 114 fraudulent memecoins
Over the past 45 days, an anonymous individual generated 114 "fraudulent" meme coins to send the proceeds to a single address. This is what ZachXBT, an on-chain analyst pointed out.
A user transferred some of the assets through Coinbase.
As the analyst clarified, there are no renowned coins among the these tokens. However, he did not rule out that there could be even more fake assets.
"I suspect there are more too. These are just ones sent to that deposit address lol," he wrote.
Some users noted in the thread's comments section that after every transaction the unknown person deposits 2.5-3 ETH from Coinbase into his wallet to pay for commissions and maintain liquidity. He then withdraws a total profit of 0.1-0.2 ETH to his exchange wallet. Occasionally he even loses money doing this.
It is not possible to calculate the exact amount of money earned, according to ZachXBT, since the user employs different wallets and splits the assets.
Biden urged a faster AI regulation
NAIAC encouraged U.S. President Joe Biden to institute key positions and establish new organizations amid growing concerns about AI. This is what The Register reports.
The committee suggested that the President should immediately designate the director of the National AI Initiative Office. It would be designed to coordinate on all matters related to AI between different agencies.
Likewise, the NAIAC advised that the chief technology officer in the White House be approved.
It has been proposed as well that the committee create a role for chief responsible AI officer who is able to implement and promote strategies to develop robust artificial intelligence.
Similarly, Biden was tipped to establish the Emerging Technology Council, a group made up of senior White House members. The Council would adopt policies with an emphasis on civil rights and justice, the economy, and national security.
In addition, NAIAC believes it is crucial to set up a working group to help small and medium-sized businesses develop and securely deploy algorithms.
Myriam Vogel, a committee member and head of the nonprofit EqualAI, claimed that the new positions would help the effort to regulate AI.
Vogel went on to point out that the U.S. already has laws in place that address a number of related issues. By way of example, she cited civil rights that can be violated by biased algorithms in the areas of employment or finance.
FTX to raise $50M by selling LedgerX
FTX, which is currently undergoing bankruptcy proceedings, has negotiated with a subsidiary of Miami International Holdings to sell its crypto derivatives platform, LedgerX, for $50 million. The deal would require approval by the U.S. District Court for the District of Delaware.
The hearings will take place on May 4.
Miami International Holdings operates several trading platforms in the U.S. and abroad, including the Minneapolis Grain Exchange (MGEX) and the Bermuda Stock Exchange (BSX). FTX entered into an agreement with a subsidiary of M7 Holding as well.
Back in the summer of 2021, the U.S. branch of FTX announced plans to allow customers to trade crypto derivatives. It later acquired LedgerX.
As of December 2022, Bloomberg reported that the platform was up for sale. As the agency says, approximately 10 companies expressed interest in buying the platform. These include Blockchain.com, Gemini and Bitpanda. 
In January 2023, a court gave FTX permission to proceed with the sale of its business units in order to raise liquidity needed to pay its creditors. Previously, the exchange announced that LedgerX, Embed, FTX Japan, FTX Europe and other companies within the group have attracted the attention of 117 organizations in total.