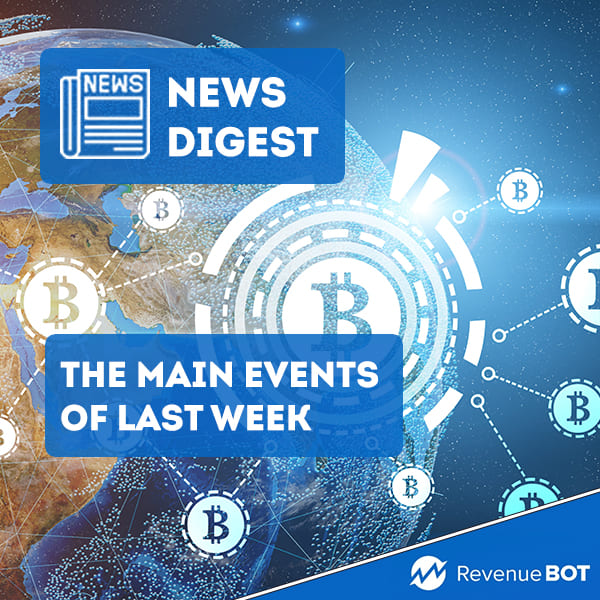 Friday, 5th May. As the week comes to an end we can focus on the highlights of the crypto industry over the past few days.
Biden administration proposes 30% tax on crypto mining
CEA (Council of Economic Advisers) under President Joe Biden suggested a 30% tax on electricity used for cryptocurrency mining to be included in the federal budget. The initiative aims to minimize the impact on climate sensitivity, Yahoo says.
"Cryptominers' high-energy consumption has negative spillovers on the environment, quality of life, and electricity grids where these firms locate across the country," the report points out.
In an upcoming publication, the Board will make the case for an excise tax on Digital Asset Mining Energy (DAME).
The CEA stressed that its introduction would force firms to pay better attention to the harm "they impose on society." Currently, their costs do not take into account "local environmental pollution, higher energy prices, and the impacts of increased greenhouse gas emissions on the climate."
Tom Mapes, director of energy policy at the Chamber of Digital Commerce, sees the administration's moves as an effort to "go after the industry which they do not support."
"This puts a clear line in the sand that they do not like the industry. They are looking for ways to hamstring it," he explained.
According to the White House report, crypto mining consumes far more energy than Australia as a whole. This type of activity accounts for 0.9% to 1.7% of all total costs in the U.S., where about a third of all mining is concentrated.
The New York Times estimates that the 34 largest businesses use as much electricity as nearly 3 million households. Ten Texas-based businesses have caused higher prices for all consumers after the demand they generate has created blackout risks.
Jack Dorsey's Block reveals prototype mining chip
Block by Jack Dorsey finalized a prototype ASIC chip for open-source bitcoin mining.
In a statement, the company seeks to reduce the centralization of mining and related equipment in order to "optimize for innovation and maximize the size of the bitcoin mining hardware ecosystem."
"Most bitcoin mining ASICs on the market today are produced using five nanometer technology. It is on this node that we focused our initial development efforts," the company explained.
As part of the project, Block purchased a batch of ASIC chips from Intel. Back in April, the tech giant announced that it was discontinuing sales of its Blockscale series of mining hardware.
The decisions undertaken over the past few months would allow the company to "to experiment with design variants" and help it bring more "capital availability" to market. 
As early as 2021, the ex-head of Twitter offered to create a versatile and eco-friendly open-source crypto mining system.
This March Block announced a "mining development kit," which includes several tools for customization.
OpenSea ex-manager found guilty of insider trading
Nathaniel Chastain, former product manager for OpenSea, an NFT Marketplace, was convicted of insider trading. This is what Reuters reports.
On June 1, 2022, he was arrested for alleged wire fraud and money laundering. Chastain pleaded not guilty.
"He abused his status at OpenSea to line his own pockets, and he lied to  cover his tracks," prosecutor Thomas Burnett claimed.
Chastain indicted for buying NFTs, which he subsequently posted on the marketplace website, earning more than $50,000 from their sale. The prosecutor's office alleged that he made use of anonymous accounts to make illegal transactions.
There has been no success in attempts by Chastain's legal team to dismiss the lawsuit or drop the fraud charges.
As you may remember, in April, law enforcement officials in New York detained former JPMorgan and Deutsche Bank broker Rashawn Russell due to suspicion of digital asset fraud as well.
Solana announces a contest for NFT artists
As a way to take up a notch in new NFT projects, the Solana Foundation is launching a competition for aspiring digital artists. 
Through the NFT Showdown, contributors are encouraged to submit their business ideas and designs for NFT collectibles that create "real-world utility" for the fashion, entertainment and gaming industries, among others.
"The NFT Showdown is designed to encourage a shift in the way NFT brands design their business plans prior to launching," Austin Federa, Solana Foundation's head of strategy, said in a statement. "Projects should consider what it will take to achieve long term success as an NFT brand." 
Applications are due June 10. Only ten winners will be eligible to receive a recommendation from Solana. 
Leading experts in the field of non-fungible token promotion will consult only with the finest projects on how to achieve "long-term success". 
Prior to that, Solana developers introduced state compression technology which reduces the costs of onchain operations significantly, including the creation of NFTs.
To recap, in April the Helium wireless network completed its migration to Solana blockchain with the further rollout of almost 1 million NFTs.