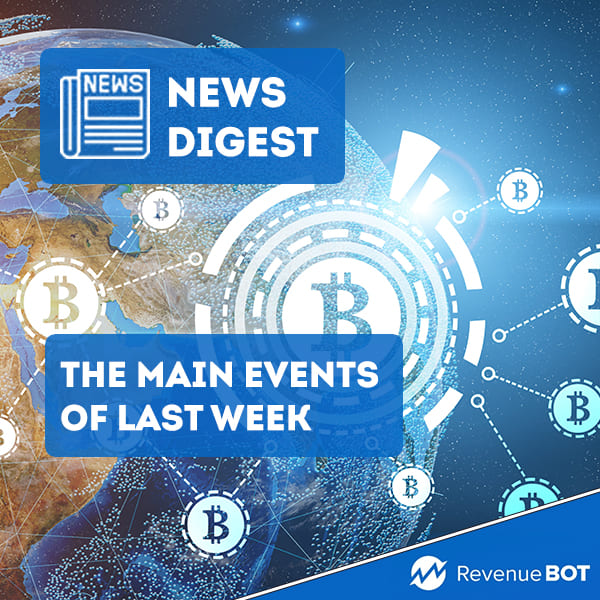 Friday, August 25th. As the week comes to an end we can focus on the highlights of the crypto industry over the past few days.
Binance teams up with MoonPay
The US division of the renowned crypto exchange Binance has partnered with MoonPay, a payment company, to add an alternative means of topping up a USDT account in dollars. 
Stablecoin purchases are available via debit or credit card, as well as via Apple Pay or Google Pay. Later on, USDT can be exchanged for other cryptocurrencies or fiat.
Minimum buy order through MoonPay amounts $30. If you purchase USDT, you will be charged a 3.49% fee when buying and a 2.25% when selling.
First time user would need to go through KYC on the provider's website. 
MoonPay is available to customers all over supported states except Louisiana.
Let us recall that on June 9, Binance.US announced the suspension of dollar deposits and recommended that customers withdraw fiat funds by June 13.
On June 22, the platform notified the delisting of any crypto paired with USD, except BTC, ETH, ADA, BNB, LTC, MATIC, SOL, VET, USDC and USDT.
Ex-OpenSea manager sentenced to 3 months in prison for insider trading
Three months in prison and a $50,000 penalty have been imposed by the court on former NFT marketplace OpenSea's NFT product director Nathaniel Chastain for insider trading.
"He is the first-time offender. There are mitigating circumstances. He has a potentially promising future," a judge in the U.S. District Court for the Southern District of New York. 
The ruling requires Chastain to voluntarily report to jail on Nov. 2. However, the defendant's attorneys have demanded that he be released on bail pending the upcoming appeal.
The state prosecutors had called for 21 to 27 months of his imprisonment, but attorneys insisted the defendant had lost his reputation, his job and a stake in OpenSea worth millions of dollars.
After serving the basic sentence, Chastain will receive a three-year suspended sentence. Additionnaly, that very court will seize ETH earned by dirty trading.
On June 1, 2022, Chastain was arrested on suspicion of wire fraud and money laundering. He denied all charges but was found guilty in May 2023.
Ex-Opensea manager was also convicted of buying NFTs, which he subsequently listed on Opensea, earning more than $50k. Moreover, prosecutors claim that he used anonymous accounts to perform illegal transactions.
In April, law enforcers in New York detained a former broker of banks JPMorgan and Deutsche Bank Rashawn Russell on suspicion of fraud with digital assets.
In May, a court sentenced former Coinbase bitcoin exchange product manager Ishan Wahi to two years in prison for insider trading.
Bitstamp to halt staking in US
One of the oldest crypto exchanges, Bitstamp sets to freeze the staking programme for all US users, Blockwork reports.
"Customers will continue earning staking rewards up until Sept. 25, 2023, and after that, all staked assets will be unstaked. Rewards, along with the principal, will be credited to users' main Bitstamp account balances. Typically, this process takes a few days but could be extended depending on network conditions," the emailed statement continued.
Company officials said the decision was made because of the unfavorable regulatory environment in the United States. Bitstamp also emphasized that the rest of the platform's features will continue to work as usual.
Earlier this month, the exchange halted trading of seven tokens in the US, including Polygon (MATIC), Solana (SOL), Near Protocol (NEAR), Axie Infinity (AXS), Chiliz (CHZ), Decentraland (MANA) and The Sandbox (SAND). 
As a reminder, in February, the U.S. Securities and Exchange Commission (SEC) deemed the Kraken platform's staking services to be an unregistered offering of securities. The latter neither admitted nor denied the charges, but agreed to shut down the program and pay $30 million in fines. 
For the same reason, another US company, Coinbase, has suspended its staking platform in four US states.
Shortly before that, the SEC filed a civil suit against the exchange, accusing it of making an unregistered offering of securities in the form of a series of tokens.
Legal experts noticed inconsistencies in the Tornado Cash case
Crypto industry promotion and advocacy organization Coin Center has stated that recent allegations by the co-founders of the Tornado Cash mixer are contrary to FinCEN regulations and guidance.
On August 23, the U.S. Department of Justice filed a case against developers Roman Storm and Roman Semenov on suspicion of money laundering. Authorities have taken Storm into custody. Semenov is still at large, but OFAC has placed him on the sanctions list.
As per Coin Center, the indictment says the suspects "engaged in the transfer of funds on behalf of the public" without registering with FinCEN. However, law enforcement representatives did not provide any evidence of transactions directly by Storm or Semenov. 
The only facts of the investigation support only the development and provision of software to anonymize transactions, the lawyers pointed out. Such activities are not inconsistent with FinCEN regulations and the Bank Secrecy Act. 
"Tornado Cash is an anonymizing software provider, not a money transmitter. The rules exclude from the definition those persons who only provide delivery, communication, or network access services used to transfer funds," the agency's 2019 guidance, cited by Coin Center, reads. 
The prosecution alleges that the co-founders of Tornado Cash paid for web hosting services, maintained a repository on Github, and had full control over the platform's smart contracts until May 2020.