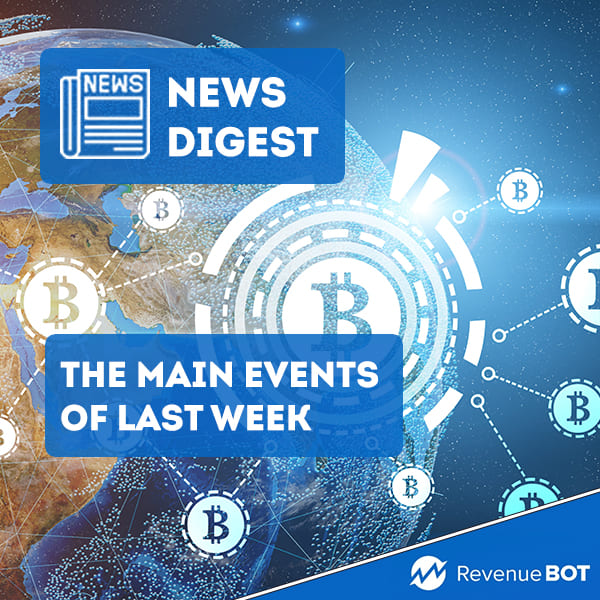 Friday, September 15th. As the week comes to an end we can focus on the highlights of the crypto industry over the past few days.
Huobi rebrands to HTX
Huobi crypto exchange pulled off a major rebranding to mark its tenth anniversary, as part of which it changed its name to HTX and laid out a new roadmap.
As per the announcement, the "H" in the name stands for Huobi, while the "T" represents the TRON blockchain, and the "X" signifies the exchange. In addition, the platform now also features a new tagline, "HTX, Just Trade It."
"HTX's new mission is to build a metaverse free port with a vision to achieve financial freedom for 8 billion people on earth. HTX is embarking on a growth strategy of "global expansion, thriving ecosystem, wealth effect, and security and compliance," the press release says. 
The crypto exchange is looking to expand its business globally, entering new markets with "promising prospects across various countries and regions." 
HTX looks to strategically cooperate with public networks like TRON, cross-chain protocols such as similar to TrueUSD.
Moreover, the trading platform will put an emphasis on Layer-2 protocols and memecoins. It has promised to issue reserve confirmation reports regularly.
Back in Nov. 2022, media reported on a possible merger of Huobi with Poloniex, the latter of which was bought in 2019 by TRON co-founder Justin Sun and a group of investors. The entrepreneur disproved the rumors, but did not rule out such a scenario at some point in the future. Later on, the platforms forged a strategic partnership.
As far as you remember, in August 2023, Sun acknowledged the company's unprofitability. Huobi has underperformed in terms of net income for the past four quarters. 
That same month, the platform saw a funds outflow amid rumors of insolvency – as a result, the total value of blockchain assets plunged by nearly $54m.
Binance.US prospects are dim until CZ sells its stake: sources
Opportunities for Binance.US growth are limited due to the business' ties to Changpeng Zhao, CEO of the worldwide crypto platform, and the current regulatory environment, according to an internal presentation accessed by The Block's sources.
It would only be possible to realize the company's roadmap if CZ were to sell its shares or put them into a blind trust. 
Among the other options are whether Zhao settles with regulators or Congress adopts some form of industry regulation.
This is the only way the platform can pursue initiatives to launch new products, including equities and futures, as well as obtaining licenses to trade derivatives.  
As for the second scenario of the roadmap, it is assumed that investment would diminish. This would allow resources to be allocated to certain exchange upgrades, but would require a commitment to take that step during the ongoing bear market.
The third option was to "freeze" development until the company's situation improved significantly. Doing so would provide an opportunity to curtail negative cash flows while maintaining sound business operations and licenses.
On June 5, the SEC sued the renowned exchange and Zhao. The SEC filed 13 charges, including selling unregistered securities.
The next day, the regulator filed a motion to suspend the digital assets of the company's U.S. division. The Commission accused DEX's executives and Zhao himself of diverting client money to his own investment funds.
On June 9, platform users were no longer able to deposit dollars, sparking sales from those wishing to withdraw funds in fiat.
On June 17, the SEC and Binance struck a customer funds agreement in the United States. The exchange has resumed withdrawals, but the company cautioned that the situation could alter.
Let us remind you that on September 13, it was reported that Brian Schroder resigned from the post of CEO of Binance.US. Meanwhile, the Binance's U.S. division laid off about 1/3 of its employees, which is about 100 people.
CFTC calls DeFi exchanges 'obvious threat'
Unregulated decentralized finance exchanges pose an "obvious threat" to markets and their customers, CFTC enforcement director Ian McGinley said.
During a conference speech at the Practising Law Institute organization, the official noted that DeFi protocols frequently offer derivatives trading to clients, most of which are subject to regulatory registration.
As per McGinley, such platforms represent a set of smart contracts, as well as operate with no KYC procedures, proper disclosure, separation of corporate and user assets, etc. The offered financial products can in many cases only be traded by clients of a certain category on rules-compliant platforms.
McGinley also pointed out that even minor bugs in the smart contracts of decentralized platforms lead to exploits with the loss of "tens or hundreds of millions of dollars" of customer funds.
"The existence of unregulated DeFi exchanges is an obvious threat to the markets regulated and customers protected by the CFTC, and it is one we have taken very seriously," the official emphasized.
In another speech focused on the agency's enforcement practices, McGinley cited the cases of the Polymarket and Ooki DAO projects that the SEC had targeted in the past. 
As of last week, three other DeFi platforms had resolved the CFTC's claims, he noted. Opyn, ZeroEx and Deridex marketed derivatives trading, retail margin trading, leverage products and engaged in other activities subject to registration with the Commission, McGinley specified.
As a result, all three companies are to pay civil penalties of $250,000, $200,000, and $100,000, respectively.
Regarding this case, Coinbase CEO Brian Armstrong voiced his hope that the DeFi projects may sue the regulator, prove their case and set a precedent.
Binance.US CEO quits amid cutbacks
Brian Schroder, CEO of crypto exchange Binance.US, has stepped down from his position. He was temporarily substituted by chief legal officer Norman Reed, Bloomberg reports.
The CEO's resignation occurred concurrently with the massive downsizing. The US-based exchange made redundant about a third of its staff, as many as 100 people. 
Schroder joined the company back in 2021. Prior to Ant Group, Brian served as Head of Strategy and Business Development for Uber in their Asia-Pacific region. 
This marks the second manpower cut at Binance.US in 2023, according to the publication. 
"The SEC's aggressive attempts to cripple our industry and the resulting impacts on our business have real world consequences for American jobs and innovation, and this is an unfortunate example of that," spokesperson said.