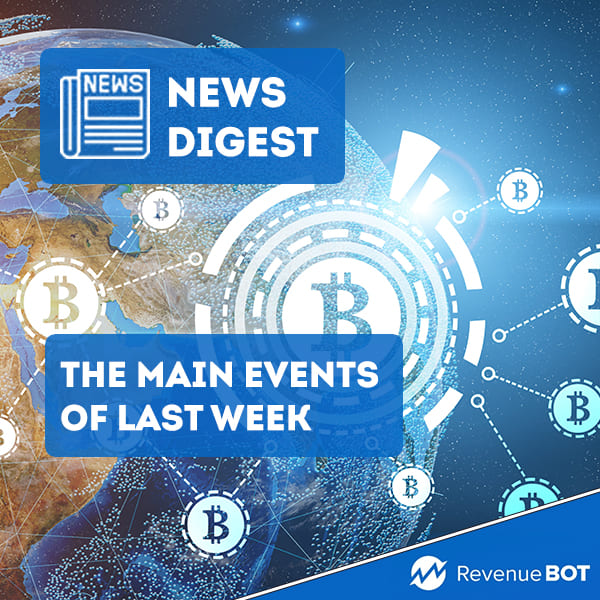 Friday, September 22nd. As the week comes to an end we can focus on the highlights of the crypto industry over the past few days.
Grayscale files for new Ethereum futures ETF
Grayscale Investments made a proposal to the SEC to launch an exchange-traded fund powered by ETH futures traded on the CME, The Wall Street Journal reports.
The application falls under the Securities Act of 1933, which regulates commodities and Spot Bitcoin ETFs.
Prior to that, Grayscale filed for a similar product under the Investment Company Act of 1940, upon which most exchange-traded funds are registered.
In September, crypto-focused asset manager Hashdex proposed to the SEC to launch an Ethereum-based ETF and CME-traded futures based on the second largest cryptocurrency by market cap. The submission is based on the Securities Act of 1933.
Moreover, Grayscale stepped forward to launch an ETF based on Ethereum futures after a court granted its petition to convert GBTC into a Spot Bitcoin-ETF.
The Court of Appeals conceded that the agency failed to explain why spot and futures ETFs based on the alpha cryptocurrency are substantially different.
Back in June 2022, the organization sued the regulator for refusing to convert GBTC into an ETF. However, the company submitted a proposal to the SEC for product conversion way before, in October 2021. 
Previously, analysts at JPMorgan said the court's verdict in the Grayscale case could push the final approval of a spot ETF based on "digital gold".
As you may remember, Grayscale requested that the SEC "expeditiously" approve a Spot Bitcoin ETF.
The SEC thunders at CEXs and DeFi projects
Apart from Binance and Coinbase, there are other centaralized exchanges and DeFi protocols whose activities are being investigated by the Securities and Exchange Commission for breaching the law, according to the head of the agency's Crypto Assets and Cyber Unit David Hirsch, CoinDesk reports.
The official said the industry's regulatory violations "hold true well beyond any two entities."
"We're going to continue to bring those charges. That can be brokers, dealers, exchanges, clearing agencies or any others who are active in this space, Are within our jurisdiction and not meeting their obligations, either  through registration or failure to provide adequate or complete  disclosures," he warned.
The SEC's Crypto Enforcement Chief complained about the regulator's heavy workload, which discourages the initiation of new processes. He also highlighted the limited funding.
"There are more tokens extant — I think maybe 20,000, 25,000, last I read — than the SEC or any agency has the resources to pursue directly, and similarly there are a number of centralized platforms out there, some that are acting as unregistered exchanges," he explained.
Coinbase survey reveals 20% of Americans own crypto
As of 2023, one out of every five U.S. adults holds digital assets – there are about 52 million people in this group, as per Coinbase's recent report. 
The crypto exchange also ran another survey asking about people's attitudes towards the current U.S. financial system. Almost nine out of ten Americans (87%) said that change at this point is necessary. Another half of respondents (51%) believe the U.S. economic model is unfair. 
63% of crypto holders strongly agree that the system inexcusably favors the interests of more powerful individuals.
In Nevada, Ohio, and Pennsylvania, more than 40% of digital asset owners utilize them to transfer money overseas and help support family.
As many as 72% of people aged 18 to 34 feel that "crypto gives people direct control over their money." The same number of respondents agree that "digital assets are the future of finance." 
"While a growing number of elected officials in Congress are advocating for legislation to regulate crypto and drive progress in the financial system, others are simply choosing to protect the status quo. And in a democracy, the will of the people can drive progress," analysts pointed out. 
A total of 87% of Fortune 500 CEOs surveyed said clear regulations are necessary to maintain U.S. leadership in the global financial system, out of which 46% believe that regulatory ambiguity is a hindrance to investment.
Let us recall that in September, a study by ConsenSys discovered that 99% of Nigerians (outperforming the US with a figure of 95%) are aware that digital assets exist. According to global data, 92% of people worldwide are quite savvy about crypto.
According to an April Pew Research Center poll, 2/3 of people in the US are skeptical of crypto assets due to the banking crisis and regulatory concerns.
Writer, Generative AI Platform, raises $100M
The leading full-stack generative AI platform for enterprises brought up $100 million in a Series B funding round led by ICONIQ Growth.
Other participants include WndrCo, Balderton Capital, Insight Partners, Aspect Ventures and a whole lineup of the firm's clients, including Accenture and Vanguard.
Writer plans to channel funds into developing its own industry-specific LLMs (large language models) with multimodal capabilities.
Business-oriented, the platform provides a comprehensive functionality for building AI products. Sales, human resources, and marketing features are supported.
Not only does Writer enable enterprises to design their own foundation models, but it offers out-of-the-box functional applications, according to the press release.
The company's study of 50 corporate clients found that the use of Writer solutions freed up an average of 7.5 hours of work time per week per employee.
Back in 2021, the platform gathered $21m in a Series A round led by Balderton Capital and Insight Partners. As of 2020, Writer attracted $5m in seed funding backed by Aspect Ventures.  
The company said it has increased revenue "by 10x" over the last couple of years.
It is worth noting that in September, defense-focused AI developer Helsing closed a €209m Series B funding round.