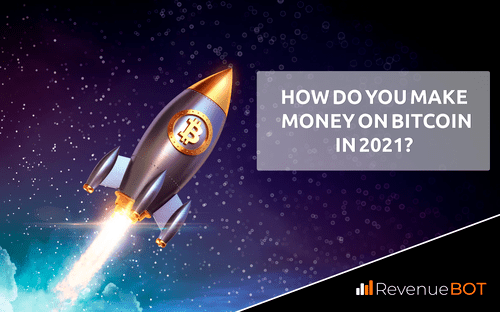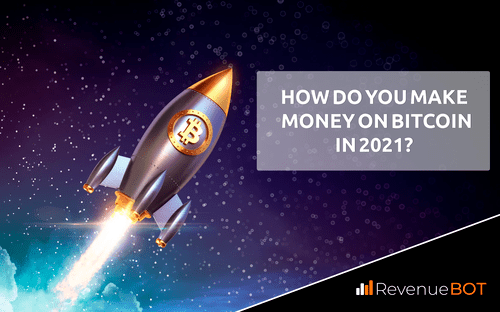 Cryptocurrencies are hard to ignore in the last five years, and in the almost past quarter of 2021, digital assets are becoming almost mainstream. Bitcoin still holds the leading position, having the highest demand and capitalization in the crypto market. There are three main ways to make money from the main cryptocurrency, in 2021. In this material, we're going to go through each of these.
Long-term investment
Investment in Bitcoin is the easiest way to make a living. Of course, Bitcoin costs a lot now. The average price of the main cryptocurrency is over $50,000. In the last year, the ideal time to buy it was in March, when the price of Bitcoin fell to $4,000. In the United States, a $1.9 trillion aid package was approved in early March 2021, and preparations for the next stimulus package began immediately after. Statistically, about 30% of people are going to be allowed into financial markets. For example, in May 2020, when the United States was providing $1,400 per person in first aid, the Coinbase crypto recorded a 20-fold increase in deposits by the same amount. Moreover, one should not forget the number of institutional and simply wealthy investors that have invested in the main cryptocurrency over the past year. All of these factors tell us one thing: the price of Bitcoin will continue to rise. Yeah, growth may not be as strong as it was before, but it will still be.
Trade
Trading is not a new, well-known way to make a living on Bitcoin. However, this is not the case for everyone. Let's take a step-by-step look at what someone who wants to make money from the Bitcoin trade has to face:

Trading implies having knowledge of the market. An uninformed market participant can easily lose his or her deposit. Most likely, each of us has encountered a man who told us how he lost a substantial amount of money from trading in financial markets. Of course, the story mentions that you can't make money here, you'll just lose your money. And the fact that he doesn't know the design of the market and his rules is a completely minor fact that he's not usually mentioned.

Trading involves a lot of free time. Of course, if you're going to make real money in the markets. A lot of time is needed for market analysis as well as for trade.

Now that we're talking about analysis, fundamental and technical will become integral part of a successful trade. In addition, sufficient time will need to be devoted to delta cluster and inter-market analysis in the future.

Deposit. To understand and see earnings, an initial deposit must start at $1,000. Just remember, you will most likely lose your first deposit.

An emotional component. Working with your psychological state will be an indispensable factor for profitable trading. Every sales manual will say, turn off your emotions while trading. This will help you make your decisions. It sounds simple, but the reality is very different.



At the exit we get that trading is very demanding and does not tolerate market participants who know nothing about it. However, for a long time of learning to pay back in full, because the earnings from a successful trading is overtaking a simple investment in Bitcoin. And the crypto market has an annual profit that will increase your deposit by a factor – the real state of affairs. But it will take years to learn the principles of trade.
Mining
At a time when Bitcoin was just being created and hadn't traded on crypto exchanges because it just wasn't there, the only way to make money was to mine. Between 2009 and 2012, bitcoin was mined using conventional laptops and PCs, but at that time it was clearly not worth as much as it is now. The complexity of the network was minimal, due to the number of miners inside it, so Bitcoin mining was not labor-intensive. In 2012, Butterfly Labs formed the world's first ASIC miner. The device itself was designed specifically for mining cryptocurrencies and was unable to perform any other functions. However, its performance was significantly higher than that of conventional PCs, allowing it to produce more bitcoin. 
Soon, Bitcoin mining by video cards and processors became less popular, and the fame went to the ASIC miners. In addition to generating new blocks within the network and receiving rewards for doing so, the miners earn profits for conducting transactions. The average commission within the Bitcoin 0.0002 BTC network that departs from the miners.
Today buy one ASIC and hope for profit will not be possible. The mining farm in 2021 is a huge storage facility, with hundreds or maybe even thousands of ASIC miners, who consume as much energy as they would provide for an entire city. So in order to make a good profit from Bitcoin mining, you have to put at least a few tens of thousands of dollars. But it's worth remembering that it's not going to pay off anytime soon.
Conclusion
Although we said at the beginning of the article that there are only three ways to earn a living on Bitcoin, there is one more to mention. It is connected with trading, but it is easier to master it – you can use RevenueBot services. The service provides the possibility to create trading bots for trading on known crypto exchanges.
By using RevenuBot you will get rid of:
Constant tracking of price charts. Simply set the desired parameters to the bot and it will trade independently. In addition, the bot runs from cloud storage. This means that your PC should not be turned on while the bot is trading.

Study of trading strategies. If you are new to trading, you can buy a ready-made bot on the service's marketplace. This will save you from setting up your own bot, you will use a proven configuration.

The bot has no emotions. It will open and close deals according to predetermined parameters.

The commission for the use of bot is not more than 50 USD per month, and the creation itself is free.



Go to the official website of the service to get fully acquainted with the services that RevenueBot provides.