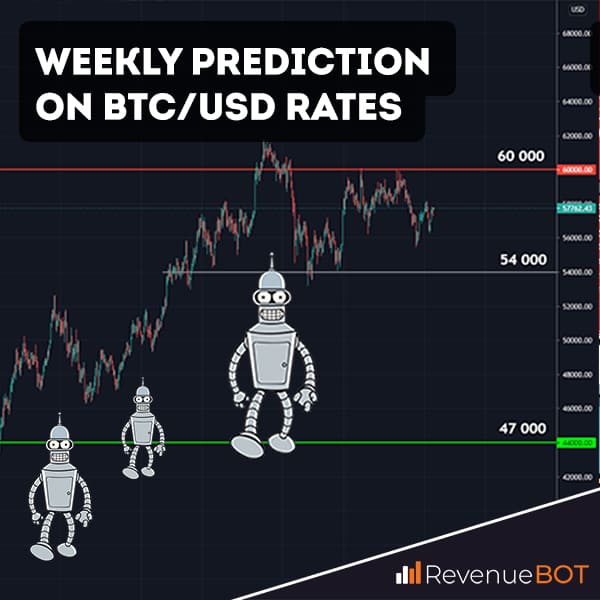 The past week has been rich in events in the cryptocurrency world. The main source of events, already by tradition, was the head of Tesla and SpaceX, Elon Musk. At first, the markets were afraid of the statement that Tesla will not accept bitcoins as payment, because too much energy is used for their production, which is harmful to the environment. Some time later, it was revealed on Twitter that the company had sold all its Bitcoin, and Musk first confirmed it and then denied it. What is waiting for the main cryptocurrency in the coming week? Let's take a look at our weekly rate forecast of Bitcoin against the dollar.
BTCUSD Forecast
After a recent tweet that Tesla had sold all of its BTC, the "digital gold" rate collapsed and reached $42,000. Elon Musk soon refuted the rumors and the price recovered slightly. Currently, as noted earlier, the key support area for Bitcoin is the $44,000 level, which has withstood an information attack. However, for recovery to continue, the price needed to begin to return above the $48,000-$50,000 zone, which had previously been a strong supporter, is now a resistance. It is only if this range is successfully fixed that we will be able to talk about a new attempt to raise the $60,000 level, which is now the main goal of BTC. And only by raising the price of $60,000 will it be possible to talk about the end of the correction and the continuation of the increase.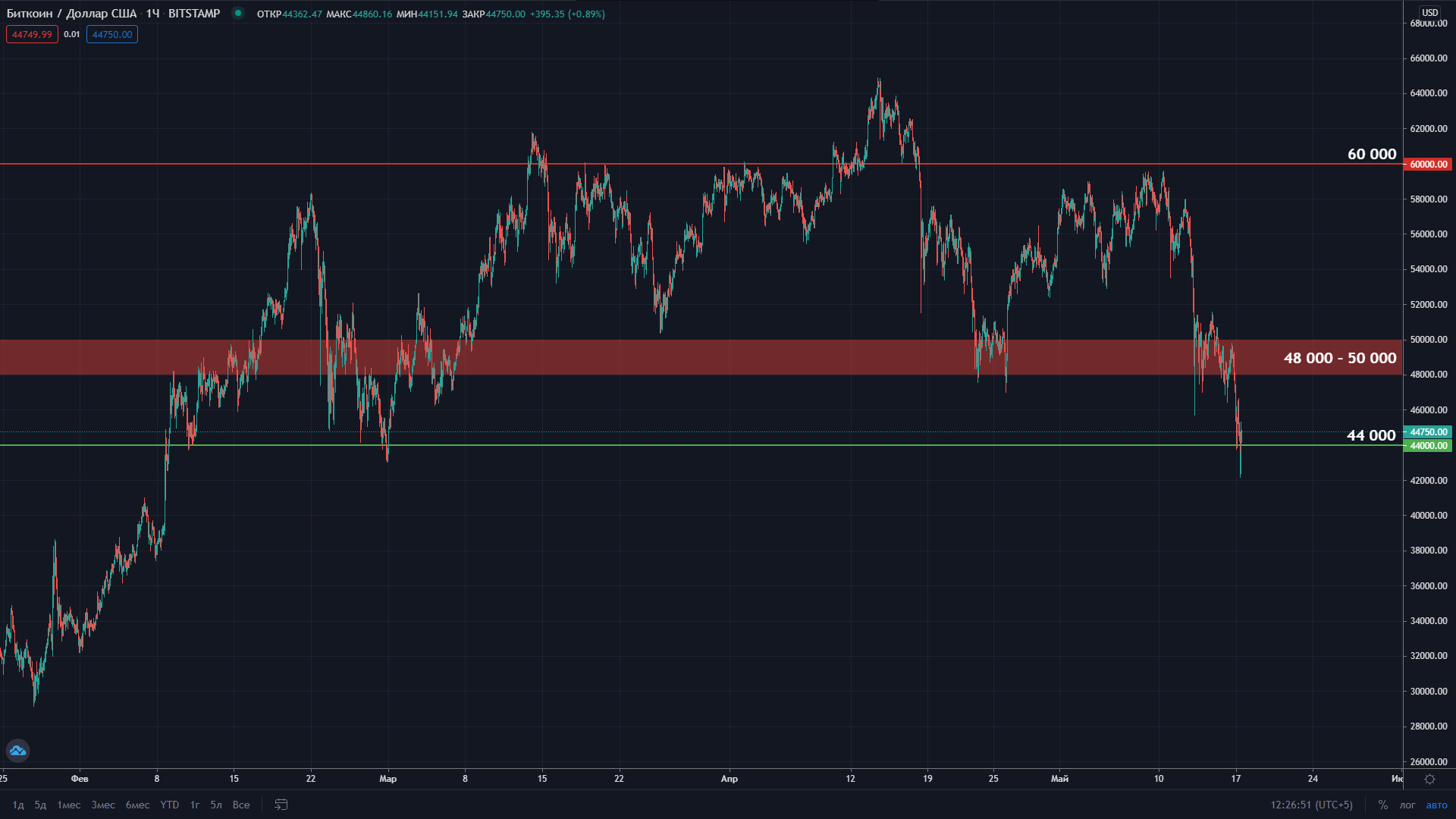 The relative force index of the RSI indicator indicates that the price has reached the resale zone and can bounce at any minute by starting the recovery. Markets, frankly, are fed up with Elon's rhetoric, and may soon simply stop reacting to his social media activities. Be that as it may, the price is now attractive enough for buyers to take action again and aggressively squeeze it out of key support areas. The old-fashioned "buy the dip" always worked well.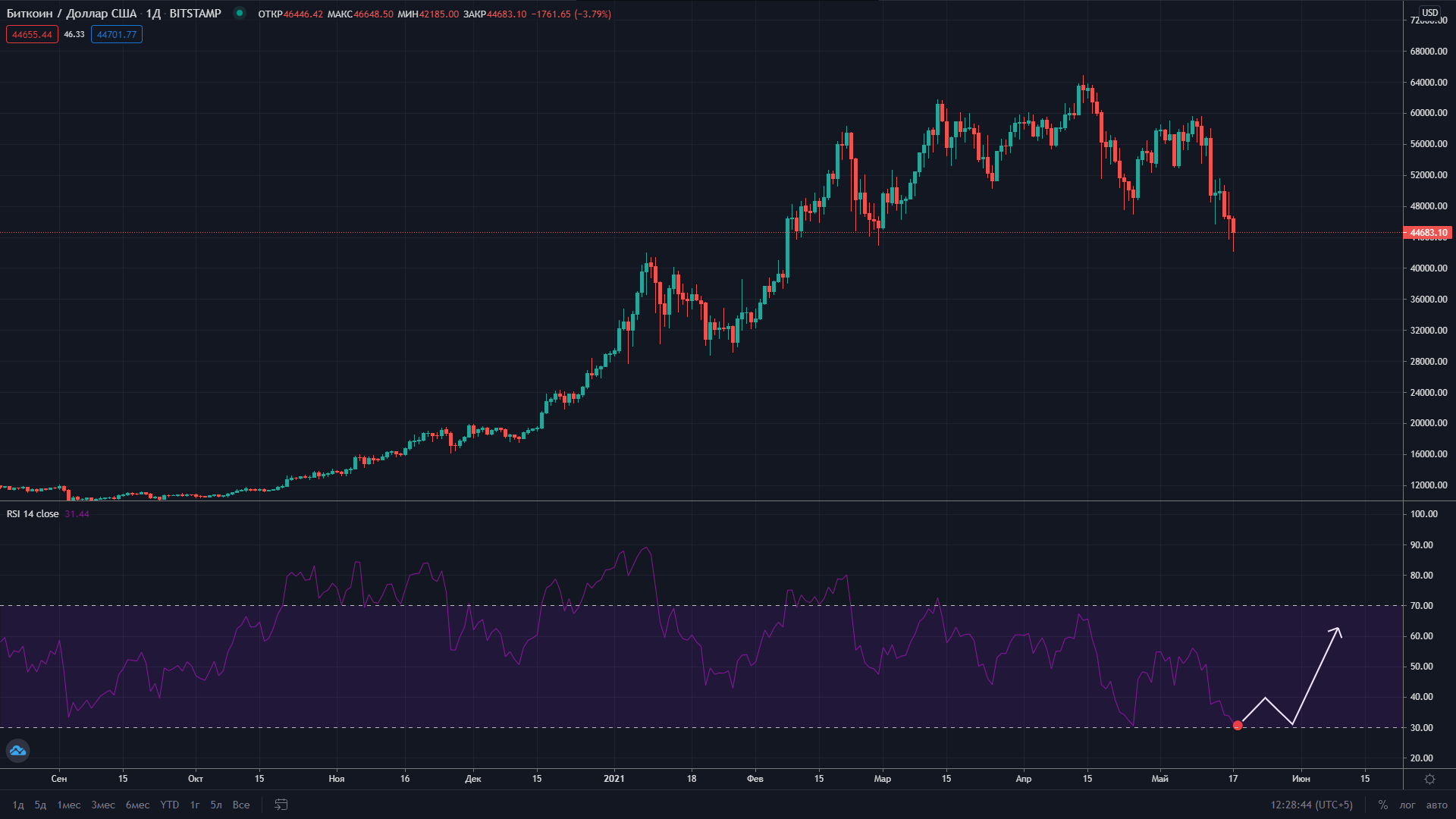 Thus, our forecast for Bitcoin (BTCUSD) for today, tomorrow and the week from May 17 to 23 is the completion of the correction in the area of $44,000, gradual growth and recovery above the resistance range of $48,000 — $50,000.