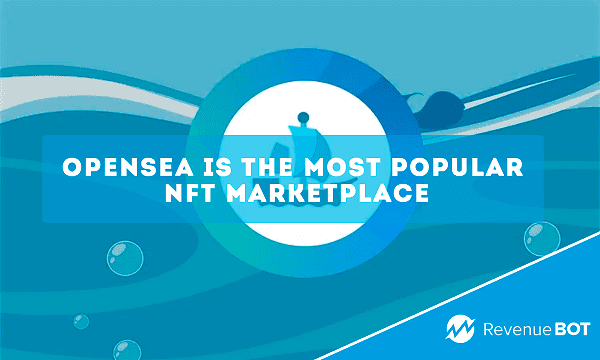 Nowadays, NFTs are gaining popularity in almost every sphere. Famous bloggers, filmmakers, artists, athletes, and even entire museums are entering the non-fungible tokens sector. In general, everyone who wants to keep up with trends wants to take a place in this sector. However, it is not just celebrities that can make money from NFTs, which leaves only one question: where can you do it? You can do it on various NFT-marketplaces, and we will tell you about the most popular of them, OpenSea.
OpenSea's History
This NFT-marketplace was created in 2018 by developers Devin Finzer and Alex Atalla. Initially, the future creators of OpenSea had a joint project called WifiCoin but, because of the emergence of NFTs, they decided to move into a market that was not yet occupied. Finzer and Atalla were not the first to decide to develop a marketplace for NFTs. Around the same time as they, another similar project called Rare Bits began to emerge. The leaders of the project were former Zynga game developers.
The leaders of both projects knew about each other, moreover, they launched the marketplaces on the same day, on February 13, 2018. Despite this, the difference between the marketplaces was big. It was because of the different perspectives of the developers and the goals that each team had set. Due to the fact that the developers of Rare Bits had the time to establish themselves in their earlier project, they were able to raise $6 million in investment,
compared to $2 million for OpenSea. In addition, Rare Bits reimbursed users their gas costs and took no commission. OpenSea worked differently, they did not reimburse gas costs and took a 1% commission. This difference played a key role in the development of the project. As you may know, there was a cryptozyme in 2018. Rare Bits was unable to survive it and the project had to close, while OpenSea managed to stay afloat thanks to the commissions.
For the first half of 2021, NFTs sales exceeded $28 billion.
How to use the platform
The marketplace has its own applications available on Android and iOS. The advantages of OpenSea include the fact that the marketplace covers the three basic needs of the potential consumer of NFT services: to buy, sell or create. In OpenSea, this is possible through Ethereum, Polygon and Klaytn blockchain support. The OpenSea protocol, NFT, uses ERC721 and ERC1155 tokens to support collections. Despite this, it is possible to pay for purchases with any ERC20 tokens. The marketplace's standard commission is 2.5% of the value of the NFT; it is charged to the buyer, and the creator of the token pays the transaction gas costs only for the first placement.
There is no need to verify your identity to start working with the platform, all you need to do is connect your wallet to the site. After that, the account will automatically appear. Users have the opportunity to connect various wallets, such as: MetaMask, Coinbase Wallet, Portis, Trust wallet and OperaTouch. OpenSea in particular can be attributed to a wide range of categories. In addition, the site has a convenient search tool for tokens.
How to buy a token
In order to buy an NFT, you need to go to the collections section and choose your favorite token. The interface is intuitive. You can buy a token via a direct link or through an auction. Please, pay attention to the rating of the seller before you buy a token. The higher it is, the safer the transaction will be. 
Once you have purchased a non-fungible token, it can be stored or resold.
How to sell or create an NFT
If you want to sell an NFT, you can do it in a few clicks. All you need to do is to open it and click the Sell button. This will open a new window with your token settings.
In order to place your own token on the marketplace, you will need to fill in the input data and select an image or audio file.
Conclusion
The OpenSea Marketplace is one of the most popular for a reason. It has an intuitive interface, and enables an easy placement and creation of tokens. In addition, there is a large choice available among the already existing tokens. OpenSea is about cost and quality, and where these factors are present, there is speculation involving fakes. You can find a pearl in this "open sea", but to get to it, you either have to know where to look, or have a great intuition. 
However, in order to start earning digital assets as soon as possible and get closer to virtual reality, we can recommend you a trader's assistant: a RevenueBot trading bot. The platform allows you to create trading bots on the largest and top cryptocurrency exchanges such as: Binance, Bittrex, Bitfinex, Exmo and others. Creating a bot is free, the platform does not charge a commission until the client starts to make a profit from using the bot for trading. The platform's advanced bot configurations allow clients to implement trading strategies that would be difficult to test in regular trading. We'd like to point out right away that the bot does not have access to users' funds on the exchange, instead it trades using API keys, which means the exchange account remains out of reach. RevenueBot has over 40 thousand clients, who are all making a profit with the help of trading bots.
However, this is not an exhaustive list of the advantages offered by our platform:
The commission fee is charged only after the user has made a profit;

The bot settings open up a variety of ways to make a profit;

RevenueBot has a marketplace where customers can buy a ready-made bot so they don't have to create their own, or they can also sell their own bot if its configuration has proven to be effective. Furthermore, users can acquire in the marketplace the services of a mentor (an experienced user of the platform), who is ready to answer questions from beginners. Over time, you can become a mentor yourself and earn an extra income from it.

Regular updates of the platform's features, which optimize the trading process.

The RevenueBot referral program allows you to earn money without having to trade. Refer new clients to the platform and you will get up to 30% of the platform's commission on all profitable transactions conducted by the new user attracted by you every month (but no more than 15 USD).

  
So, as you can see, the platform's advantages are quite numerous, all you need to do is start trading. And why list all the pros when you can check everything yourself on the official RevenueBot website.
It is highly recommended to make decisions quickly, because the crypto market doesn't stand still and continuously grows by exorbitant steps. Who knows how much profit is lost by those who do not dare to step in and start trading with RevenueBot.