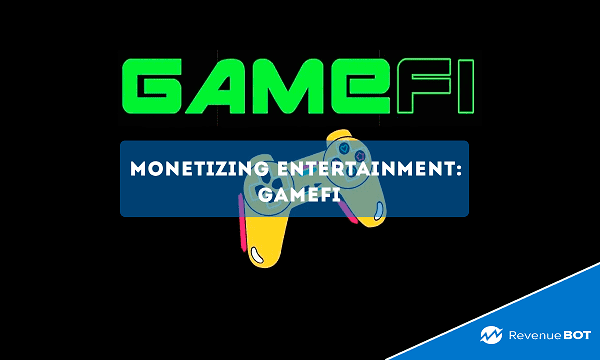 Blockchain-based gaming platforms are rapidly evolving. The name GameFi was derived from the words Game and Finance. The very first projects began to appear far back in 2013, yet gaming platforms gained widespread popularity only in 2021. In order to understand what GameFi is all about, we must find out where it all began, what projects are on the horizon now, and how you can make money from them. Read on to learn more.
The emergence of GameFi
The originator of all modern GameFi's is the game called CryptoKitties. It's what got the whole crypto games sector off the ground. CryptoKitties launched in 2017 and gained instant popularity. Hundreds of thousands of users were interested in the blockchain game, which caused the Ethereum blockchain to experience temporary difficulties, such as overloads. 
Within a short period of time, in-game transfers processing started to load up to 20% of all network capacities. During the first week the developers of CryptoKitties were able to make a profit of $2.6 million. For the first year alone, revenue exceeded $27 million.
Obviously, such a sensation could not be missed by other blockchain game developers. As a result, most of them wanted to follow in the footsteps of their colleagues. A trend toward decentralized blockchain-based games is underway, thanks to this. With so many projects launched, the Ethereum blockchain overloaded again in May 2018, causing the gas price to rise by 20%.
It is important to understand that, at that time, games were not like today's play-to-earn projects. They could be compared more to profitable farming. For instance, in Ether Shrimp Farm, players bred virtual shrimp that could be traded across other players. However, it took a lot of effort and time to start earning good money. The player could convert all of his earnings into Ethereum. In fact, the same pattern was followed by other projects.
One of the GameFi innovators was Major League Baseball (MLB) game. In 2018, MLB developed its own blockchain game, MLB Crypto Baseball. The game functioned like the previously mentioned CryptoKitties. Those who played the game bought collectible cards with images of real league players. 
Thanks to MLB, other major organizations and companies have embraced the blockchain game industry. In this way, American company AMD has joined the Blockchain Game Alliance and announced its partnership with game platforms Robot Cache and ULTRA.
Some of GameFi's top projects
The GameFi sector has spawned a large number of projects. Here, we will tell you about the most successful of them.
Axie Infinity
Running on the Ethereum network, Axie Infinity is the hottest game among other GameFi ones.
Most of the profit is made by the SLP (Smooth Love Potion) token. Players can use their revenue on the in-game market or the on marketplace. Moreover, there is an option of withdrawing funds from the game. SLP token is available on major cryptocurrency exchanges such as Binance, KuCoin, Gate.io, FTX and OKX. Apart from the SLP token, there is also an AXS (Axie Infinity Shards) one.
With the commission on the Ethereum network going up and the game becoming more popular, it now costs more to create your own NFT character. If you want to start the game, you need to buy a Ready to Play Axie Infinity Starter Pack, which consists of three pets called Axies. In 2020, a player could hardly spend more than $5. As of today, the Axie creating price has increased significantly and is about $155. The entry threshold can thus cost $465.
Over time, the developers decided to come up with a system of awards named Axie Infinity Scholarship. Now, experienced players, who have several pets at their disposal, can rent them to newcomers. The purpose of this is to ensure that new players do not have to invest their own money in the game. Once a newcomer has rented a pet, they can start playing and thereby earn SLP. All future profits will be divided equally between the newcomer, the pet owner and the community manager. The Axie Infinity Community Manager serves as an assistant to the new player to guide him through the early stages of the game.
Alien Worlds
Coming up next is GameFi's explosively evolving project, Alien Worlds.
In Alien Worlds' metaverse there are seven planets. There, users can earn Trilium (TLM) tokens. Players gain tokens by mining on planets. Furthermore, you can get a profit by fighting other players, completing a variety of missions and even renting virtual land.
Alien Worlds, the fastest-growing GameFi project, tops the list of decentralized apps. The in-game digital items are all NFT tokens. They can be used as avatars or as mining tools.
Decentraland
Decentraland is the first-ever decentralized virtual world that runs on the Ethereum network.
Throughout the gameplay, the user can buy and sell digital real estate, works of art and many other NFTs. Decentraland is more like a social network or metaverse than a regular game.
The project began its journey in 2020, and since then it has been one of the most mainstream VR gaming platforms in the crypto market.
In-game trading is done with the MANA token. Currently the entire in-game land of this virtual world is out of stock. It enabled players to engage in land sales not only within the project, but also on third-party marketplaces. Hence, last summer, Republic Realm purchased the virtual land in Decentraland for $913,000.
Conclusion
The GameFi field is winning the trust of millions of people. But in spite of all the progress that has been made, we can assume that GameFi is still in its early stages. What discourages most of the audience from decentralized games with NFT is a lack of understanding of how the technology works. Nevertheless, if you look at the enormous scale of the global gaming market, decentralized projects still occupy only a small fraction of it. For this reason, as cryptocurrencies proliferate and the industry as a whole grows in popularity, we can assume that GameFi will also gain wider acceptance.
However, in order to start earning digital assets today and get closer to virtual reality, we can recommend a trader's assistant: a RevenueBot bot. You can use a RevenueBot bot to create a stable passive income. The platform allows you to create trading bots on the largest and top cryptocurrency exchanges such as: Binance, Bittrex, FTX, OKX and others. The creation of the bot is completely free, a commission fee is charged by the platform only after the first profit has been made. It should be noted right away that the bot does not have access to the user's funds on the exchange, it trades using API-keys, which means that the exchange account remains inaccessible. RevenueBot has over 40,000 customers who make money thanks to our trading bots.
The following is, however, not an exhaustive list of the advantages offered by our platform:
The commission fee is charged only after the user has made a profit; 

The bot settings open up a variety of ways to make a profit;

RevenueBot has a marketplace where customers can buy a ready-made bot so they don't have to create their own, or they can also sell their own bot if its configuration has proven to be effective. Furthermore, users can acquire in the marketplace the services of a mentor (an experienced user of the platform), who is ready to answer questions from beginners. Over time, you can become a mentor yourself and earn an extra income from it. 

Regular updates of the platform's features, which optimize the trading process. 

The RevenueBot referral program allows you to earn money without having to trade. Refer new clients to the platform and you will get up to 30% of the platform's commission on all profitable transactions conducted by the new user attracted by you every month (but no more than 15 USD).
As you can see, the platform has quite a lot of advantages to offer, all you have to do is start trading. There is no need to list them all when you can check everything yourself through RevenueBot's official website. It is strongly recommended that you decide quickly, because the crypto market does not stand still, it grows by leaps and bounds. If you hesitate to come and start trading with RevenueBot, who knows how much profit you are missing out on?