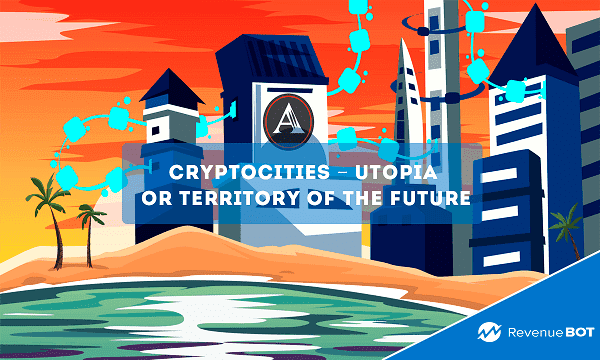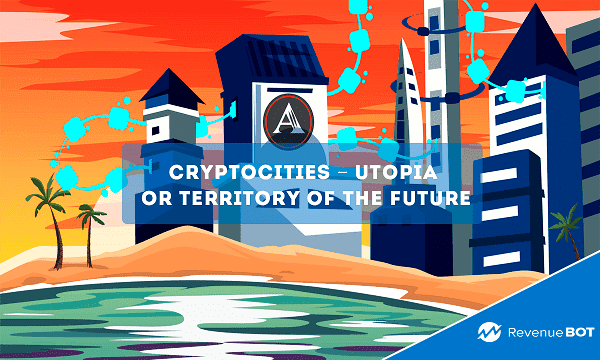 There has long been a growing trend in developed countries toward greater independence in the management of individual cities. Due to the COVID-19 pandemic, the authorities of the countries had to undertake some unpopular measures, especially regarding the financial sector. Local governances came to think about how to tackle the issue of greater decentralization in management. Among these solutions could be cryptocities, an early initiative launched by crypto-enthusiasts and embraced by city mayors. In some places, it's just the use of cryptocurrency in the financial system, and in others everything goes much more than that. In this article, we will examine what cryptocities are and when we can look out for them.
Current cryptocity projects
CityCoin is a project that provides cities with the ability to issue their own coins. Notably, some of the coins are transferred to the local authorities, while the support is provided by miners, they receive remuneration from commission fees. As for now, authorities in Austin, New York and Miami have adopted this technology. Perhaps a San Francisco coin will appear. 

The city of Reno is a good illustration of bringing together many aspects of blockchain, where blockchain-based voting and giveaways are already in use along with their own coin. Moreover, the city made it possible to rent out properties through a blockchain and a whole lot more.

CityDAO is a vivid demonstration of an attempt to create a cryptocity from scratch. The founders of the idea decided to choose Ethereum blockchain as their brainchild, which cannot be considered an unequivocal solution, but the current implementation allows us to predict the potential success of CityDAO.

Akon Crypto City. Well-known rapper Akon was inspired by the fictional city of Wakanda, which was featured in the Marvel movie "Black Panther." He had the vision to build a similar city, which is only related to cryptocurrency. It is commonly known that the cryptocity will be constructed in Senegal, and the main currency will be a digital asset Akoin. Construction is to complete in 2023.
Cryptocity in the tropics
El Salvador is located in the region of Central America, being a country of about 6 million people. The authorities adopted the dollar in 2001 in order to regulate inflation, and yet they lost the power to control the financial system.
In the fall of 2021, El Salvador declared cryptocurrency as a means of payment. Curiosity in digital assets itself was sparked several years ago in the wake of an anonymous investor transferring $100,000 in bitcoin to state organizations.
That's when El Salvador made up its mind to initiate the development of the crypto-economy, which is why a whole program, Bitcoin Beach, was created. It was first time decided to use digital assets 50 km from the capital, the experiment was a success, the settlement has become extremely popular, as well as entrepreneurs who believed in the potential of cryptocurrency began to arrive there.
You have to keep in mind that El Salvador is not the most affluent country. President Nayib Bukele is eager to improve the situation in the country, something digital assets can help with. Bukele sincerely hopes that he can turn the country into an investment "paradise," and the mild climate along with a lot of activities will attract tourists.
The country's authorities strongly believe that cryptocurrency can boost their economy, pulling the state out of recession. Therefore, they plan to build a whole cryptocity in the eastern part of the country called Bitcoin City.
Inhabitants of this city will be freed from income, property and capital gains taxes, while the only payment on their part is a value-added tax of 10% to be put into the development of a cryptocity.
Most interestingly, the city will be powered by geothermal plants which are under construction near the Conchagua volcano. In fact, they will also be mining crypto there.
At the heart of Bitcoin City will be an exhibition complex in the shape of the BTC.
With a view to building a cryptocity, the government issued Bitcoin bonds estimated at $1 billion. Some part of this amount will be stored in cryptocurrency for 5 years. Another will be invested in infrastructure development.
Vitalik Buterin's thoughts on cryptocities
He feels that cryptocities have the potential to solve long-standing problems, such as social inactivity and improving the economic relationship between city residents and local authorities. Buterin alleges that crypto-cities are likely to help meet the following objectives over time:
Create economic alignment between residents and the city;

Promote saving and wealth-building of all stakeholders;

Encourage more pro-social activity;

Become a new source of revenue for the government;

Reduce wealth inequality.
Conclusion
Cryptocities can handle numerous important issues in life. However, in order to do this, you need plenty of time, since building a new city from scratch, and especially drawing enough residents to it is no easy task.
But in order to start earning cryptocurrency today, we suggest using RevenueBOT, a platform for creating trading bots. You can use RevenueBOT to create a stable passive income. The platform allows you to create trading bots on the largest and top cryptocurrency exchanges such as: Binance, Bittrex, FTX, OKX and others. The creation of the bot is completely free, the commission fee will be charged by the platform only after the first profit has been made. It should be noted right away that the bot does not have access to the user's funds on the exchange, and that it trades using API-keys, which means that the exchange account will remain inaccessible. RevenueBot has over 40,000 customers, who make money thanks to our trading bots.
The following is, however, not an exhaustive list of the advantages offered by our platform:
The commission fee is charged only after the user has made a profit; 

The bot settings open up a variety of ways to make a profit;

RevenueBot has a marketplace where customers can buy a ready-made bot so they don't have to create their own, or they can also sell their own bot if its configuration has proven to be effective. Furthermore, users can acquire in the marketplace the services of a mentor (an experienced user of the platform), who is ready to answer questions from beginners. Over time, you can become a mentor yourself and earn an extra income from it. 

Regular updates of the platform's features, which optimize the trading process. 

The RevenueBot referral program allows you to earn money without having to trade. Refer new clients to the platform and you will get up to 30% of the platform's commission on all profitable transactions conducted by the new user attracted by you every month (but no more than 15 USD).
As you can see, the platform has quite a lot of advantages to offer, all you have to do is start trading. There is no need to list them all when you can check everything yourself through RevenueBot's official website. Have a good trade!