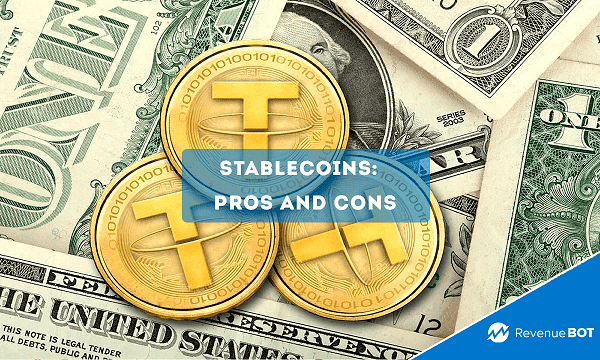 Nowadays, the national economy and the ruble in particular are in a weakened state due to the circumstances in Ukraine. Scores of people want to somehow preserve their savings and begin to look for ways to invest. Then the choices are: stocks, foreign currency, precious metals and cryptocurrency. In the midst of this dollar backdrop against the ruble, lots of people wish to invest in foreign currency. On crypto exchanges, an analogue of the dollar is presented, specifically, USDT. Read on to find out what stablecoins are and how to use them.
Definition
Digital assets have numerous benefits, such as decentralization and fast payment processing speeds. However, cryptocurrency also has a blatant disadvantage. It lies in the fact that crypto prices are unfathomable and they tend to fluctuate. The volatility of digital currencies makes them unsuitable for everyday use. Any investor needs to make sure that the asset value should be stable over time. To solve this problem, stablecoins were created.
In Russian стейблкоин literally means stable coin. It is a fixed-price token whose market value is pegged to a stable asset. 
Unlike ordinary coins, stablecoin is backed by fiat currencies which you can trade on exchanges. Some coins may be pegged to other types of assets, including precious metals and oil.
One of the first stablecoins to emerge in 2014 is Tether (USDT). The US dollar acts as collateral. 1 USDT equals $1.
Top reliable stablecoins
Among the popular and widespread stablecoins are those that are pegged specifically to USD. The following is a list of the most popular stablecoins.
Tether (USDT)
Tether is released by Hong Kong-based Tether Limited and is available on a variety of blockchains.
USDT was specifically designed to be a bridge between fiat and cryptocurrency. It also offers users stability, transparency and minimal commission fees. USDT, unlike USD, eliminates transaction costs and delays in the crypto market, thereby improving trade execution.
USD Coin (USDC)
US Dollar Coin (USDC) was released on the Ethereum network. The coin was created in 2018 by the developers of the Coinbase crypto exchange and Circle company. Like Tether, it is backed by the U.S. dollar.
Binance USD (BUSD)
As you can understand from the name of the stablecoin, it was released by the Binance crypto exchange. The coin is approved and regulated by the New York State Department of Financial Services (NYSDFS).
The BUSD token provides free transfer of funds between the blockchain and the traditional financial system in minutes and at low cost.
PAXOS STANDART (PAX)
Paxos (PAX) is a crypto-token developed by the Paxos Trust Company. It is also backed by the USD.
Paxos Standart is the first digital asset to be issued by a financial institution to ensure stability and user confidence in cryptocurrencies thanks to Paxos' trust company status.
How stablecoin works
Stablecoins offer the benefits of digital currencies, including security, privacy, low fees and transparency, while helping to alleviate volatility.
Stable tokens offset price fluctuations by tying the value of crypto to other more stable assets, to fiat currency, as a rule.
The organization behind the stablecoin has a reserve that holds the collateral for the token. In this way, stablecoin is pegged to a real asset. Funds in reserve are pledged as collateral. Technically, a user can exchange one stablecoin for an asset that supports it.
Where to buy stablecoin
Stablecoins are traded on almost all crypto platforms and exchanges. You can buy a stable coin for both fiat and digital assets.
While choosing the right platform for yourself, first of all, focus on its reliability and safety, the commissions charged for the exchange or purchase, as well as lean towards the convenience of the interface and the level of support.
Conclusion
Stablecoins are a more proven investment tool than crypto. In case you want to protect yourself from inflation and depreciation of funds, stablecoins can easily help you out.
But in order to start earning cryptocurrency today, we suggest using RevenueBOT, a platform for creating trading bots. You can use RevenueBOT to create a stable passive income. The platform allows you to create trading bots on the largest and top cryptocurrency exchanges such as: Binance, Bittrex, FTX, OKX and others. The creation of the bot is completely free, the commission fee will be charged by the platform only after the first profit has been made. It should be noted right away that the bot does not have access to the user's funds on the exchange, and that it trades using API-keys, which means that the exchange account will remain inaccessible. RevenueBot has over 40,000 customers, who make money thanks to our trading bots.
The following is, however, not an exhaustive list of the advantages offered by our platform:
The commission fee is charged only after the user has made a profit; 

The bot settings open up a variety of ways to make a profit;

RevenueBot has a marketplace where customers can buy a ready-made bot so they don't have to create their own, or they can also sell their own bot if its configuration has proven to be effective. Furthermore, users can acquire in the marketplace the services of a mentor (an experienced user of the platform), who is ready to answer questions from beginners. Over time, you can become a mentor yourself and earn an extra income from it. 

Regular updates of the platform's features, which optimize the trading process. 

The RevenueBot referral program allows you to earn money without having to trade. Refer new clients to the platform and you will get up to 30% of the platform's commission on all profitable transactions conducted by the new user attracted by you every month (but no more than 15 USD).
As you can see, the platform has quite a lot of advantages to offer, all you have to do is start trading. There is no need to list them all when you can check everything yourself through RevenueBot's official website. Have a good trade!