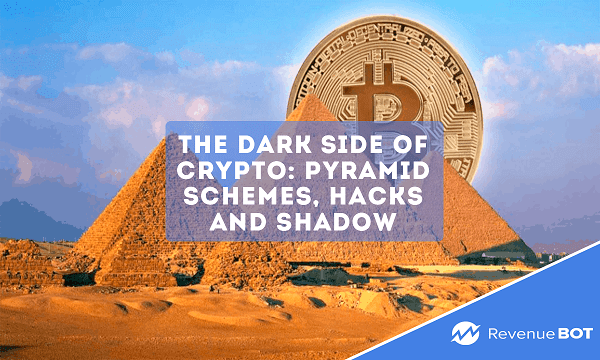 Back in the day when crypto first appeared, only geeks and some technology geeks were intrigued by it. As time passed, thanks to the specificity of digital assets, as well as their ability to maintain a high level of privacy when making payments, crypto began to be used for illegal purposes. All sorts of financial pyramids are created, shadow transactions are conducted and the wallets of exchanges are hacked. If you wish to avoid the tricks of fraudsters, you will find out how to protect your own funds in this article.
Shadow trading
The first-ever crypto made it possible to organize completely anonymous trading on the Internet. This is how the Silk Road platform emerged. It was a place where illicit substances were distributed and sold, and all of this could be purchased using bitcoin. So many customers sensed their anonymity and were more willing to use this platform. You could find it using the TOR browser.
It took two years for law enforcement agencies to identify the hosts and staff of the platform, while collecting evidence. In 2013, William Ross Ulbricht, head and owner of Silk Road, was arrested. He was given a penalty of two life sentences and an additional few dozen years in prison. 
In the wake of the questionable success of the platform, it began to have followers. There were plenty of them, but the security services also learned how to extract all the data and track the transactions faster. So now, when a suspicious platform first opens, undercover agents often infiltrate the staff right away and block things from gathering momentum.
Hacking and ransomware
Needless to say, it was not without the presence of hackers. Since the emergence of the crypto industry, intruders have successfully attacked both individual wallets of digital asset holders and entire exchanges. Successful hacks have led to the loss of millions of dollars. 
A solution to this problem has been found by the crypto community. To date, it is not nearly at all possible to legally exchange stolen assets. All accounts to which withdrawals were made during the hack are added to blacklists, so few people would want to deal with such wallets. 
The next method used by hackers is encryption software. This type of software works in the following way: the user or company is infected with a virus that encrypts important files and deletes the original ones. In order to eliminate the encryption ransomware, more often than not, you have to pay a ransom, usually paid in crypto. However, even here the criminals face some challenges – the security services have also learned how to deal with this kind of crime.  
Apart from that, there is hidden mining. This is a bit different: without the user's awareness the program is being installed on the computer, whereupon it begins to use its resources, performing calculations to produce some kind of crypto. This malicious program's distinctive feature is its ability to install itself not only on a PC, but also on a smartphone. Also, some websites have built-in malicious code that initiates mining as you visit, though this method is by no means the most popular – your browsers know how to detect and block such scripts.
Pyramids and scams
In the times of the hype around the ICO there was the following scheme: there was created a project website, then a white paper was issued and funds were raised for this project. Obviously, no efforts were made to create a digital asset, and the project itself was designed as a fraudulent scam from the very beginning.
Today, financial pyramid schemes remain very widespread among the scammers. Despite the fact that numerous people have already encountered Ponzi schemes, it still sparks interest and echoes in the community. It's all about human greed and craving for easy and quick enrichment. 
Unfortunately, today the financial system is arranged in such a way that investors' funds can be readily seized by the authorities and the law enforcement agencies. That is why a considerable number of modern financial pyramids accept deposits only in crypto.
Conclusion
We have reviewed some cases when cryptocurrencies are used for criminal purposes. However, this is only the tip of it, and only a small part of the schemes that exist. Nevertheless, you should keep in mind that the rate at which these digital assets are used is far outstripped by the legal sector. Cryptocurrencies are becoming widely used as a means of investment.
But in order to start earning cryptocurrency today, we suggest using RevenueBOT, a platform for creating trading bots. You can use RevenueBOT to create a stable passive income. The platform allows you to create trading bots on the largest and top cryptocurrency exchanges such as: Binance, Bittrex, FTX, OKX and others. The creation of the bot is completely free, the commission fee will be charged by the platform only after the first profit has been made. It should be noted right away that the bot does not have access to the user's funds on the exchange, and that it trades using API-keys, which means that the exchange account will remain inaccessible. RevenueBot has over 40,000 customers, who make money thanks to our trading bots.
The following is, however, not an exhaustive list of the advantages offered by our platform:
The commission fee is charged only after the user has made a profit; 

The bot settings open up a variety of ways to make a profit;

RevenueBot has a marketplace where customers can buy a ready-made bot so they don't have to create their own, or they can also sell their own bot if its configuration has proven to be effective. Furthermore, users can acquire in the marketplace the services of a mentor (an experienced user of the platform), who is ready to answer questions from beginners. Over time, you can become a mentor yourself and earn an extra income from it. 

Regular updates of the platform's features, which optimize the trading process. 

The RevenueBot referral program allows you to earn money without having to trade. Refer new clients to the platform and you will get up to 30% of the platform's commission on all profitable transactions conducted by the new user attracted by you every month (but no more than 15 USD).
As you can see, the platform has quite a lot of advantages to offer, all you have to do is start trading. There is no need to list them all when you can check everything yourself through RevenueBot's official website. Have a good trade!