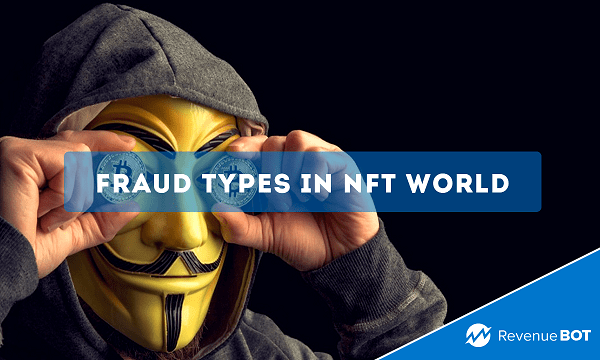 NFT markets are developing rapidly, trading volumes surpass several billion dollars so it would be strange if crooks didn't take a chance in this segment. Thus the fake NFTs were sold. The scammer managed to deceive a naive buyer and therefore sold him an NFT under the name of the famous artist Banksy for $338,000. The victim later got their money back, but the story could have ended badly. If you want to know about the most prevalent types of fraud on the NFT market as well as how you can avoid them, we will explain it in this article.
Fake customer service
Among the most popular and widespread methods of fraud in the NFT scene is phony customer service.
How it works. Fraudsters impersonate employees of a popular website, for example, OpenSea. As they interact with the platform user, they try to gain access to private keys or sell fake NFTs. For this purpose, they create accounts in messengers under names of the type "OpenSea Support". Once the would-be victim starts chatting about any issues with the platform, the scammers take action.
Numerous fake support representatives can be found in the dedicated chats and groups in Telegram and Discord. Yet in some cases, they create their own Telegram channels and claim them to be the official channels of the marketplace.
So as not to fall for this type of scam, you should ask questions about the problems directly through the tickets or accounts that are listed on the official website of a project. Do not disclose your account details and private keys, the employees of the marketplace simply do not require them. Furthermore, before you join a marketplace community, make sure that it has an official status.
Fraud through MetaMask
Another effective way to scam is to exploit the browser version of the MetaMask wallet.
For instance, the scammer suggests the user to share their screen, then directs the victim to a page designed to connect MetaMask wallet to various devices. In this case, an attacker can set up a wallet on their own device, gaining full access to the user's funds, as a result.
Due to frequent cases of such attacks on users, MetaMask has temporarily disabled this feature. But the crooks still managed to find their victims. In late August, for example, Jeff Nicholas, creative director of Authentic AI, revealed on Twitter that fraudsters had taken out a large portion of his NFT collection in this way. He was looking for an OpenSea marketplace support server on Discord, but ended up with a fake one. The scammers asked him to share the screen to make it easier for "support" to help him with the problem. Then they offered to synchronize MetaMask browser wallet with a mobile app and asked to open the appropriate tab in the settings of the wallet. The wallet has generated a QR code, after which a message about the synchronization appeared. De facto, it was scammers who scanned the code and synchronized their mobile wallet with Nicholas's account. After that, they simply withdrew all the assets from the hacked wallet.
Fake links for creating NFTs
During the initial sale of an NFT or creation of a new one, there emerge plenty of opportunities for scammers. The process of releasing NFTs is not difficult, but if the user is inattentive or they experience a burst of excitement, they can make a mistake. 
As such, scammers post in chats and channels spoof links to websites where the creation of NFTs will allegedly take place. By clicking on them, users would sync their wallets with the phishing website and lose all NFTs. 
Chase Devans, a seasoned NFT investor and Messari Research analyst, fell for the trick late August of 2021. In a bid to release his own NFT, he followed a link he copied from one of his Discord chats. Once he tried to create tokens on a fake site, he lost $15,000 in SOL Coins and all of his NFTs. The investor @cryptolyfer commented under Devans's Twitter post that he was also a victim of a similar scam, except he lost $250,000 in SOL Coins. 
Do not follow links from any chats, channels, or private messages so as not to join the list of victims of this trap. Likewise, it's best not to hold all the NFTs in the same wallet and create a new one before each minting.
Copies of original NFTs
Crooks even make copies of original NFTs and sell them as genuine ones. From a technical perspective it is straightforward, NFT is just a record in the blockchain indicating that a digital file belongs to a certain address. The copies differ from the originals merely in address and because one has affixed their signature on the image and the other has not. Fraudsters can copy the original GIF or JPEG, create a new NFT and distribute it as if it were the original. 
There is still no strict verification of the NFT marketplaces – anyone can upload a file and create an NFT based on it. Fraudsters who trade on behalf of famous artists have their accounts blocked quickly, but by this time they may have already sold a few fake NFTs.
Conclusion
The NFT market is expanding at a fast pace and so will the number of crooks in it. Thankfully, you can protect yourself from most criminals' tricks by abiding by the basic rules of security. 
What is worth bearing in mind: while buying an NFT, check its authenticity on your own and scrutinize it carefully to make sure it is genuine: because a token is placed on a major marketplace does not guarantee its originality.
But in order to start earning cryptocurrency today, we suggest using RevenueBOT, a platform for creating trading bots. You can use RevenueBOT to create a stable passive income. The platform allows you to create trading bots on the largest and top cryptocurrency exchanges such as: Binance, Bittrex, FTX, OKX and others. The creation of the bot is completely free, the commission fee will be charged by the platform only after the first profit has been made. It should be noted right away that the bot does not have access to the user's funds on the exchange, and that it trades using API-keys, which means that the exchange account will remain inaccessible. RevenueBot has over 40,000 customers, who make money thanks to our trading bots.
The following is, however, not an exhaustive list of the advantages offered by our platform:
The commission fee is charged only after the user has made a profit; 

The bot settings open up a variety of ways to make a profit;

RevenueBot has a marketplace where customers can buy a ready-made bot so they don't have to create their own, or they can also sell their own bot if its configuration has proven to be effective. Furthermore, users can acquire in the marketplace the services of a mentor (an experienced user of the platform), who is ready to answer questions from beginners. Over time, you can become a mentor yourself and earn an extra income from it. 

Regular updates of the platform's features, which optimize the trading process. 

The RevenueBot referral program allows you to earn money without having to trade. Refer new clients to the platform and you will get up to 30% of the platform's commission on all profitable transactions conducted by the new user attracted by you every month (but no more than 15 USD).
As you can see, the platform has quite a lot of advantages to offer, all you have to do is start trading. There is no need to list them all when you can check everything yourself through RevenueBot's official website. Have a good trade!