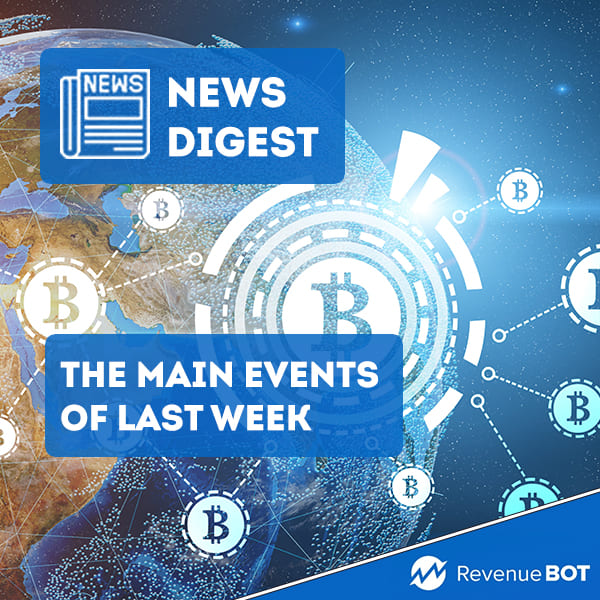 Friday, April 8. As the week comes to an end, we can focus on the highlights of the crypto industry over the past few days.
Elon Musk acquires 9.2% of Twitter shares
Elon Musk is now Twitter's largest stockholder, owning a 9.2 percent stake of the social network for $2.89 bln.
Against this background, Twitter's securities skyrocketed in price by 25%.
From now on, the billionaire will join the company's board of directors for a term of two years. During this period, his stake in the company may surpass 14.9%.
The purchase followed Musk's criticism of the social network's free speech policy.
"Given that Twitter serves as the de facto public town square, failing to adhere to free speech principles fundamentally undermines democracy," – he wrote.
Previously, Musk has repeatedly urged the Twitter to open the source code of the algorithms that generate the platform's home feed.
He also pondered the idea of setting up his own platform, giving "serious thought".
UN experts: cryptocurrencies threaten climate change
Intergovernmental Panel on Climate Change (IPCC) of the UN cited cryptocurrencies as one of the hazards to the environment.
In the "Now or never" climate report, experts stressed that "it's now or never, if we want to limit global warming to 1.5°C (2.7°F); without immediate and deep emissions reductions across all sectors, it will be impossible"
According to the group, enhancements in technology for storing, processing and transmitting information can help cut emissions. This will happen through improved control of energy consumption, reduced transaction costs for energy production and transmission, and less demand for physical energy transportation.
"Data centers and related IT systems, including blockchain, are electricity-intensive and will raise energy demand.Additionally, cryptocurrencies could be a global source of carbon dioxide if electricity production is not decarbonized. There is also concern that information technology could exacerbate existing disparities," stated the authors of the report.
They noted that digitalization, automation and artificial intelligence, as general-purpose technologies, can lead to many new products and applications. These solutions may be cost effective, but they can result in increased demand for electricity.
Ledger unveiled a next-gen version of the hardware wallet
Ledger, a manufacturer of hardware wallets, has debuted a new device, the Nano S Plus, designed for NFT collectors and DeFi users.
"The Ledger Nano S Plus is a Nano S on steroids. It provides you with more space to freely enjoy the ever-expanding world of DeFi and NFTs.", – stated Pascal Gauthier, CEO of Ledger
As the developers say, the new device has a larger screen, and the larger memory "allows the installation of +100 apps to freely explore the crypto galaxy" and "you can have over +100 apps installed simultaneously and manage over 5,500 digital assets."
Earlier, Ledger partnered with The Sandbox Project to improve its users' crypto literacy.
Axie Infinity raises $150 mln from Binance and other investors
Sky Mavis, the company behind blockchain game Axie Infinity, closed a $150 million funding round topped by Binance. Proceeds will be used to make up for the losses of users who suffered from the attack on Ronin's sidechain.
Animoca Brands, a16z, Dialectic, Paradigm and Accel also invested in the project.
On March 29, an attacker withdrew "deposits of players and speculators and the Axie Infinity Treasury revenue," from Ronin's sidechain totaling ~$625 mln. Sky Mavis eventually promised to return the stolen funds. 
The team is working with law enforcement to retrieve the stolen 56,000 ETH. Unless these efforts lead to a positive outcome, the Axie DAO would vote on the Treasury's next steps.
In order to make the sidechain more decentralized, the team will add up to 21 new validators throughout the next three months. Prior to the incident, there were nine of them, which made it easier to attack and triggered criticism of the developer studio.
Ronin will be accessible in a matter of weeks, following a security update and several rounds of audits.
Binance, in turn, has introduced the ETH/USDC deposit and withdrawal option.
Trung Nguyen, CEO of Sky Mavis, reported that the studio will release the Origins update on April 7. This update will make improvements to the graphics, game design and storylines.