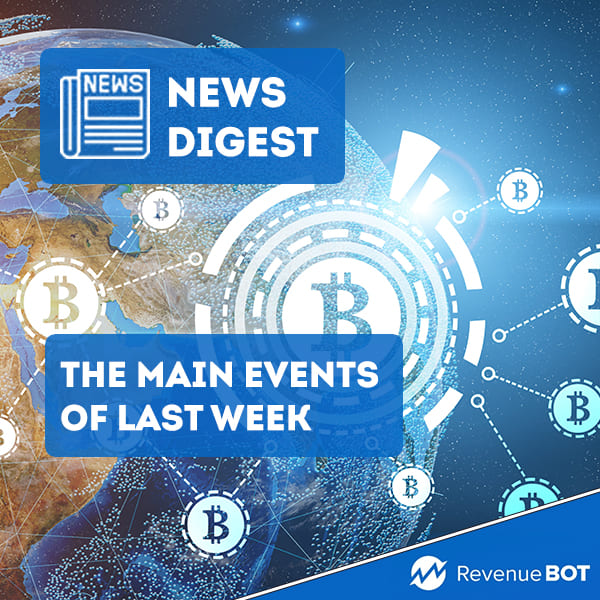 Friday, 6th of May. As the week comes to an end, we can focus on the highlights of the crypto industry over the past few days.
Coinbase takes its first-ever bitcoin-backed loan from Goldman Sachs
The largest U.S. crypto exchange received its first loan backed by bitcoins, provided by Goldman Sachs.
"Coinbase's work with Goldman is a first step in the recognition of crypto as collateral which deepens the bridge between the fiat and crypto economies," Brett Tejpaul, head of Coinbase Institutional, claimed.
The terms of the deal have not been made public.
In late April, a spokesman for an investment bank reported a secured loan in digital gold, but did not name the recipient.
According to Matthew Ballensweig, managing director at crypto brokerage Genesis, such borrowers typically post Bitcoin at loan-to-value in the 40% to 60% range. The collateral is maintained by a qualified custodian. The lender provides a loan in dollars at an agreed rate.
"Tenors can vary as well as other prepayment terms, but it's a simple structure to bring institutional lenders into the market," Ballensweig stated.
Genesis has already structured similar loans with crypto-friendly banks such as Signature and Silvergate, he added.
Coinbase held $566 million in crypto assets ($183 million in bitcoin) at the end of 2021, as per the firm's annual report. That said, cash and cash equivalents totaled $7.1 billion.
Experts from Arca assumed that the credit deal with the crypto exchange was a pilot transaction for the bank, since the institution sees a high demand for such operations.
Just to bring to mind, in 2020 Coinbase itself announced a service of credit in fiat using collateral in bitcoin.
Kraken opens a waitlist for its native NFT marketplace
The Kraken cryptocurrency exchange has unveiled a waiting list entry for its own NFT marketplace. They signaled that it would reimburse users for network fees associated with transactions on the platform.
Kraken is claiming the platform as a "complete solution for exploring, curating and securing" NFTs. According to the press release, specially designed tools will let you assess the rarity of the attributes of non-fungible tokens.
The company will refund network commission fees for transactions made on the marketplace. Yet customers will have to pay gas fees when transferring NFTs and other crypto-assets to the platform or withdrawing them off the platform.
The marketplace will be integrated with the Kraken user account. Assets on the platform can be sold or bought for fiat or any other crypto. Initially, the marketplace supports NFT in Ethereum and Solana networks. They promise to expand this list in the future.
AI leaks private crypto wallet keys
OpenAI's Copilot code-writing AI assistant can suggest private keys from real cryptocurrency wallets, The Register reports.
According to one of the developers, Copilot suddenly offered something that looked like a private key to a crypto wallet. It turned out to be linked to a real account.
"It was quite shocking for me… A private key is like the lock to your treasury, if it's leaked then your assets are at risk of being stolen." — the developer told.
Another developer guessed that Copilot retrieved the information from public GitHub repositories. The AI assistant stored the publicly available data and "will resurface them if correctly prompted," he added.
Apparently, the private key did show up in the GitHub open-source repositories. It is assumed by the programmers that they created it for testing purposes. The wallet was active and had been used to send and receive real tokens.
Some developers have also managed to discover private keys. They appeared to be linked to other crypto wallets, some of which contained small amounts of money.
Former OpenAI researcher Ari Herbert-Voss speculated that the keys were leaked because they were kept in the public domain.
MicroStrategy to explore new options for increasing bitcoin's hodling margins
MicroStrategy will delve into additional opportunities to profit from unencumbered bitcoins on the balance sheet. This is according to the presentation of financial results for the first Q1 2022.
Over this period, the company had revenue of $119.3 million and expenses of $298 million, as well as $170.1 million due to a negative revaluation of 129,218 BTC (which is $194.1 million in the first Q1 2021).
Between January and March, the company recorded an operating loss of $170 million ($183.2 million). The net loss was $130.8 million ($110 million).
As of March 31, 2022, the book value of bitcoins corresponded to the equivalent of $2.896 billion. The number represents total impairment losses of $1.07 billion since acquisition and an average book value per coin of about $22,409.
The purchase price and market value of digital gold were $3.967 billion and $5.893 billion, respectively. The company purchased bitcoins for an average of $30,700, compared to a market value of $45,602 on March 31, 2022.
As you may remember, in March 2022 MicroStrategy raised $205 million in debt financing to buy bitcoin from Silvergate, secured by its own crypto-assets.