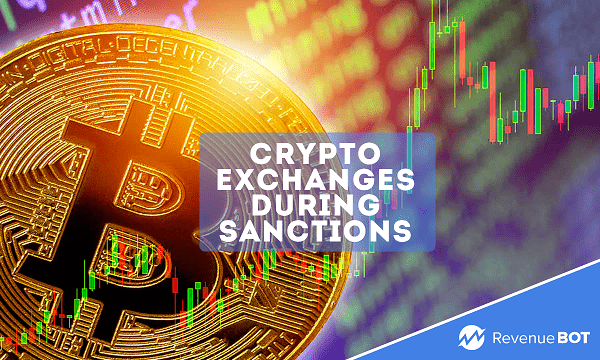 Nowadays, plenty of companies have imposed sanctions on their Russian users. Crypto exchanges are no exception. The recent news about Binance, the largest cryptocurrency exchange, banning withdrawals by Russians may have caused both investor and trader sentiment to drop. Some of our users may wonder: how will their bots keep working, given the restrictions imposed by other exchanges as well? We made up our minds to investigate this issue, so we contacted the platforms to which RevenueBot is connected in order to dispel any doubts.
Not everyone responded, however, the platforms which did get in touch with us will be listed below.
KuCoin 
KuCoin is a Hong Kong-based crypto exchange. Its users can trade wide range of digital assets. In addition, the platform features over a thousand different trading pairs.
The exchange was founded in 2017. KuCoin's developers are not afraid to make it clear that they're following the footsteps of Binance. Still, this does not keep the platform from being one-of-a-kind.
Initially, the platform existed as an exchange platform called Kubi. Since then, the developers opted to expand the functionality, thereby creating a full-fledged cryptocurrency exchange.
You don't have to verify your identity on the exchange, though there will be some restrictions if you don't do that. For example, you can withdraw no more than 2 BTC per day. The registration procedure is the same as for many other exchanges, except you have to confirm your email and start trading. To make your account more secure, you should enable two-factor authentication, or even better, pass identity verification. 
So what did the representatives of the platform respond to our request?
"Dear KuCoin user.
We appreciate you contacting KuCoin customer service.
You are welcome to trade on the platform, if there are any changes, we will publish an announcement in advance. Please don't worry about that.
Thank you in advance for your understanding. If you have any other questions or concerns, please feel free to let us know!
Respectfully, KuCoin Customer Support Department".
This means that here it is not necessary to worry about any restrictions.
Poloniex
Poloniex is a large English-speaking crypto exchange established in the United States. First focused exclusively on the American market, Poloniex now provides its services all over the world, and the number of registered users is constantly growing.
Poloniex does not support fiat: deposits and withdrawals are only possible in cryptocurrency. Instead, there is the USDT which is analogous to the U.S. dollar. And then there are vast opportunities for trading in digital assets. The exchange has 514 trading pairs available.
However, in Russia, this cryptoexchange is not too popular. This is partly due to the lack of user interface in Russian.
The Poloniex exchange was created back in 2014. Its founder and CEO is Tristan d'Agosta, aka Busoni.
He had the courage to set up a trading platform in a country where crypto is still part of the underground economy. It is because of the illegal status of digital currencies in the U.S. that many employees of the company have to hide their names.
Poloniex was hacked and 12.3% of all bitcoins of its users were stolen during the first year of its operation. Given such a critical circumstance, Tristan d'Agosta did the right thing: he admitted to the theft and paid compensation to the users.
We have managed to get an answer to our question regarding sanctions:
"Hello.
As of now, you can trade on our exchange. Nevertheless, in view of the current world events, there is no guarantee that nothing will change in the future. We will notify our users if and when things take a turn.
Feel free to contact us if you have any other questions.
Poloniex."
Kraken
Kraken is an international crypto exchange, among the largest in the world in terms of trading euro volume. Kraken is widely recognized as one of the best online places to buy and sell crypto. Their mission is to make cryptocurrency accessible to the entire world as well as to enable users with different start-up budgets to invest in the finindependence that digital funds provide.
From over-the-counter (OTC) trading to personalized account management, Kraken delivers robust solutions for businesses of all scales.
The Kraken is cherished by both new and professional crypto traders, reputable investors and knowledgeable speculators.
The exchange emerged in 2011 in the USA. Jesse Powell, the founder and CEO pf Kraken, was the one who saw the importance of Bitcoin and Blockchain from the very inception of the crypto ecosystem and recognized its great potential for financial independence.
Over the first years of operation, the exchange was behind competitors, but since mid-2014 its success began to show growth. In many respects this is related to the bankruptcy of the MtGox exchange, which then influenced the market balance of power.
Here's what the Kraken representatives told us:
"Greetings!
Kraken provides a comprehensive range of services for customers based in Russia.
We are committed to complying with legal and regulatory requirements in all territories in which we operate.
Our Corporate Compliance team is always aware of upcoming new policies and we take steps as we prepare for them. In case there is anything we need our customers to do, we will tell them.
Please note that in order to fund your account and withdraw funds, your bank must not be subject to U.S. sanctions and still be able to conduct transactions via SWIFT technology or otherwise be located in an outlying area of Russia. Do bear in mind that any further details or restrictions can only be discussed after you have created and verified your account.
If you need additional help, do not hesitate to get in touch with us. We will be glad to help you!
Kind regards, Kraken Support."
OKX
OKX crypto exchange (formerly known as OKEx) is reputed to be "the most trusted digital asset exchange". Since 2013, the platform has been providing an advanced toolkit for cryptocurrency trading. It has become well-loved by professional traders from all over the world: it has an extensive list of supported currencies, including 80+ fiat currencies, tools for spot and futures trading, perpetual swaps, options, all of which make it easy to get the most out of the crypto market.
January 2022 marked the rebranding of the exchange: OKEX evolved into OKX. Rebranding is caused by the functionality expansion of the trading platform.
OKX stands for a world-class exchange that serves millions of customers worldwide and is known for its consistently high trading volumes that reach 122,479 BTC.
The founders of OKX are developing next-generation products for the global promotion of cryptocurrencies, they are sure that Blockchain technology and cryptocurrencies will be the cornerstone of the new digital economy. MetaX non-custodial wallet and NFT-marketplace have already been launched by them, plus they are working on the possibility of integration in the spheres of metaverse and GameFi.
And now, here's how OKX customer support replied:
"Welcome to the OKX Customer Support.
Thank you for contacting us.
We appreciate that you may be concerned about the sanctions that have been imposed on your country. Please don't worry though, OKX is not intending to introduce any measures against Russian users at the moment.
We will inform you if there are any new developments at a later date. You can check our Announcements page for the latest platform updates. 
Be sure to ask again if you have any follow-up questions. Have a nice day!
OKX Customer Support."
ByBit
Bybit is a platform for trading crypto derivatives launched in 2018.
Crypto exchange offers perpetual contracts involving the top cryptocurrencies on beneficial terms (leveraged trading as well) and ensures rapid performance.
Bybit deals with digital assets such as Bitcoin, EOS, Ethereum and Ripple and also USDT, since July 2020 the exchange supports fiat gateway through third-party providers like Banxa, Simplex, etc.
The team of the project is focused on maintaining clients with different trading experience: ranging from individual retail clients to experienced traders. Among them are traders from all over the world, including North America, Europe, Russia, Japan, South Korea and Southeast Asia.
About 250 employees belong to the company at the moment, with the staff ever-expanding. The team is ready to communicate with users, actively engaged in social networks and forums. You can interact with Bybit's CEO in person on Twitter.
Meanwhile, we had a chance to get a response from customer support:
"Dear Trader.
Thanks for reaching out to our customer service. We have double checked the details and based on that, you have no trouble performing any trade.
Let us hope this answers your original query. We would like you to return to us if you need help in any way. Thank you."
Bitfinex
Bitfinex represents a large Hong Kong-based crypto exchange that was created in 2014 as a response to roaring interest in crypto trading.
In the early days it was the largest platform for trading Bitcoin which was 10% of the entire market. As before, Bitcoin is the top currency on the platform, as it is the main currency used in most of the trading transactions.
This exchange is oriented primarily on the domestic Asian market, yet provides a whole range of services for its Russian-speaking segment.
Apart from English and two versions of Chinese, bitfinex.com is also available in Russian, which is why many traders from Russia use it as the main exchange for professional cryptocurrency trading.
With advanced trading capabilities, including unique enterprise offerings, data visualization, and access to margin trading for a wide range of digital assets, the Bitfinex team aims to provide top-notch service and effective tools for active traders globally.
Over 8 years, Bitfinex has gained fame, and a superb reputation among traders and businesses keen on making trades in digital assets.
As for us, we were told the following:
"Dear User. 
Since our platform sticks to the opinion that users from Russia are not responsible for the ongoing conflict, no restrictions are planned. 
Let us know if you have any more questions. 
Thank you."
Conclusion
Unfortunately, few exchanges connected to our platform have met our request. Still, that doesn't mean you can't use their services anymore. Whatever the case, should there be any updates to the companies' policies, they will announce it to their users well in advance, so as not to damage their reputation and credibility. Therefore, you should not worry about the matter as of now.
For crypto market traders, RevenueBot offers an automated trading interface. The user can trade on top crypto exchanges, including: Binance, Bittrex, FTX, OKX and others. RevenueBot provides traders with the opportunity to create trading bots that allow them to receive stable passive earnings. The main advantages of the service include the following:
Fees for the service are charged only after the first profit, no prepayment required;

RevenueBot's native marketplace is a great way to buy a ready-made bot as well as to sell a lucrative configuration; 

The RevenueBot referral program enables you to earn without having to do any trading by yourself;

RevenueBot uses a Dollar Cost Averaging (DCA) strategy, through which you can successfully trade and make profits over the long run;

Automatic switching of trading pairs makes it possible to benefit from trading at any time. The bot itself will switch to another trading pair if the main one will not be able to do the earning. 
You can learn more about the features of the platform on the RevenueBot official website.