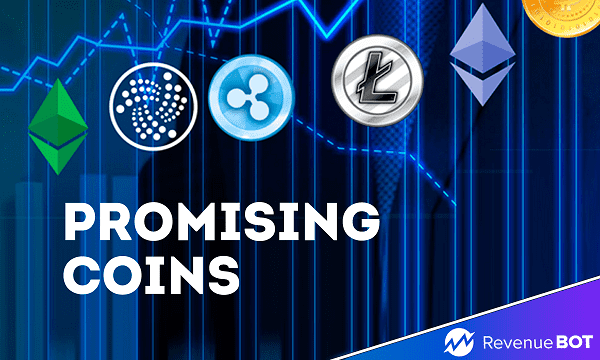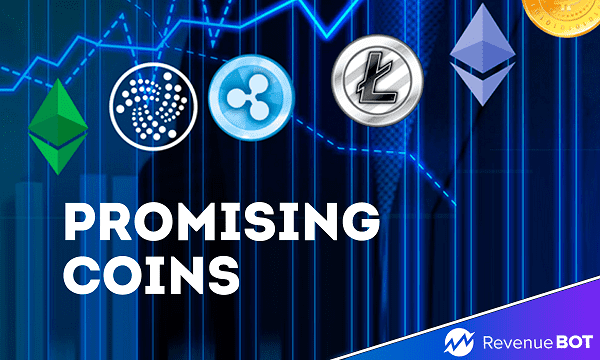 Numerous cryptocurrencies and tokens appear every day. Some of them are of a practical nature, which means they perform some sort of function. Others, on the contrary, have a purely entertainment purpose and may be in demand only due to the strong buzz around the project. RevenueBot has highlighted a few coins to watch out for. 
GateToken
GateToken (GT) is the currency of the eponymous ecosystem. It is used to pay commission fees for transactions in the GateChain network, while also serving as a reward for the posting of PoS. This is crucial for GateChain functions.
GateChain strives to solve rather challenging and complex issues that have emerged with blockchains, with no detriment to any of the decentralized aspects or benefits. The ecosystem consists of the main GateChain network, GateChain DEX, GT, wallets and more: to form a decentralized, enterprise-level ecosystem that can efficiently and securely store, issue and trade digital assets.
GateChain is a brand new, next-generation public blockchain focused on chain asset security and decentralized trading. Powered by Vault Account's unique design and its features for handling anomalous transactions, GateChain is a novel clearing mechanism which addresses the complex problems of asset theft and private key loss. In addition, decentralized trading and cross-network transfers will also be supported along with other basic features.
Cardano
Cardano is a blockchain platform with a Proof-of-Stake consensus algorithm, created in the Haskell programming language by Ethereum co-founder Charles Hoskinson and his colleague Jeremy Wood. It was officially launched on September 29, 2017. In addition, it was named after the outstanding scientist of the 16th century Geloramo Cardano. Its own cryptocurrency is ADA.
Development of the Cardano began in 2015, a few months after the founders left Ethereum. What has distinguished Cardano from the very beginning is its rigorous scientific approach to development: all innovations are peer-reviewed and verified by the scientific community. That keeps the blockchain trustworthy and stable, also avoiding vulnerabilities and flaws ahead of time.
Moreover, Cardano is currently the major blockchain with a green Proof-of-Stake algorithm, where the energy cost of staking is 99% lower compared to mining. In fact, this status will be lost after Ethereum switches to PoS.
yearn.finance (YFI)
YFI is a Ethereum-based token used to manage protocols within the yearn.finance DeFi-platform. Here you can participate in Yield Farming by interacting with defi-protocols. According to the official website it is considered to be "a yield aggregator for credit platforms that performs rebalancing for maximum yield during contract interaction." To put it otherwise, this project is an aggregator of lending from other platforms.
You can trade DAI, USDC, USDT, TUSD and sUSD tokens with up to 1000x leverage with an initial prepayment or with up to 250x leverage without any initial fee. After users transfer crypto-assets to the platform's contract addresses, they are converted into local tokens, which are then used in other services that provide interest income on deposits.
Through a multi-token betting mechanism, Yearn Finance users can also get a YFI, the project's native token, allowing them to participate in its governance. YFIs do not provide any kind of interest-based reward, but they do allow you to vote on matters important to Yearn Finance. Everything is managed by the holders of the YFIs, who receive them as a reward for providing liquidity.
Conclusion
When investing in new coins, you keep an open mind on all the risks, because the chances of a coin remaining at the same price brackets or depreciating are sky-high.
This material is not a piece of financial advice and is for informational purposes only.
If you don't want to count on luck, RevenueBot offers an automated trading interface. You can trade on the leading crypto exchanges, including: Binance, Bittrex, FTX, OKX and others. RevenueBot allows traders to create trading bots that provide stable passive income. Among the main advantages of the platform we can highlight the following:

Fees for the service are charged only after the first profit, no prepayment required;

RevenueBot's native marketplace is a great way to buy a ready-made bot as well as to sell a lucrative configuration; 

The RevenueBot referral program enables you to earn without having to do any trading by yourself;

RevenueBot uses a Dollar Cost Averaging (DCA) strategy, through which you can successfully trade and make profits over the long run;

Automatic switching of trading pairs makes it possible to benefit from trading at any time. The bot itself will switch to another trading pair if the main one will not be able to do the earning. 
RevenueBot hosts a Telegram group for its customers and an official Telegram channel, where you can find the latest news and info about the crypto industry. You can learn more about the features of the platform on the RevenueBot official website.