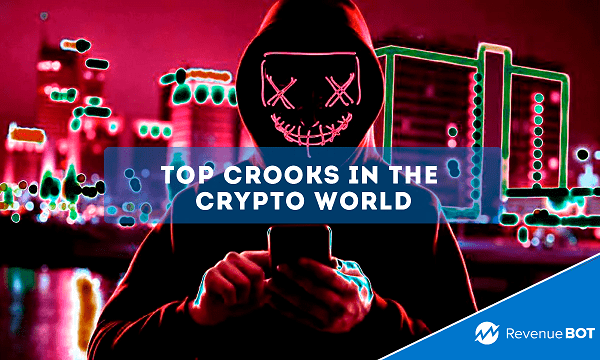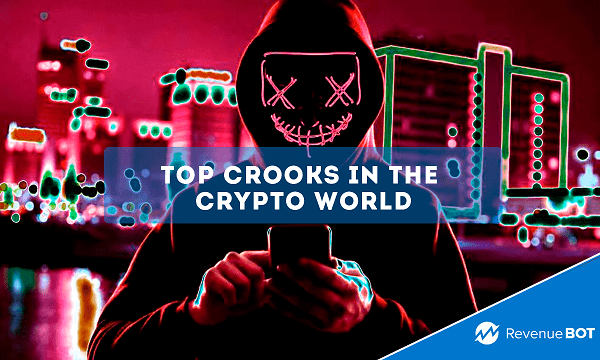 The financial world has seen countless cases of fraudulent schemes that have fooled thousands of people. Criminals could not neglect the crypto sector as well, since for them it is something new and represents a whole "field" of opportunities to engage in a variety of fraudulent activities. This is how scam projects, crypto pyramids and other projects designed to swindle people began to appear. In late June of last year, the U.S. Secret Service (USSS), which is responsible for safeguarding political figures and conducting criminal investigations in the country, published a spotlight on the 10 "Most Wanted Fugitives" in finance and cybersecurity. Among those included in this anti-rating were people who used crypto for illegal purposes.
Scam projects
Bitconnect
One of the most notorious cryptocurrency scam projects is Bitconnect. The project was launched in 2016 by anonymous developers. The leading one is known only as Satao Nakamoto.
Project executives were pledging investors that their investments of $1,000 could turn into $50 million in a few years. For this purpose, Bitconnect representatives offered depositors to buy BCC coin, yet no one managed to withdraw and sell it on the secondary market.
Nowadays, it is very common practice when a user, after participating in a tokensale, gets coins that cannot be sold for a certain period of time. However, Bitconnect not only proposed to block the BCCs, but also guaranteed to return them with interest. The extra coins were allegedly obtained through the trading of a specially designed trading bot.
Investors were offered a guaranteed return of 40% by the developers. But depositors could only get extra interest if investors would lock in BCC for almost a year. The more people invested, the more the interest would be, and the faster they could get their money back.
Renowned representatives of the crypto world, such as Vitalik Buterin and Charlie Lee, head of Litecoin, expressed their opposition to Bitconnect. However, as is often the case, only the U.S. government was able to wrap up the era of the project. In January 2018, U.S. financial regulators recognized the project as a financial pyramid and urged its management to immediately halt operations.
Later on, crypto-exchanges widely removed BCCs, that had already managed to get into the top 10 cryptocurrencies by capitalization in CoinMarketCap ranking. In just a few days, the coin collapsed by 99% – from almost $500 to $1, and then depreciated completely. The loss suffered by investors was estimated at approximately $3.5 billion.
In July 2021, it became known that the SEC had reached a settlement agreement with four of the six Bitconnect promoters. One of these people would pay a $3 million fine, the other two would pay $600,000 and $500,000 each, respectively. As for the other participants in the trial, the case is still ongoing.
OneCoin
In 2014, Ruja Ignatova, who was nicknamed the "crypto queen," founded the cryptocurrency project OneCoin. Ignatova had been assuring investors that OneCoin will be the most successful project on the crypto market, and its currency will be the "Bitcoin Killer." 
"In two years, nobody will speak about Bitcoin any more," she declared at her speeches.
For the promises to be realized, Ignatova's team claimed that their coin would be usable to pay for goods and services around the world, and the project would be part of a future financial revolution. With such statements, they managed to attract more and more new investors. Hence, according to the BBC, in the first half of 2016, British citizens alone invested about 30 million euros in OneCoin.
Despite the project's explosive growth, in the fall of 2015, regulators around the world began giving warnings to OneCoin. As of 2017, the company's accounts in Germany had been frozen. Meanwhile, in Italy, transactions through OneCoin were officially banned by the authorities.
Ignatova vanished in October 2017, and since then her current location is unknown. U.S. authorities accuse the "crypto queen" of scamming, money laundering and securities fraud. Over the two years of the company's existence, according to the FBI, about 3 million people invested in it, who then lost more than 4 billion euros. According to the BBC Russian Service, the pyramid scheme may have caused losses of 15 billion euros.
Ignatova's brother was taken into custody in New York City in the early spring of 2019. He denies being involved with OneCoin. Nevertheless, if proven guilty, he could face up to 90 years in prison.
A theft and a dark web
The King of Cryptocurrency
On July 6, 2021, the global mass media reported on the arrest of Claudio Oliveira, who claimed to be the "King of Bitcoin." What's more, the Brazilian was charged with misappropriating about $300 million, along with violating the bankruptcy process. In fact, according to local authorities, Oliveira was the head of a criminal group whose members used to launder hundreds of millions of dollars.
Oliveira was president of the Bitcoin Banco Group, a crypto-oriented company. Back in 2018, the firm suspended customer accounts without any warning, announcing that the company had been hacked by unknown hackers, who stole about 7,000 BTC ($208 million at the current exchange rate). Interestingly, the Bitcoin Banco Group could not provide any evidence of hacking.
The company stated that it could not pay its debts, so it received court permission to be reorganized, financially rehabilitated. However, instead of reorganizing finances and repaying debts to distressed customers, they kept bringing in new members.
As of 2019, reporters had obtained Oliveira's tax documents. It was revealed that the head of Bitcoin Banco Group owns 25,000 BTC, which was more than $210 million at the time. Oliveira and co-workers are facing five arrest warrants and 22 search warrants.
Ross Ulbricht
It was in 2011 that an American named Ross Ulbricht, aka Dread Pirate Roberts, opened a darknet website called Silk Road. It operated using the Tor network and was a marketplace for illicit substances, which accounted for 70% of the goods. Still, users could buy quite legitimate products on the marketplace, such as electronic copies of various books.
Ulbricht, the Silk Road supervisor, earned commissions on all trades made on the trading platform. Over two and a half years of operation, more than one million people took advantage of the services of the marketplace. Even though you had to use specially designed software to enter it. By the summer of 2013, the platform's circulation had already exceeded one billion dollars.
As the FBI says, in order to protect the platform from malicious attacks, Ulbricht ordered the murder of six hackers. But in reality no murders were committed and at least one of the executors was a fake federal agent.
Two years after founding Silk Road, Ross Ulbricht was detained by U.S. authorities for money laundering, hacking and drug dealing. He was found guilty of these crimes on May 29, 2015, which resulted in two life sentences plus 20, 15, and 5 years in prison for specific offenses.
Ulbricht argues that the evidence against him was falsified, and at one point the state prosecutors even tried to have him sentenced to death. Among the crypto-community there are even those who support Ulbricht and hope that he will be released early.
Conclusion
As in all other industries, there is always a room for culprits in the crypto field, who come up with scam projects or other money-making schemes. That is why you must keep in mind that before you invest anywhere, you need to double-check all the details of the project.
For crypto market traders, RevenueBot offers an automated trading interface. The user can trade on top crypto exchanges, including: Binance, Bittrex, FTX, OKX and others. RevenueBot provides traders with the opportunity to create trading bots that allow them to receive stable passive earnings. The main advantages of the service include the following:
Fees for the service are charged only after the first profit, no prepayment required;

RevenueBot's native marketplace is a great way to buy a ready-made bot as well as to sell a lucrative configuration; 

The RevenueBot referral program enables you to earn without having to do any trading by yourself;

RevenueBot uses a Dollar Cost Averaging (DCA) strategy, through which you can successfully trade and make profits over the long run;

Automatic switching of trading pairs makes it possible to benefit from trading at any time. The bot itself will switch to another trading pair if the main one will not be able to do the earning. 
RevenueBot hosts a Telegram group for its customers and an official Telegram channel, where you can find the latest news and info about the crypto industry. You can learn more about the features of the platform on the RevenueBot official website.