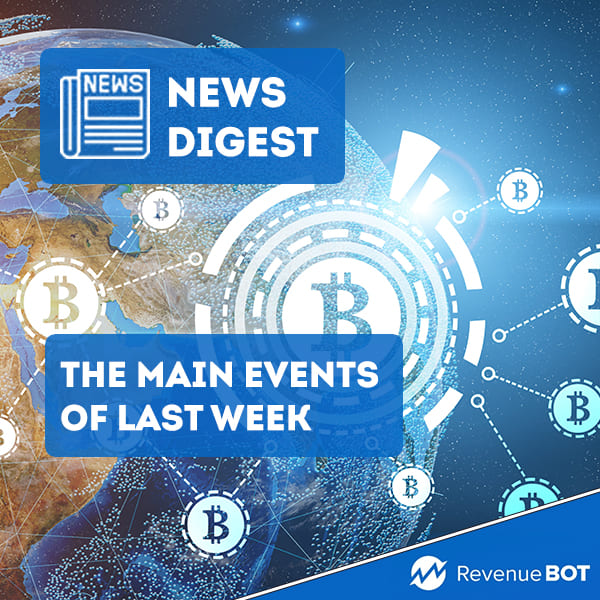 Friday, July 8th. As the week comes to an end, we can focus on the highlights of the crypto industry over the past few days.
85% of merchants perceive bitcoin payments as a tool for gaining customers, survey says
As many as 84.8% of merchants choose to pay with crypto as a way to enlarge their customer base. These are estimates reported in a study by the PYMNTS news agency and the Bitpay payment processor.
81.5% of those surveyed cited the removal of intermediaries as a reason for adding this option.
The convenience of using cryptocurrencies in cross-border transactions was noted by 59.6% of merchants.
Decrease in transaction costs was recorded according to 42.1% of respondents. As per the findings of the researchers, fees when paying with digital assets account for about 1% compared to the industry's standard of 1.5-3.5%.
There are still technical difficulties in the implementation of crypto payments. A total of 67.9% of respondents reported that. In addition, high volatility of digital assets (66.1%), difficulty in tracking transactions (56%), and lack of transparency (49.5%) were among the popular answers.
It is worth mentioning that a PYMNTS survey conducted in December 2021 revealed that 58% of cross-border companies use crypto.
Meta rolls out an AI-based translator supporting 200 languages
The company has introduced the NLLB-200 artificial intelligence model designed for translating online. There are 200 languages supported, even the poorly-spoken ones.
They said the NLLB-200 proved to be of "high quality" in 55 African languages. Before the algorithm was created, there were less than 25 African languages covered by the commonly used tools, NLLB developers added.
Meta claims that the overall performance of the NLLB-200 surpasses existing state-of-the-art models by an average of 44% as measured in the FLORES-101 test. When it comes to specific African and Indian dialects, the advantage over their respective counterparts is as high as 70%.
According to Meta, their solution will enhance the accuracy of text translation on Facebook and Instagram, as well as third-party services like Wikipedia.
It provided access to the NLLB-200 source code on GitHub. The developers have built a website that showcases the functionality of the brand new model.
They also announced a $200,000 grant program. All non-profit organizations willing to explore real-world applications of the NLLB-200 are welcome to participate.
As you may remember, back in June, Meta decided to restructure its AI-oriented department.
As of this April, the company presented the OPT-175B open-source language model.
A Korean startup loses roughly $24 million in shorting LUNA
North Korea-based Uprise, a digital asset management platform, suffered a loss of about 99% of customer funds when it liquidated a short position in Terra's LUNA token in May 2022. This is what the Seoul Economic Daily reports.
Uprise employs artificial intelligence for trading on the futures market. In the same month, when LUNA's prices disastrously dropped from $60 to almost zero, the robo-advisor shorted the asset. It was an unanticipated surge in token price that led to the liquidation of the position.
As a result, Uprise lost 26.7 billion won (or nearly $21 million), which is about 99% of customer funds, as well as it lost 3.9 billion won (about $3 million) of its own assets. 
The firm halted trading activities without notifying its clients or investors of any losses. 
Uprise was backed by Hashed, the blockchain company, as well as the venture capital arm of technology giant Kakao, KB and Shinhan Bank, to name a few investors. As a whole, the company generated 46 billion won (~$35 million) in funding.
For the majority of Uprise's trading platform customers include affluent individuals and corporations who have invested their crypto-assets to generate income from trading in the futures market using the startup's AI system. They emphasized that they " informed users well enough" about the potential risks of losing funds.  
Uprise also offers "yield farming" services, which keep on operating.
"It is true that damage to customer assets has occurred due to unexpected great volatility in the market. We plan to finalize the report on virtual asset business soon," Uprise official said.
Just to refresh your memory, Hashed, a blockchain company, stood to lose $3.5 billion in the Terra collapse.
Intel initiates shipments of bitcoin mining chip
An ASIC bitcoin mining chip has been announced by Intel to be delivered to certain customers.
Raja Koduri, the chief architect and senior vice president of Intel's architecture, graphics and software (IAGS) division, wrote the following on Twitter:
"Intel AXG Custom Compute team is now shipping the Blockscale ASIC! First product will always be unforgettable, congratulations team. Excited to see how Argo Blockchain, GRIID Infrastructure and Hive Blockchain improvise around Blockscale and our open design.
This February, the company unveiled its first tailor-made digital gold mining chip, Bonanza Mine. The performance of the ASIC was well below the leading players on the market.
As early as April, Intel advertised the second generation of the Blockscale bitcoin mining chip. What the journalists found was that the manufacturer's ASIC outperformed its competitors by about 15% in terms of productivity.
Specifically, the company named HIVE Blockchain Technologies, Argo Blockchain, GRIID Infrastructure and Jack Dorsey's Block as some of Blockscale's first customers. The latter firm does not appear in Koduri's tweet about launching the shipments.
"HIVE is proud to have partnered with Intel, and we can't wait to put the new ASICs to good use mining BTC," the Canadian company replied to the message.
In March, the mining firm reached an agreement with the chipmaker to buy bitcoin mining equipment. It was expected that deliveries would start within the second half of the year. As of June, HIVE had sold about 10,000 ETH to "fund a strategic relationship" with Intel.
Argo Blockchain expressed gratitude to the chip maker and to Koduri in person.
"We're excited to be innovating with these new ASIC chips in our custom immersion mining rigs. Our thanks to ePIC Blockchain Technologies for joining us on the ride," the company remarked.
During May Argo Blockchain partnered with ePIC Blockchain to buy 6,600 Blockscale-based bitcoin mining equipments. Up to 23,400 additional units can be ordered under the contract.
It should be pointed out that in February, Intel CEO Pat Gelsinger lambasted bitcoin for its environmental footprint and argued that the company's ASIC "will help advance this technology in a responsible and sustainable way."